Sports
Stefanie Berberabe Shoots and Scores to Become Westmont's All-Time Leader
Senior Continues to Break Her Own Hoops Records with Four Regular-Season Games to Come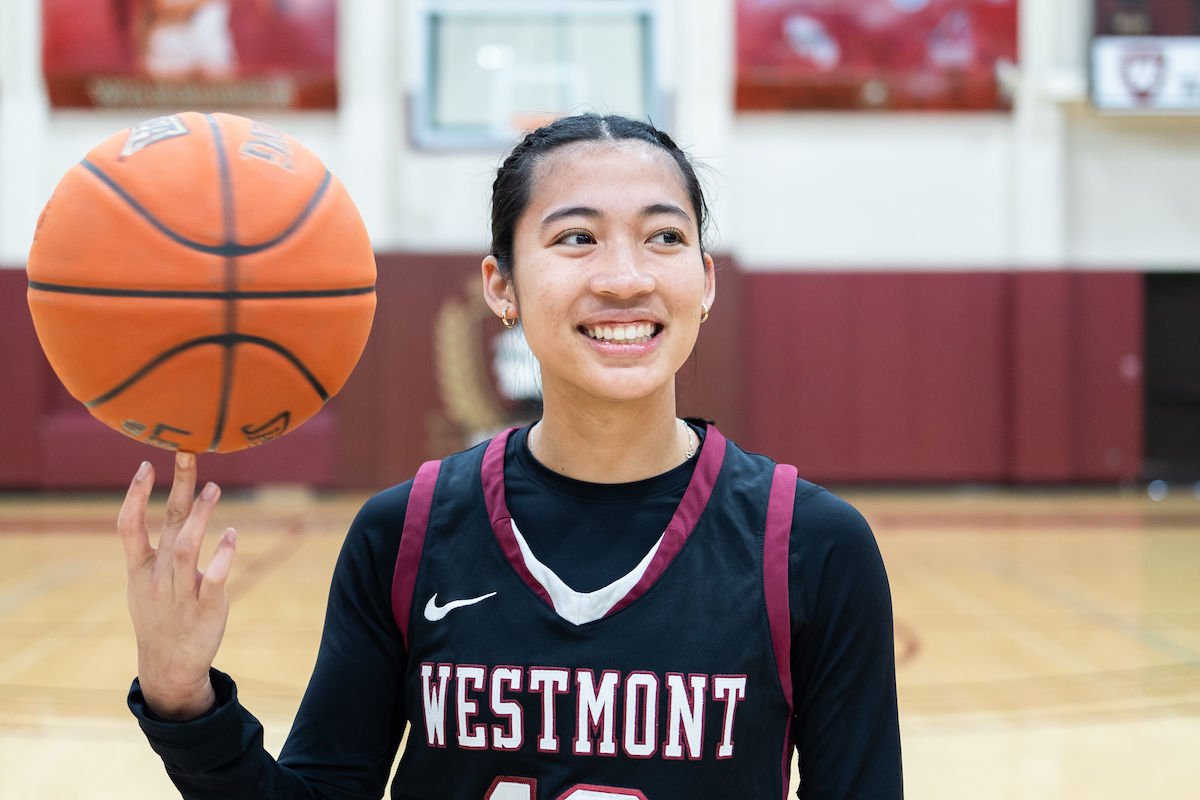 Before Stefanie Berberabe was a national champion and NAIA Player of the Year, she was an undersized guard from tiny Saint Joseph High School in Lakewood who questioned whether college basketball was in her future.
On January 21, in an away game against Arizona Christian University, Berberabe became Westmont College's all-time leading scorer — surpassing Lauren McCoy's mark of 1,538 points. She scored 20 points in that game to reach 1,555 points and has since built on her record.
Despite scoring more than 1,000 points in high school as a four-year varsity player, Berberabe was not a highly touted or sought-after recruit. She reached out to Westmont — as many prospective student athletes around the country do every year — and found a match made in basketball heaven.
"I wasn't so set on playing college basketball. I had doubts for sure if I was even good enough to play at the next level or if I was too small," Berberabe said. "I wasn't too passionate about doing it, but my parents pushed me and encouraged me."
The team invited her to Westmont for a workout, and Berberabe proved she belonged. Her speed and tenacity stood out immediately, according to Westmont women's basketball head coach Kirsten Moore.
"We had reached a point as a program where we were in contention for national championships every year, so we received emails from a lot of people," Moore said. "It's hard to kind of sift through all of that. We hadn't seen her in person, but she was local enough that we were able to ask her to come up for a workout so we could get to know her."
For a program like Westmont, character and fit are of the utmost importance. Berberabe was attracted to the faith-based education; small, tight-knit community aspect, and the opportunity to compete on the court.
"When Stefanie came up, a couple things stood out. First, her speed was unteachable," Moore said. "Her ability to go north/south was really evident very quickly, but it was also evident that she hadn't played at a super high level consistently, as far as her understanding of certain situations."
As a part of a six-player freshman class that was asked to carry a heavy load, Berberabe was thrown into the fire as a spark plug off the bench in the 2018-19 season. That inexperienced group won the Golden State Athletic Conference tournament in upset fashion and set the stage for greater accomplishments in the years to come.
Berberabe developed tremendous relationships with teammates, including forward Sydney Brown, and the two became the first fifth-year players in program history this season, thanks in part to a COVID-19 shift in eligibility rules.
As a sophomore, Brown suffered a season-ending knee injury, but Westmont persevered and achieved a 27-3 overall record for the 2019-20 season. The Warriors were the named No. 1 overall seed going into the NAIA national tournament for the first time in program history just days before the remainder of the season was canceled due to the pandemic.
The missed opportunity could have sent a lesser program into a tailspin, but for Berberabe and her teammates, it built a hunger that permeated everything they did in isolation.
---
Sign up for Indy Today to receive fresh news from Independent.com, in your inbox, every morning.
---
"We obviously were so disappointed and hurt that the season got canceled, but we took that into the next season," Berberabe said. "We were all committed to going all-out every time we got on the court, and that love that we had for each other — you could see it on the court."
To be eligible for the postseason in the COVID-19-shortened 2020-21 season, NAIA teams had to play at least 10 games to be eligible for the postseason. With one week remaining in the regular season and with the high rate of cancelations due to positive tests by both teams, Westmont had only played nine games.
"If anybody popped a positive test — we were testing three times a week — if the other team had a positive test, the season could have been over," Moore said. "It was down to the wire on whether we were even going to be eligible, and then we made it. With everything we'd been through, we didn't see it as pressure, but just an opportunity to be grateful for and to just go for it."
In a postseason run straight out of a movie script, the Warriors trailed in the fourth quarter of their final three games leading up to the National Championship Game, where they defeated Thomas More University in Kentucky, 72-61, in Sioux City, Iowa.
"It's hard to describe, other than we would be in the huddle in the fourth quarter and we would just look at each other and know that we're going to do this," Moore said. "We're going to be tougher together than whatever this is we're up against, and we're going to go take it."
With the National Championship, the accolades poured in for Berberabe, including NAIA Player of the Year, First-Team All-American, and GSAC Player of the Year. She was again named GSAC Player of the Year and First-Team All-American following the 2021-2022 season.
In the summer of 2022, Berberabe was invited to play for the Philippines National Team for the Southeast Asian Games. Despite challenges adapting to the team and a language barrier, Berberabe was able to contribute significantly, as her rare speed and creativity once again set her apart. She won a gold medal.
"I never knew that was a possibility for me. That's never been on my radar," Berberabe said. "We actually won the gold medal, which was crazy."
Going forward, Berberabe would like to play basketball professionally and take advantage of more opportunities to play with the national team. But before that, she has four games remaining in the regular season with Westmont beginning Thursday, February 9, at Vanguard University, followed by a Saturday, February 11, game at Life Pacific University.
The Warriors (19-1 overall, 12-1 GSAC) will be home for two final regular-season games next week against Menlo College on Thursday, February 16, and against Jessup University on Saturday, February 18, at noon for Senior Day.
---
Support the Santa Barbara Independent through a long-term or a single contribution.
---