Sports
Shorthanded UCSB Finishes Strong to Defeat Long Beach State 78-73
Gauchos Snapped Three-Game Losing Streak with Victory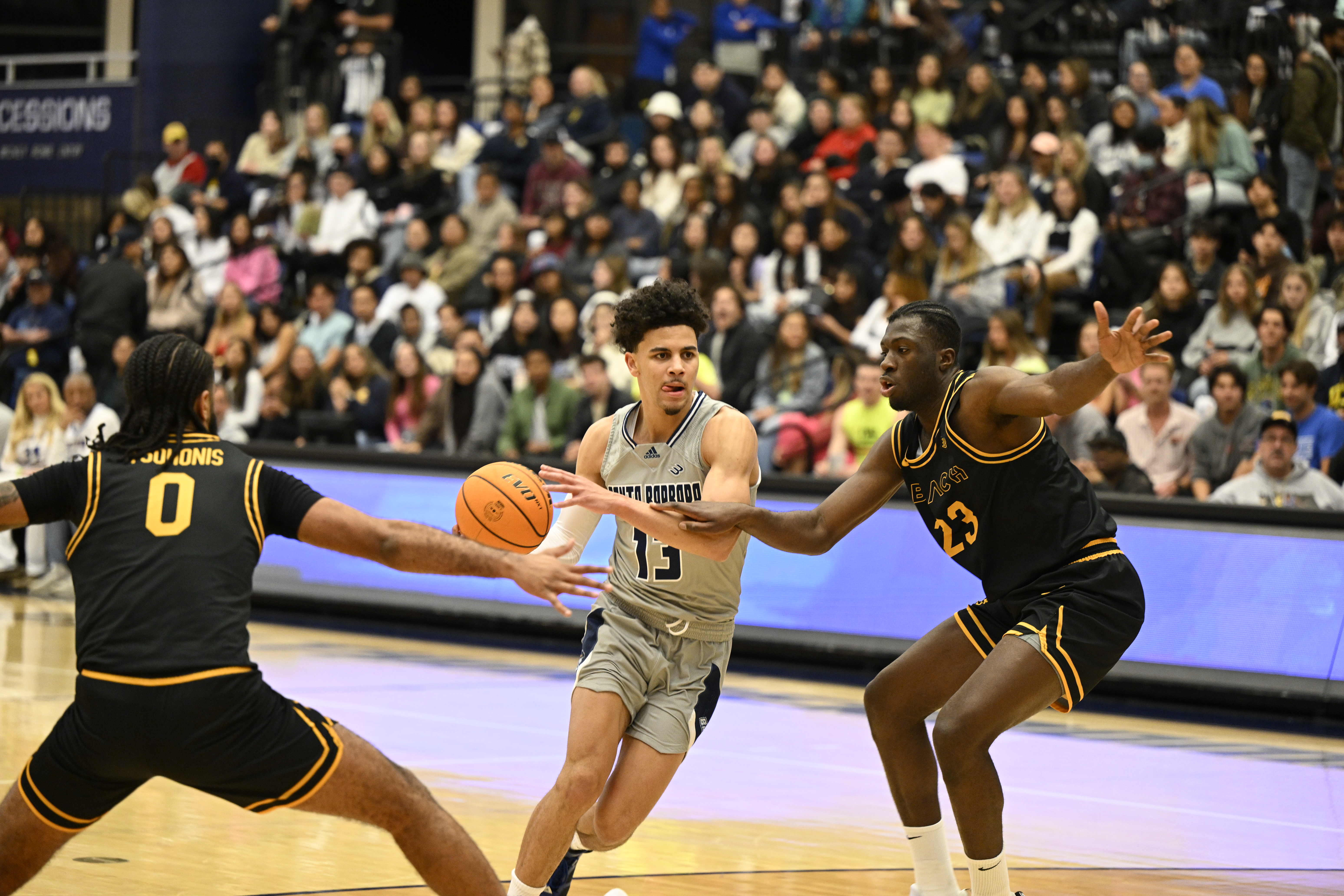 Coming off three consecutive losses for the first time this season, the UCSB men's basketball team halted its downward spiral by coming together.
The Gauchos were down to eight scholarship players due to injury, but rallied the troops to defeat visiting Long Beach State 78-73 on Thursday night at the Thunderdome.
"Our players had an incredible amount of urgency, and when you only have eight scholarship players, Josh Pierre-Louis obviously couldn't play and the other two guys, you kind of look to your right and to your left and you say 'We're drowning right now,'" said UCSB coach Joe Pasternack. "It's like now or never and to be able to win in college for basketball there is no margin for error."
Ajay Mitchell was magnificent for UCSB, scoring 28 points on 9-of-15 shooting from the field and converting 9-of-10 attempts from the free-throw line. The sophomore guard continues to prove that he is one of the best players in the Big West Conference.
"He is one of the best players that I've ever coached and I've coached lottery picks, NBA All-Stars and Lauri Markkanen," Pasternack said. "I think Ajay will be playing in the NBA one day."
With less than a minute remaining and UCSB clinging to a 74-73 lead, Mitchell found himself with a favorable matchup after a Long Beach State switch and took the opportunity to penetrate and pull up for a smooth jump shot from six-feet out that put the Gauchos ahead 76-73 with 32 seconds remaining. It was the type of clutch shot that Mitchell has routinely converted all season.
---
Sign up for Indy Today to receive fresh news from Independent.com, in your inbox, every morning.
---
"Teams are switching on me so if I have a big on me I'm definitely going to take it," Mitchell said of the crucial sequence. "It was an important shot, and I just made it, so I'm happy with that."
Cole Anderson and Calvin Wishart were forced into the starting lineup with the injuries to Pierre-Louis and Ajare Sanni and delivered impressive performances. Anderson scored 18 points, including 5-of-11 shooting from three-point range and Pasternack complimented his defensive effort and intensity post game.
Wishart harassed one of Long Beach State's top players Marcus Tsohonis and was a steadying presence on offense. He finished with seven points, five assists, and five steals.
"Calvin is a really tough kid and one of our most competitive young men," Pasternack said. "I thought he competed very hard on Tsohonis and did an excellent job."
Miles Norris added 16 points and seven rebounds. His defense and rebounding down the stretch provided the Gauchos with just enough resistance to pull off the victory. The Beach still dominated paint scoring and shot 56.1 percent overall, but failed to score after the 2:15 mark of the second half, which allowed UCSB to pull away.
UC Irvine (20-9 overall, 13-4 Big West) lost to UC San Diego on Thursday so UCSB (21-7 overall, 12-5 Big West) is only one game back of first place. The Gauchos will play at UC San Diego on Saturday beginning at 7 p.m.