Community
Rally in a Minor Key at Speaker's Corner Santa Barbara
Asian American-Pacific Islander Group Remember Victims of Gun Violence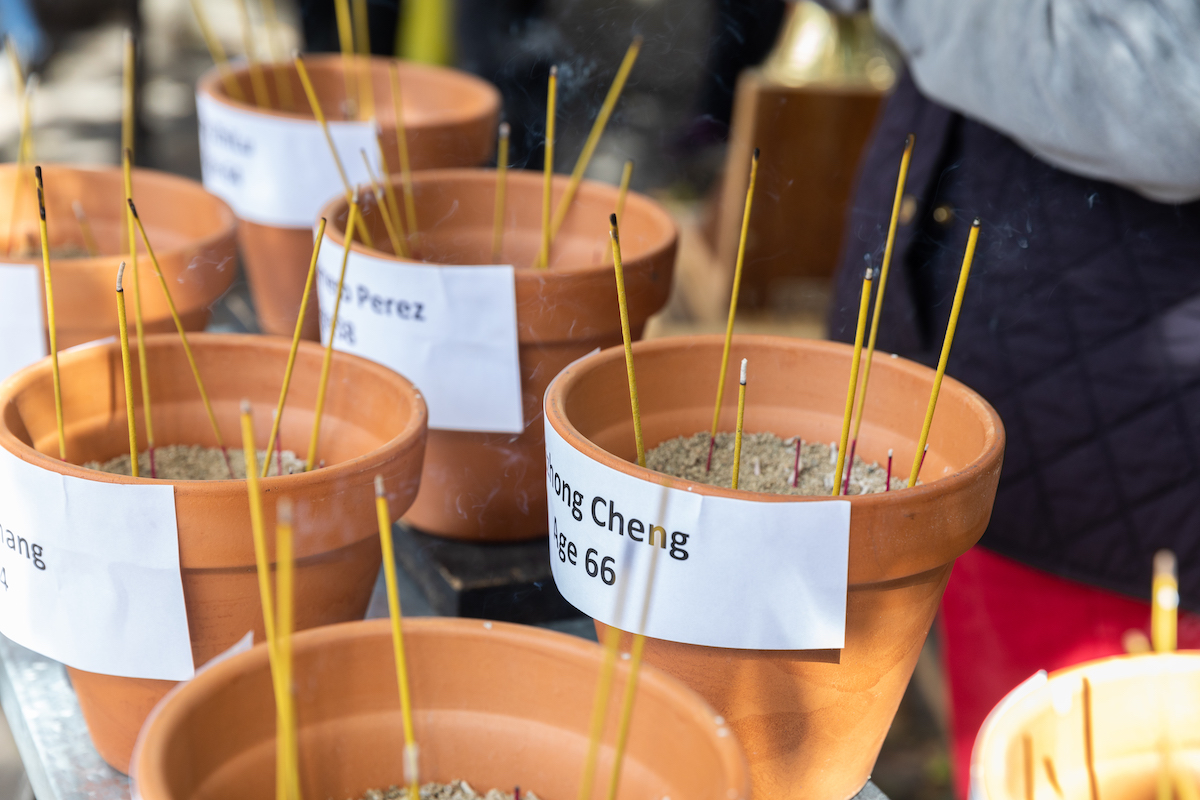 Just a month ago, 11 people were shot and killed in Monterey Park during a Lunar New Year dance, and seven people were shot and killed in Half Moon Bay two days later. Nearly all were of Asian descent, some of them at work, some of them at a club for ballroom dancing. To remember them and to urge a continued fight for greater gun safety laws, their 18 names were read by Terease Chin and Helen Wong at Speaker's Corner in Santa Barbara on Sunday, bracketed by a haunting melody played on a Japanese flute by Bob Sedivy and the ritual burning of incense.
Organized by the Asian American-Pacific Islander Solidarity Network, Moms Demand Action, Michel Lynch, and several others, the group stood in the same spot two years ago, recalled one organizer, Juliet Butita, to mourn the eight people who were killed in spas in Georgia, nearly all of them women of Asian descent. "This is not a political issue," Betita said of the rally's call for an end to gun violence. "This is a public safety issue and a public health issue."
The gun violence statistics are astounding, and "heart-wrenching," as Supervisor Das Williams described it. In the two short months of 2023 gone by, 90 mass shootings have taken place and 2,835 people have died, according to the Gun Violence Archive.
Despite the political paralysis, Williams observed there was hope in the first gun violence law passed by Congress in decades — it allows people to petition for weapons to be removed from people who are a threat to themselves or others, expands the domestic violence law to include dating partners, and broadens background checks to 18 year olds. The "Red Flag Laws" are little known, Williams said, adding to check SpeakForSafety.org to find out more for other states and counties.
Nonetheless, the law is being challenged in the Ninth Circuit, Williams said, and is likely to end up at the Supreme Court. "And we know gun laws don't have much chance there." But removing a gun from someone who's despondent is an act of love, he said, recalling that he'd done that himself when his father's partner died. "Think of the tragedies over the years that happen to people with mental health issues and who own guns."
As passersby walked through the small vigil of about 50 people, Williams said the issue wasn't just among Asian Americans, but people of Jewish descent and in other communities during what seem to be very angry times.
Van Do-Reynoso, who saw Santa Barbara County through the pandemic years as the former director of Public Health, agreed that violence was not new to the Asian and other communities. But the rally and ebbing-and-flowing crowd were encouraging because of their interest, and were an antidote to hopelessness and despair. "There's power in numbers," Do-Reynoso said, encouraging actions like working toward culturally appropriate mental and health services. "Be kind," she suggested, "notice other people, especially those who might be struggling. Compassion can make change happen."
Before the remembrance ceremony began, Sarah Penna and Jessica Truitt invited everyone to join Moms Demand Action, a national group working to further laws that prohibit assault weapons and extended magazines. The Santa Barbara branch was setting up a survivors group, Truitt said, and that emotional support resources were available. Penna said she joined Moms Demand Action after Uvalde, wanting to take action against her worries when her 8-year-old went to school. "We don't have to live like this," she said.
Bob Sedivy begins the vigil with a piece played on a Japanese flute | Credit: Don Brubaker

Juliet Betita | Credit: Don Brubaker

Moms Demand Action helped organize the vigil | Credit: Don Brubaker

Supervisor Das Williams | Credit: Don Brubaker

Vigil participants and onlookers applaud Supervisor Das Williams' message on firearm legislature | Credit: Don Brubaker

Former Santa Barbara County Director of Health Van Do-Reynoso speaks to the power of kindness and compassion | Credit: Don Brubaker

Some vigil participants brought homemade signs | Credit: Don Brubaker

Moms Demand Action members (from left) Jessica Truitt and Sarah Penna share personal stories of firearm violence and encourage any in attendance opposed to firearm violence to join their organization, "not just parents." | Credit: Don Brubaker

Credit: Don Brubaker

The name of each victim in the Monterey Park and Half Moon Bay mass shootings is read aloud, followed by the ceremonial ringing of a bell | Credit: Don Brubaker

The name of each victim in the Monterey Park and Half Moon Bay mass shootings is read aloud, followed by the ceremonial ringing of a bell | Credit: Don Brubaker

Following the reading of victims' names, incense is distributed to participants and added to pots bearing victims' names and ages | Credit: Don Brubaker

Vigil participants place sticks of incense in pots bearing the names and ages of victims in the recent Monterey Park and Half Moon Bay mass shootings | Credit: Don Brubaker

Vigil participants place sticks of incense in pots bearing the names and ages of victims in the recent Monterey Park and Half Moon Bay mass shootings | Credit: Don Brubaker

Vigil participants place sticks of incense in pots bearing the names and ages of victims in the recent Monterey Park and Half Moon Bay mass shootings | Credit: Don Brubaker