Environment
Almost All of Santa Barbara County Out of Drought Conditions
Winter Storms Fill Reservoirs, but Groundwater Basins Take Longer to Recharge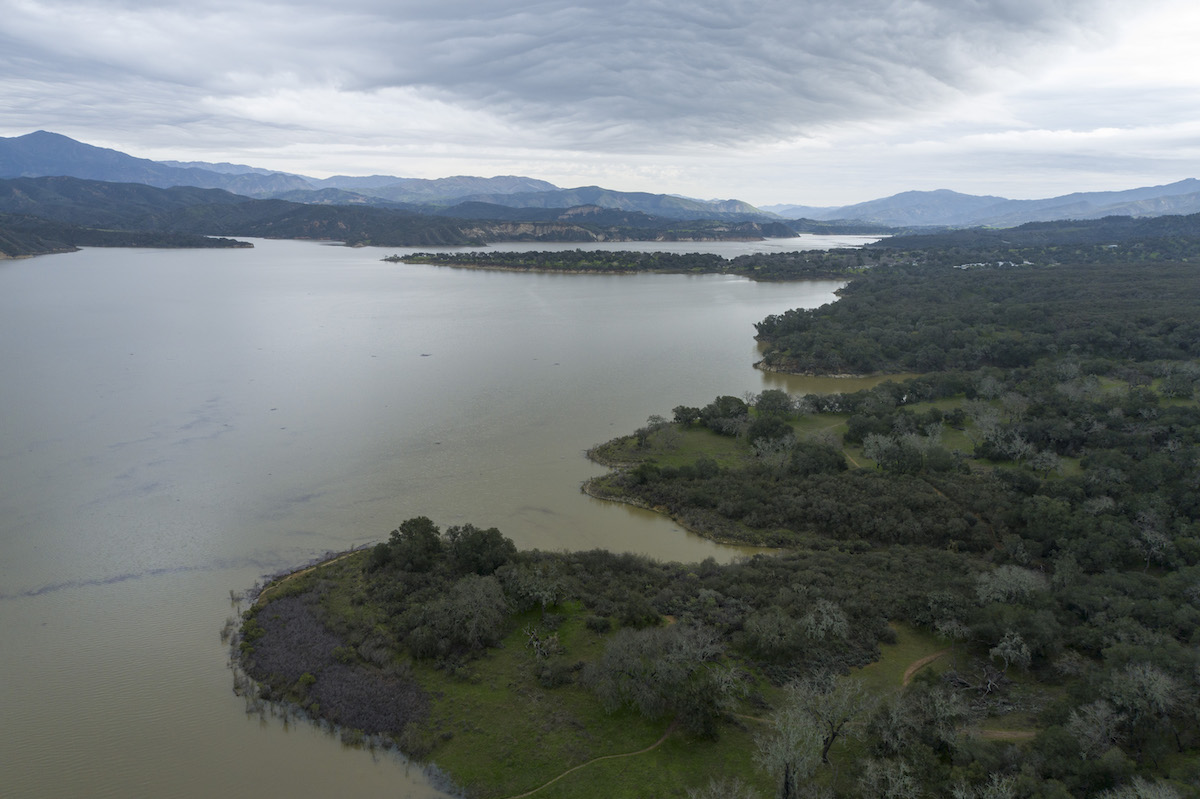 It's been a weird year for weather and water in Santa Barbara County, especially for the regions that were recently dusted with snow. But it's only become more unbelievable: Data released by the U.S. Drought Monitor Thursday indicates that all populated areas of the county are now out of the drought.
The county's metaphorical water glass was already looking half full, having experienced the eighth wettest January on record in the past 129 years, and the eighth wettest year to date, according to the National Integrated Drought Information System. Statewide, California's snowpack is reaching record-breaking levels, and precipitation this year has been at 135 percent of the state's historical average.
All of Santa Barbara's reservoirs — Gibraltar, Cachuma, Jameson and Twitchell — are full and spilling or close to it. Only 8.44 percent of the county in the northeast Cuyama area is still considered to be "abnormally dry," the lowest intensity drought category. Just last week, effectively 100 percent of the county was in that category during California's one-month-long dry spell in February.
In January, Santa Barbara water officials were calling the statewide drought "far from over," which still holds true considering the state's counties that remain in severe drought conditions. Santa Barbara may seem to be in the clear for now, but officials warn that conditions could swing from wet to dry very quickly. Lael Wageneck of County Flood Control emphasized, too, that "drought declarations are focused on broad-scale climatic conditions rather than local water supplies.
"While this season has been good for our reservoirs, groundwater basins take several years of above-average rainfall to recharge and fill back up," Wageneck said. "Cachuma spilled in 2011, but in 2016, lake capacity was down to 7 percent. Even with this season's rain, Cachuma could return to single-digit capacity in five years. This is why water conservation is a way of life in Santa Barbara County."
Wageneck added that Governor Gavin Newsom's executive order from February 13 "made it clear that the state is still worried about drought." The governor's office stated that "The latest science indicates that hotter and drier weather conditions could reduce California's water supply by up to 10 percent by the year 2040."
Joshua Haggmark, the Water Resources Manager in the city's Public Works Division, told the Independent in January that "we have been on a downward trend with rainfall, and although one good year does help, it does not necessarily mean the trend in rainfall is headed the other way.
"This year, in combination with the last 20 years, are a harbinger of what is to come with a changing climate," Haggmark said. "Our planning must reflect a future of drier dry times and wetter wet times."
If the public is interested in learning more about water conservation issues and how they can conserve more water, they can visit www.waterwisesb.org.