Music
Celebrated Cellist's Fragments of a Larger Whole, at UC Santa Barbara's Campbell Hall
Acclaimed cellist Alisa Weilerstein in U.S. Premiere of Ambitious Concept Piece "FRAGMENTS," Blending New Music with Bach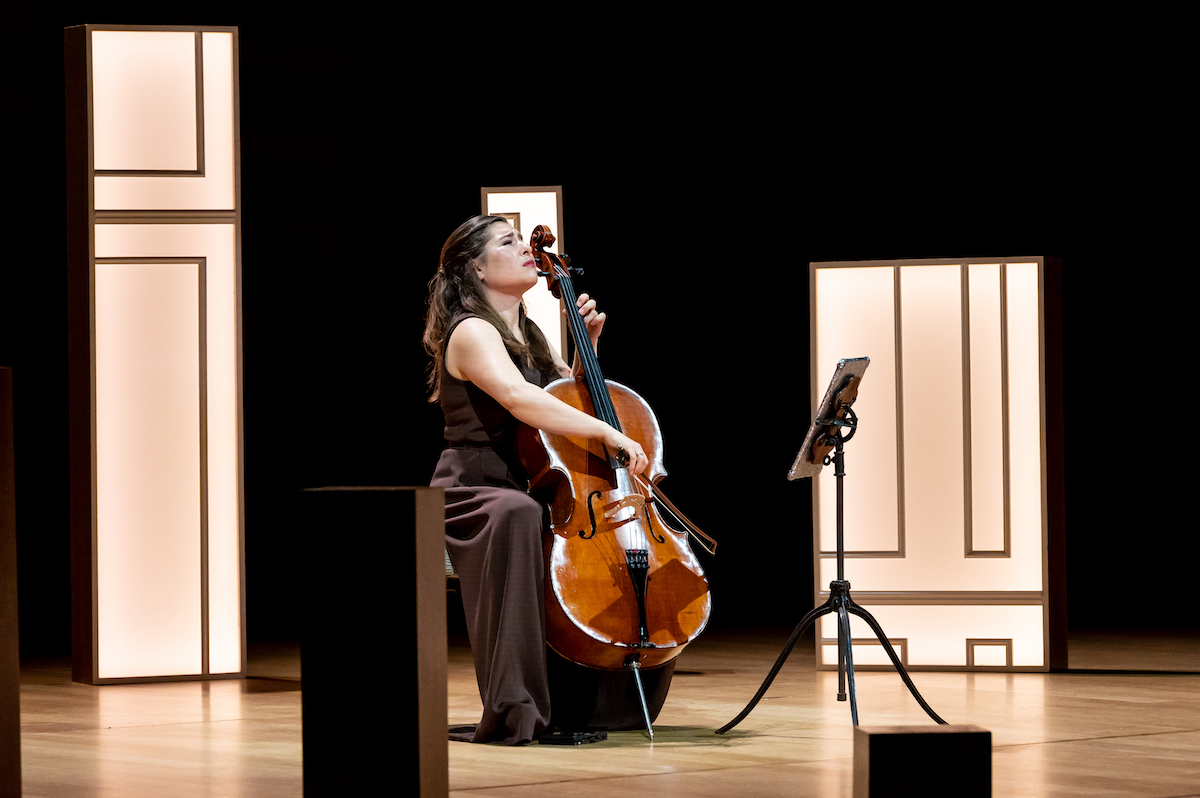 When last we caught renowned cellist Alisa Weilerstein she was live… but not in person — livestreaming a concert from home, as part of UCSB Arts & Lectures' enterprising "House Calls" series, in February 2021.
Fast forward to Friday, March 10, and the much-celebrated cellist will be performing live and in person at Campbell Hall, with the U.S. premiere of her ambitious new mosaic concept work FRAGMENTS. Co-commissioned by A&L, her work involves the interweaving of pieces from the iconic Bach Cello Suites and new compositions from a variety of 27 handpicked living composers, diverse in age, race, gender, and genre.
Adding extra-musical elements, the performance is graced by a customized and responsive staging/lighting design, created by the team of director Elkhanah Pulitzer, set/lighting director Seth Reiser, costume designer Carlos J. Soto and advisor Hanako Yamaguchi.
Weilerstein's performance is phase one of a multi-part, multi-year project, each segment spotlighting five or six contemporary composers — their identity is intentionally left as a surprise until concert's end — blended with Bach movements, purposefully sequenced out of order. Similar old-meets-new music projects have taken hold in the classical world, including work of Jennifer Koh and the Danish String Quartet, heard in Santa Barbara, and Joyce DiDonato's staged EDEN, heard at the Granada in January.
But there are clear distinctions with Weilerstein's FRAGMENTS, and her carefully-curated fragmentation process amounts to her most ambitious and personal project yet. Among her achievements are a MacArthur "genius" Grant in 2011, engagements with the world's finest orchestras, and now her private conceptual breakthrough.
We spoke to the cellist-conceptualist last week from San Diego, where she lives with her family when not in Montreal. The bi-city arrangement is linked to orchestras, as her husband Rafael Payare is music director of both the San Diego Symphony and the Montreal Symphony Orchestra. 
You performed, long distance, in the UCSB-hosted "House Calls" series in 2021. Was that period a bit of a surreal experience? Alisa Weilerstein: Oh, yes (laughs) for everybody. I'm very glad we're not there anymore. In the most fundamental sense, there was just such a fear for our lives, you know? It meant also that we couldn't interact with one another and connect with one another. So it was really tough.
FRAGMENTS sounds like such an intriguing and evolving project. Can you tell me its origin story? Was there a particular seed that this sprung out of? You talked about the height of lockdown. I think my personal low point during all of that was, maybe November, December, 2020. All my projects were canceled. I just put things away for a while and took some walks in the cliff — just had to clear my head. I started to think, "okay, whenever we come together eventually, how can we kind of rethink the concert space to connect better with our audience?" My personal view is that the art form that I do communicates most directly with audiences, with people.
I eagerly put the cello down again and just started scribbling down ideas with pencil and paper. Actually, most of what I wrote down that day has made it into the final product. I knew I wanted to, first of all, commission a very large group of composers in contemporary classical music. I was not interested in doing fusion or crossover or anything like that. I wanted to really highlight contemporary classical music and what was being written today, because there's so much really interesting and disparate kind of stuff being written. I wanted to highlight this kind of kaleidoscopic vision of it.
I first started calling the composer friends that I've worked with that have written for me before, and I got recommendations. I also went down the Spotify and YouTube rabbit hole, and just listened to a lot of recordings. I wanted to seek out all sorts of voices, famous voices as well as more obscure ones and everything in between. I'm happy to say that my final group of composers is diverse in every single way. First of all, they're great composers, all 27 of them. Secondly, it's gender-balanced. They're very diverse in terms of age, the youngest being 26, the oldest, 84. It's nine different nationalities racially and ethnically. Very diverse too, and at very different stages of careers.
I had individual conversations with all of them as I was seeking them out. I was very upfront with how that this was a different type of project, and they would be recognized in a sort of different way than a conventional music project. I asked them all to write 10 minutes of music for solo cello, in two or three fragments or movements that could stand alone, because I was going to intersperse them with other fragments of new music as well as movements above.
One tenet which is important — which I was scribbling down that first day — was that I wrote in big capital letters, "NO PROGRAMS WHILE PEOPLE ARE LISTENING!" Afterwards, they get the full menu. I wanted them to hear these voices without preconceived notions.
What people will know when they walk in, before anything starts, is that they will know what the project is. Afterwards, while they're walking out, they get the full menu, and then you can see which fragment was what, and who has written it. My theory behind this was that I wanted people to not focus on who the composers were in the moment. I wanted them to hear these voices without context, without preconceived notions or the instinct to kind of categorize and contextualize everything that they've read and seen before we've heard a note.
---
Sign up for Indy Today to receive fresh news from Independent.com, in your inbox, every morning.
---
How did the staging aspect of the project come into play? I knew nothing about the theater world or the opera world really, other than I knew what I liked. I was really a novice in it. I started working with Hanako Yamaguchi, who has been holding my hand through all of this. And she introduced me to Elkhanah Pulitzer, who is a fantastic opera stage director, and by extension her lighting designer (Seth Reiser), who is just a great artist. Thank God, she (Pulitzer) immediately got on board and ran with this idea of fragments, creating a fragmented room, which I travel with.
This is really an expansive concept. Obviously, you are breaking out of the box – or various boxes — of how classical music has been presented. Is that an overarching objective for you, to rethink how classical music traditionally is put out there? I think everyone is rethinking this. It's one of the positive consequences of having to really take an enforced pause. There were a lot of people who took the opportunity to really rethink the old models. I've always been wrestling with these questions of why certain things work better than others and this, that, the other.
Especially in the way we present new music, we have some thinking to do. Everybody does. I think most people would agree. This is what I personally tried to do. Lots of people, to their great credit, are coming up with some amazing projects.
For instance, Joyce DiDonato just brought her adventurous and mold-breaking project EDEN to Santa Barbara in January. Absolutely. I like the idea of our different art worlds coming together. I never did anything remotely theatrical before, because I wasn't sure how it would work and whether we could each be sensitive to each other's needs. But I found [collaborators] in Elkhanah and Seth. They're kindred spirits, in a sense.
In some way, the choice of Bach Cello Suites seems obvious. It's such a landmark, not only in the cello repertoire, but in the musical universe. It's universally beloved. Was it obvious that that would be the foundational core of this project? It's funny, I don't look at it at the foundational core, even though I see why it's perceived that way. If you think about the timing and the proportion of new pieces, there's actually far more new music than there is Bach. All six suites takes, let's say, two-and-a-half hours, and there's almost four hours of new music coming in.
I'm not saying this is Bach Plus, and I don't put Bach in bigger letters than anybody else. It sounds absurd because of how much I worship, how much we all worship Bach, and how much the music is universally beloved. But for the purposes of this project, I mean, Bach was also just a human being. Yes, a genius. But he's one of the 28 composers that are in this project (laughs).
It goes without saying that this body of work has been a part of your life, going back to childhood, I assume. This piece is a mountain that you can't avoid. Do you keep learning new things about it as you play it? Constantly. Every single day. It's also very interesting to play the Bach Suites in this way, completely out of order, even though they're complete.
Many of the composers asked me whether they should try to relate their pieces to Bach, and I always said, "only if you want to, the only rules are as follows," which I explained. Some of them wrote music which has absolutely nothing to do with Bach at all, and some wrote mirror images of certain things. Some were just very clearly inspired by certain progressions. It's really interesting to play the Bach Suites and to create the programs, to stitch the arts together. It makes me look at the Bach differently.
Thinking more broadly about your musical life, is it important for you to maintain this delicate balance of solo work and orchestral work, chamber music and other contexts? Yeah. I'm very unhappy if I feel like I'm out of balance. I'm happiest when I'm wearing many different hats.
For example, even in the past two months, I started the new year with Barber Concerto with the New World Symphony in Miami. Then there was the premiere of FRAGMENTS 1 and 2 (in Toronto). Then I did pure Bach recitals. I just played Prokofiev's Sinfonia concertante with the New York Philharmonic and now I'm just about to do a FRAGMENTS tour. I will also do recitals later in the spring and lots of chamber music in the summer. This makes me very happy to do lots of different things. 
One fairly recent highlight for you was to premiere Joan Towers' piece A New Day, in 2021. Was that a special project for you? Oh, very special. And, I was gratified too because she wrote me a photo piece for FRAGMENTS, as well. She's a fantastic composer and an amazing person. We became good friends as well. I really enjoy her attitude to music and to music-making. It's just, it's just wonderful.
I won't do the politically incorrect thing and ask if she's one of the composers we'll hear in Santa Barbara… (laughs) You'll see the individual list of composers right before it begins. But thank you for not asking (laugh). Spoiler alert.
Does your work with FRAGMENTS represent an especially rich and rewarding point in your musical life so far? Oh, yes. No, this is the most personal project I've ever done, in every sense, from the conversations with composers, fundraising for it, meeting Hanako and basically building something like this from the ground up. I knew it was a good idea, but to actually see it become a reality has been the most satisfying and moving thing. I still can't believe it, in a way.
I remember when I first saw the set, when we started to actually have tech rehearsals. There was a block of four days where I was playing a lot and they're experimenting with lights. We were putting this together. I get all the music and learn all the music, and then I curate the program. Then I send what I've done to Elkhanah and Seth, and they respond visually to it.
I remember, when we had done all of those, all those sets had been done for 1 and 2 (we're actually in the process of doing it now for 3 and 4). When I first saw the set and when we were putting it together, I thought "oh gosh, this is actually real. This is gonna be something." It was so exciting.