Environment
'Save Our Oceans!' UC Santa Barbara Students Lobby to Maximize California's Marine Protected Areas
Ocean-Minded Activists Go to Sacramento Seeking to 'Protect Nature and Biodiversity for Generations'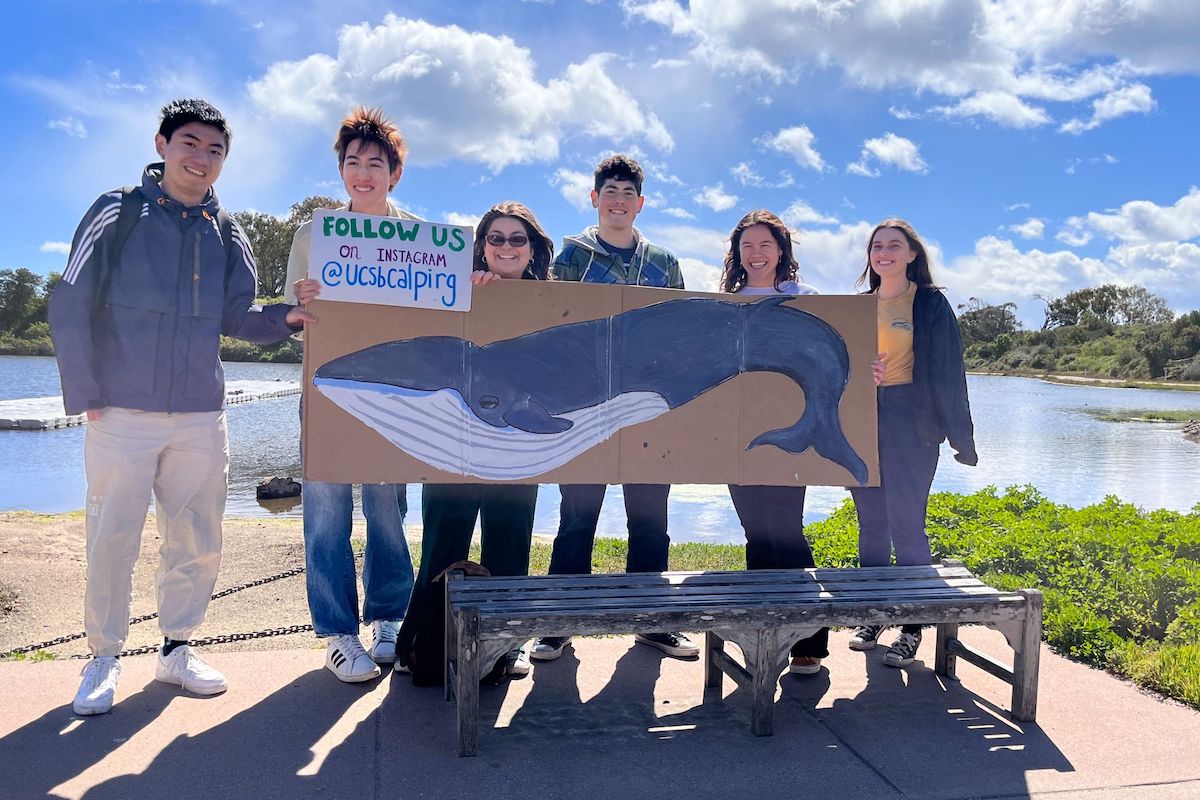 Student activists from UC Santa Barbara rallied in Sacramento on Monday to push for increasing California's marine protected areas (MPAs) to 30 percent of the state's ocean waters by 2030.
The small delegation of students, part of the UCSB Chapter of the California Students Public Interest Research Group (CALPIRG Students), joined others from CALPIRG chapters across the UC system on Monday to rally at the state Capitol in support of MPAs and meet with state leaders, including members of the Senate and Assembly's higher education committees and the office of the governor.
Ori Liwanag, UCSB's CALPIRG Students representative, said that the campaign has been the focal point of CALPIRG Students' efforts statewide since the beginning of the year.
"We realized that this campaign was just so urgent. As young people, we know it's going to be our future," Liwanag told the Independent. "At UCSB, we're able to see the benefits of these marine protected areas, especially with Campus Point being an MPA. But really, whether it's a coastal UC or an inland UC, students are really engaged in this idea that we need to protect nature and biodiversity for generations."
Liwanag said their goal is to lobby state leaders to increase marine protected areas during the ongoing MPA Decadal Management Review, which serves as an update on the MPA Management Program and evaluates progress toward meeting the goals of the 1999 Marine Life Protection Act.
The MPA network was established 10 years ago as a collaborative effort between state agencies such as the California Department of Fish and Wildlife and Ocean Protection Council. In short, the various MPA initiatives are geared toward enhancing the protections and regulation of the state's marine life and habitats.
"A couple of weeks ago, the California Fish and Game Commission came out with their Decadal Management Review Report, and it was very clear that MPAs work and really allowed these marine ecosystems to recover from the harmful practices that humans have been imposing," Liwanag explained. "And so we wanted to make sure that young people especially, and college students, were engaged in that process."
CALPIRG Students' goal to build on the existing MPA network coincides with the state's overall work towards conserving California's ecosystems.
According to the Ocean Protection Council, in 2020, Governor Gavin Newsom issued an executive order that committed to conserving 30 percent of California's lands and coastal waters by 2030. Last year, the California Natural Resources Agency released the report "Pathways to 30×30: Accelerating Conservation of California's Nature," which details strategies and opportunities for achieving the 30×30 target.
In the past few weeks, volunteers from the CALPIRG Students chapter at UCSB have educated thousands of students about the importance of marine conservation and collected hundreds of signatures in support.
"I've had so many conversations with students on campus about why they care about protecting the oceans," said Tara Grover, a third-year UCSB student studying Environment Studies. "And I'm excited to sit down with elected officials face-to-face, deliver that message to them, and win real change."
To send off the student delegation, students rallied last week in the name of protecting California's marine environments. Students came together in front of UCSB's Campus Lagoon with a shared passion for ocean conservation, partially inspired by the Santa Barbara coastline that draws many young scholars every year to UCSB's oceanfront campus.
"Human activities such as oil drilling and overfishing are hurting our oceans," said Kristi Copeland, a third-year at UCSB studying sociology and ocean science. "Yet only 9 percent of California's coasts are fully protected through Marine Protected Areas."
Students made signs with slogans such as "Save Our Oceans!" and wrote handwritten letters to Governor Gavin Newsom, which the student delegation plans to deliver directly to the governor's office.
While living and studying with the ocean at their door, it makes sense that the university's students would have an affinity for the ocean, or at least a love for the beach. At Wednesday's rally, students talked about their admiration of the ocean and recounted fond memories of spending time in the sand.
"I've had so many nice memories of the beach, watching the tiny ecosystems of the tide pool, waking up early and staring off the cliff to the ocean and seeing a glimpse of dolphins," said Jake Twomey, a first-year economics student at UCSB.
Liwanag emphasized that he and his peers are trying to "push for their future."
"We're the ones that are going to be living in it," he said, "And so that's why we're doing all this hard work to really engage our peers to be able to protect the future that we want to live in."