Living
Cooking up Kindness
Las Aletas Volunteers Put Their Kitchen Skills to Work for the Santa Barbara Rescue Mission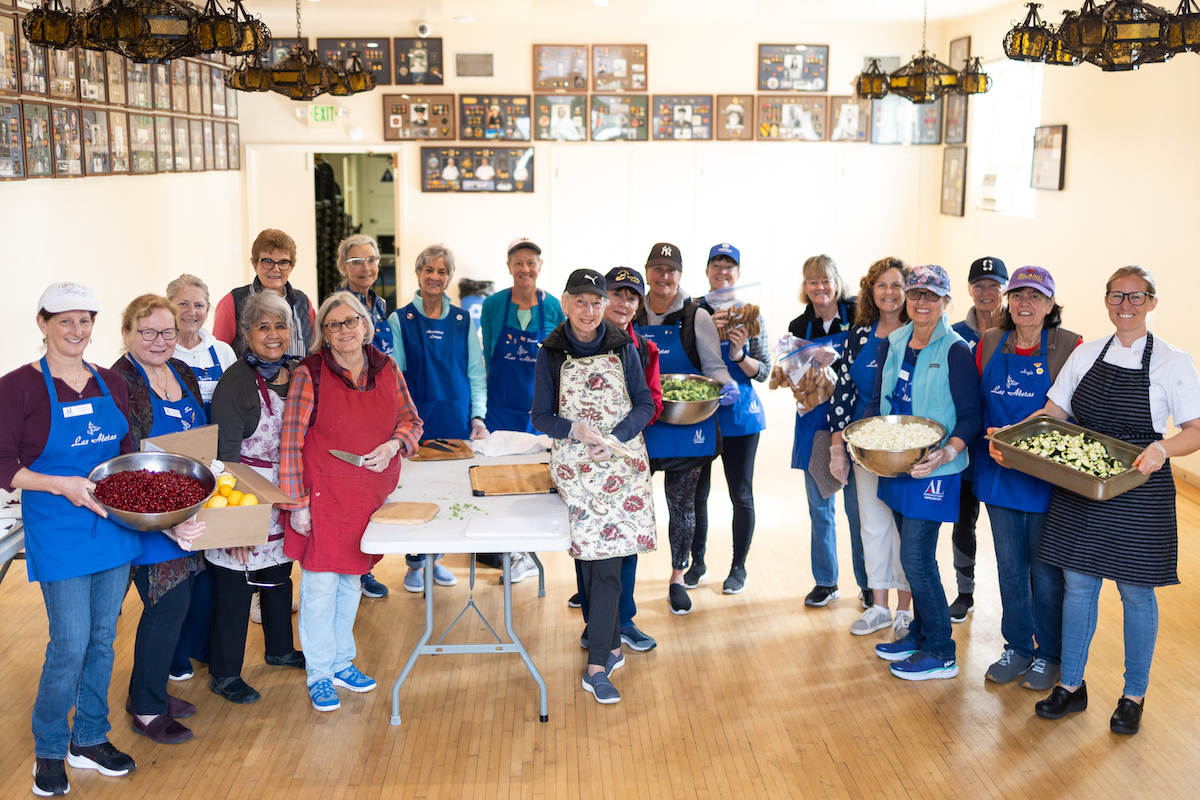 Many hands did GOOD work last week when volunteers from Las Aletas teamed up with Chef Coco LaForge and the Santa Barbara Rescue Mission to help feed fellow community members with healthy homemade soup and sweet baked goods.
The group gathered on March 9 at the Veterans' Memorial Kitchen to begin a day of soup-making in honor of ACTION! Week, an annual program sponsored by the National Assistance League (of which Las Aletas is an auxiliary group) in honor of the birthday of their founder, Ann Banning.
"Everyone worked together, washing, peeling, chopping veggies and other ingredients to make minestrone soup, under the supervision of Chef Coco," said Lily Smolenske of Las Aletas. ACTION! Week was first started in 2012 and continues throughout the United States in all 120 Assistance League Chapters.
The mission of the group, both nationally and locally, "is to develop and implement programs to benefit children and adults in need," stated Las Aletas S.B. Chair Cynthia Kawasaki. "Every year, during ACTION! Week, each chapter is encouraged to do a special project for their community."
The kitchen was a well-run ship, thanks to the leadership of Chef Coco — a former private yacht chef who "now caters to her home port of Santa Barbara" — who donated her time to the project.
"It warmed everyone's heart to be able to provide a chef-inspired, freshly made meal for 250 at-risk individuals," said Smolenske. 
More than 20 Las Aletas members volunteered for the event. Smolenske reported, "The soup came out delicious, and the desserts were amazing. Our members also home-baked over 300 cookies and brownies to donate to Santa Barbara Rescue Mission."
The combined membership of Assistance League of Santa Barbara and its auxiliaries, Las Aletas and Assisteens (which provides teenagers with opportunities to serve those in need), is 350 member volunteers who give more than 50,000 service hours every year to work to improve the lives of residents in the greater Santa Barbara community. Among the many philanthropic programs the group sponsors are: Operation School Bell (new clothes, uniforms, health kits, and school supplies for children with financial need); Operation Bookshelf (providing reading opportunities to homebound individuals who need drop-off and pickup services from local libraries); Fun in the Sun (a summer learning program for at-risk children in collaboration with the United Way); Family Learning Center (tutoring and mentoring support); Hillside House Resident Enrichment (a supporting residential home for individuals for developmental disabilities or brain injuries); Prom Dress (a free "prom boutique" for local high school girls); Fostering Friends (helping emancipated foster teens make the transition from foster care to independent living); and Santa Barbara Smiles (dental education and support for the Eastside Family Dental Clinic).
The major source of funding for these programs is the Assistance League of Santa Barbara's Thrift Shop (a true community treasure), located at 1259 Veronica Springs Road.