Sports
Bishop Diego Explodes Offensively in Tri-Valley League Loss to St. Bonaventure
Bishop Diego Racked Up 17 Hits Against St. Bonaventure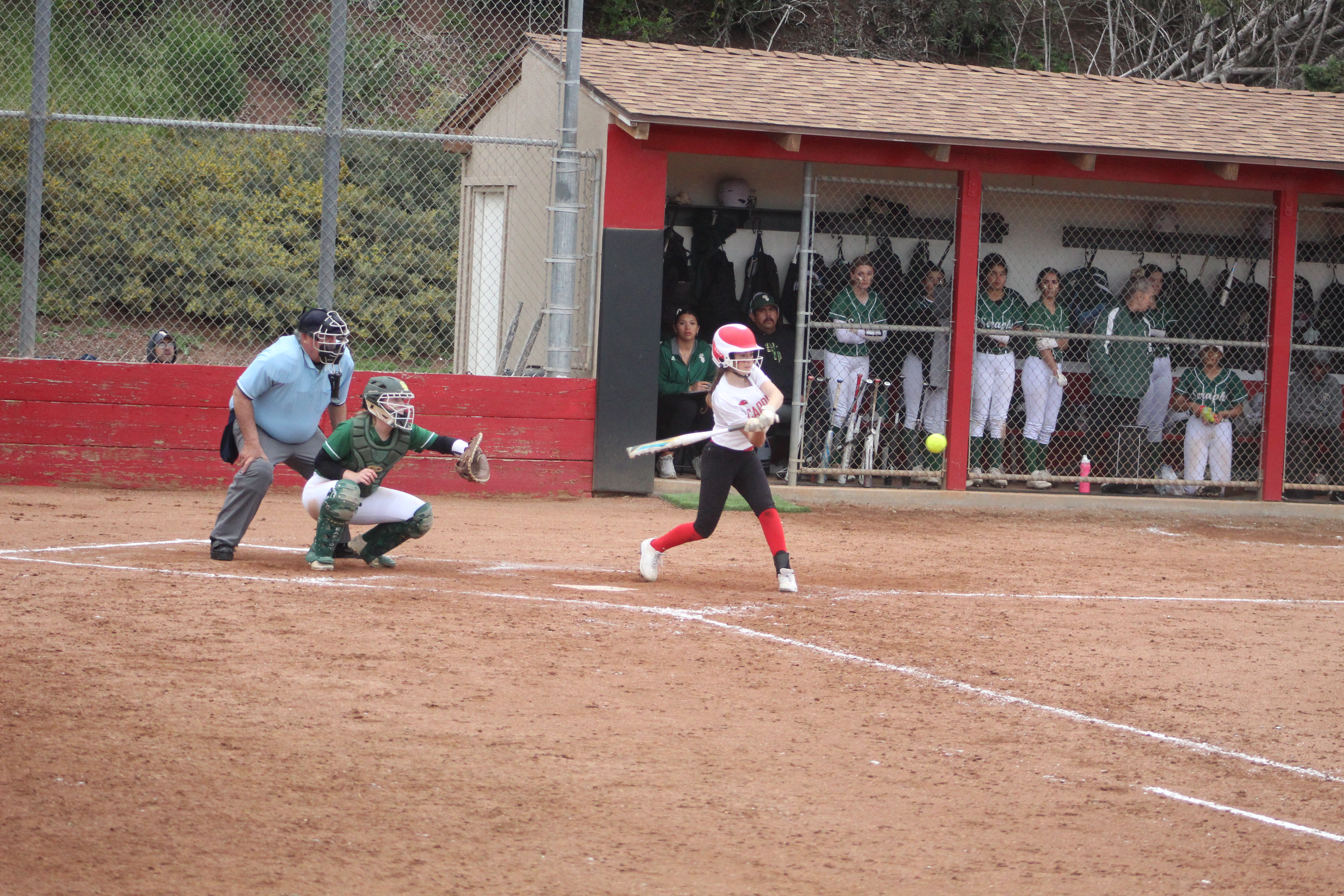 Despite a breakout game at the plate, the Bishop Diego softball team dropped its Tri-Valley League opener 21-10 on Monday.
The Cardinals cranked out 10 runs on 17 hits, but they surrendered 23 hits to the visiting Seraphs in a marathon slugfest.
"I'm really proud of my kids; they put up a fight. We really tried to do everything that we could against a good St. Bonaventure team," said Bishop Diego head coach MeLinda Matsumoto. "They are solid all the way through the lineup, defensively as well."
Bishop Diego first baseman Tessa Johansen went four-for-five with a home run and four runs batted in. Lauren Weeks also racked up four hits. The 10 runs were the most Bishop Diego has scored in a league game during Matsumoto's five years with the program. 
The Seraphs jumped out to an early lead after a two-run homer by Jennifer Garcia. However, the Cardinals evened the score at 3-3 in the bottom of the third inning with Chelsea Hayes contributing a key hit.
In the top of the fourth inning, St. Bonaventure took control of the game with six runs  on seven hits, all of which were singles, to take a 9-3 lead. Ten batters came to the plate for the Seraphs in the innings.
"We had a double header on Saturday and we haven't played two games in a day ever during my tenure here, so my pitching staff was a little sore," Matsumoto said. "Typically, 10 runs is enough for you to win a game. A lot of good things offensively for us."
St. Bonaventure extended its lead to 12-4 when Leea Martinez scored on a passed ball in the top of the sixth inning. However, Bishop Diego battled back with four runs in the bottom of the sixth, including a towering two-run homer by Johansen and a run-scoring double by Lucy Plowman, cutting the deficit to 12-8.
The Seraphs broke open the game once again in the top of the seventh inning with nine runs. It was a rough outing for Bishop Diego pitchers Madeline Ferries and Tara Gregson. Ferries has been dominant in the circle for much of the year as the Cardinals jumped out to a 5-0 record to start the season.
Bishop Diego (5-3 overall, 0-1 Tri-Valley League) will travel to Valley Academy of Arts and Science for a non-league contest on Wednesday.