Food & Drink
Boba Shop Brings Flavors from Across the World to Santa Barbara
New Boba Shop Opens on State Street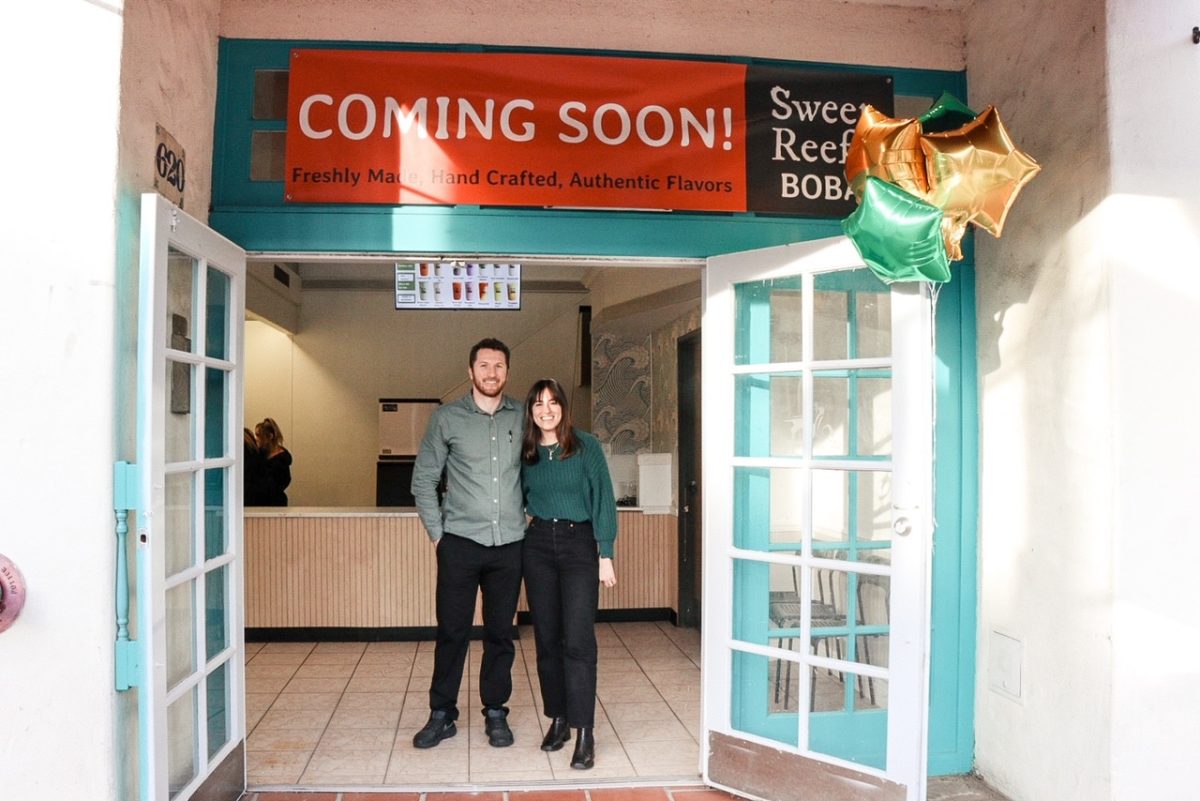 With their colorful nature and playful reputation as coffee shops' better-looking sister, it is no surprise that boba tea shops have begun to rise in popularity within the last decade and are expected to embody a $4.3 billion market by 2027, growing an impressive $2 billion since 2019. 
On that note, with Jared Squire's prodigious success in opening his first boba shop in Morro Bay in 2021, it is also no surprise that he wanted to grow his business ventures — right here in Santa Barbara.
With a recent soft opening on State Street, Squire's second location of Sweet Reef Boba not only brings a diverse array of Asian-inspired cuisine to Santa Barbara, with Squire noting, "We are excited to bring Sweet Reef to Santa Barbara because it has a tremendous sense of community and a diverse cultural sphere" — but it also embodies one individual's culmination of passed-down family recipes, background as a geologist, and world travels into a boba shop.
When looking at the speed in which Squire has opened what is likely to be his second thriving shop across the coast, it may seem that being in the culinary business was written in the stars for him. Yet, when discussing his journey toward opening Sweet Reef Boba, Squire describes a radical change from his past careers in geology and mining, stating, "On my time off from mining, I would visit a friend in California, and we went to Morro Bay for dinner. We saw that a lease space was available and wanted to start a restaurant together with boba and something to eat…. During this time, my work schedule at the mines was a rotating eight days working and six days off, and working on the boba shop at night."
Surprisingly, geological knowledge and boba tea have quite a few things in common. Squire says, "I think that brewing tea, cooking boba, and creating drink recipes takes a combination of methodical consistency and the ability to throw caution to the wind and be willing to experiment. In this sense, my scientific background blends with the 'cowboy approach' to decision-making I learned from my gold exploration and mining career."
With fond memories of trying boba for the first time in Perth, Australia, as well as Squire's travels throughout South East Asia, Thailand, Cambodia, and India growing up, the handmade boba tea featured at Sweet Reef pulls inspiration from and pays homage to the traditional ways that he observed various cultures preparing and serving tea. 
Squire reminisces, "I was fortunate to be able to have Thai tea in Thailand traveling around as a young adult…. The strength of the tea really blew me away, and the unique flavor with the cardamom, star anise, and hints of cinnamon was so special." His memory of drinking chai in Mumbai: "The chai teas from the 'chaiwalas' amazed me with their technique in pouring the tea from up high to down low, mixing the tea with the milk and sugar and adding air into the mixture, creating a slightly frothy tea." 
All to say, Squire's path towards opening Sweet Reef traversed international bounds and brought back the inspiration needed to craft Sweet Reef's diverse menu, featuring items such as horchata, Thai tea, Korean-style milk, and, pulled from his grandmother's waffle batter-recipe, taiyaki — a fish-shaped pastry originally from Japan. 
"I enjoy reminiscing and sharing stories with fellow travelers, and I hope that Sweet Reef can be a little home away from home like it was for me every time I had boba in a different country," says Squire. He hopes Sweet Reef can embody a place that transports customers to different flavors from across the world, as well as becoming what is sure to be a wonderful addition to the Santa Barbara community.
Make sure to visit Sweet Reef at 620 State Street, or visit their Instagram page @thesweetreef for more information.