News
An Inside Look at Santa Barbara County's $1.5 Billion Budget
County Leadership Is 'Ready for Today, Preparing for Tomorrow' with Fiscal Year 2023-24 Budget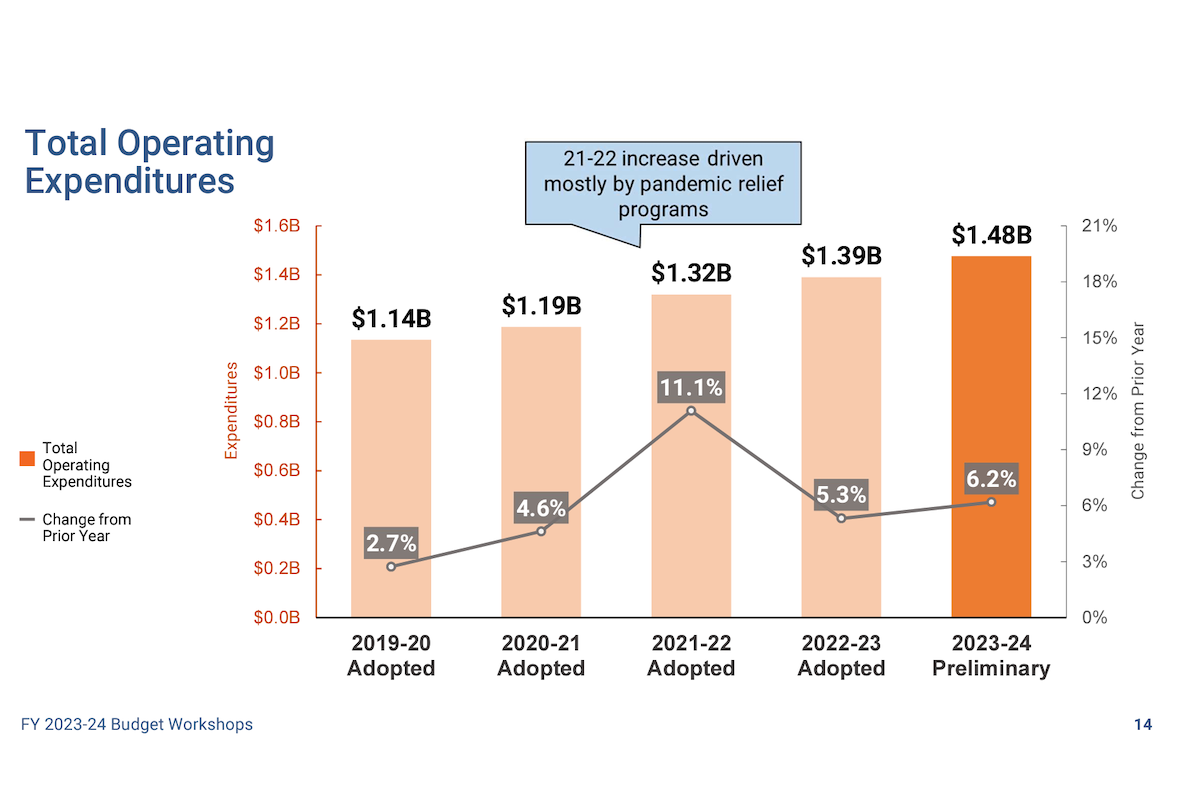 Santa Barbara County is in good shape heading into Fiscal Year 2023-24, with county officials estimating a "stable" operating budget of $1.48 billion — a 6.2 percent increase from last year — as the focus now shifts to preparing for an uncertain economic climate in the future.
County Executive Officer Mona Miyasato, Assistant Executive Officer Nancy Anderson, and Budget Director Paul Clementi sat down with the Independent this week for an inside look at the county's billion-dollar-plus budget, giving a glimpse into just what it takes to juggle the finances countywide and manage big-picture plans for 22 departments and thousands of employees.
"We are entering this budget year with a buckle-up-and-drive-carefully approach," Miyasato said. "While the fiscal outlook for the county remains relatively stable, the trajectory of the economy remains uncertain."
The county released the details of the  2023-24 budget as well as the theme of "Ready for Today, Preparing for Tomorrow," ahead of this week's Board of Supervisors Budget Workshops, which will be held on April 18, 19, and 21.
Once again, the county's operating budget has grown at a steady pace alongside its overall revenue. Since 2019-20, both the budget and revenue have grown from around $1.1 billion to $1.5 billion, and for the fifth year in a row, the county has managed its budget without service-level reductions for any departments.
Property taxes provide the county's largest revenue source, with a 10 percent increase from last year to $293 million overall. And while two out of the "big three" tax revenue sources saw a similar increase — transient occupancy tax revenue increased by 16 percent to $17 million and sales tax revenue increased by 6 percent to bring in $15 million — cannabis continues to stick out like a sore green thumb with a 54 percent decrease to a projected revenue of $7.5 million (for context, in 2021-22 the county projected cannabis to bring in more than $19 million, but it actually made only $8.7 million; last year, it failed to meet the projected revenue of $16.3 million and brought in an all-time low of $6.7 million).
Clementi said that cannabis revenue "grew quickly at first," but dropped drastically in the past two years due to the overproduction of supply and under-reporting of gross sales. The county will be specifically discussing cannabis revenue and options for tax measures during Friday's budget workshop, where the board can discuss how the county can adjust to make up for this unexpected shortfall.
The county could offset the downfall in cannabis revenue with a "flood assessment tax" for Montecito, a "mansion tax" on multimillion-dollar property transfers, or an increased sales tax for the unincorporated areas. While the countywide sales tax is currently at 7.75 percent, cities within the county such as Carpinteria and Buellton have set their own higher rates at 9 percent. Changing the county tax codes would be much more difficult than in the cities with their own charter, however, due to the county being a "general law" jurisdiction that must conform to state codes.
Another option would be to switch from assessing cannabis tax based on gross sales to another rate based on square footage. This change was previously discussed by the Board of Supervisors in May 2022, and several other jurisdictions in California have a tax based on the same system. By taxing per square foot, Miyasato said, it could help make up for the revenue lost by growers underreporting sales.
One of the largest chunks of the county's spending will go toward public safety, with $457 million set aside in total, and the biggest portions of that money going toward the Fire Department ($120 million) and Sheriff's Office ($198 million).
The Fire Department will break ground on its new centralized dispatch center at the end of this month, and it is expected to be fully operational next spring.
The Sheriff's Office is approaching a $200 million operating budget for the first time in its history, with more than $90 million toward custody operations and $82 million toward law enforcement operations. The Sheriff's Office is asking for $4 million toward several expansion programs and positions, including a five-person Narcotics Enforcement Team and a six-person Cannabis Compliance Team, which will be implemented to provide a scope of the "pervasiveness and extent" of the cannabis black market, according to county staff.
The other largest portion of the budget will go toward Health & Human Services, which is almost completely covered by state and federal funds, with $516 million toward the Behavioral Wellness, Public Health, and Social Services departments.
General Fund operating revenues are up 8 percent to $552 million, and the county is estimating that the fund will have a reserve balance of more than $130 million at the end of the fiscal year, with about $60 million of that earmarked for future use. The country still has some of the American Rescue Plan Act funds as well, with about $30 million set aside for the upcoming budget.
The budget workshops will start at 9 a.m. on April 18, 19, and 21. To view all budget materials ahead of time, check the county website.