Sports
San Marcos Baseball Outlasts Santa Barbara in Extra Innings Thriller
San Marcos Remains Atop the Channel League Standings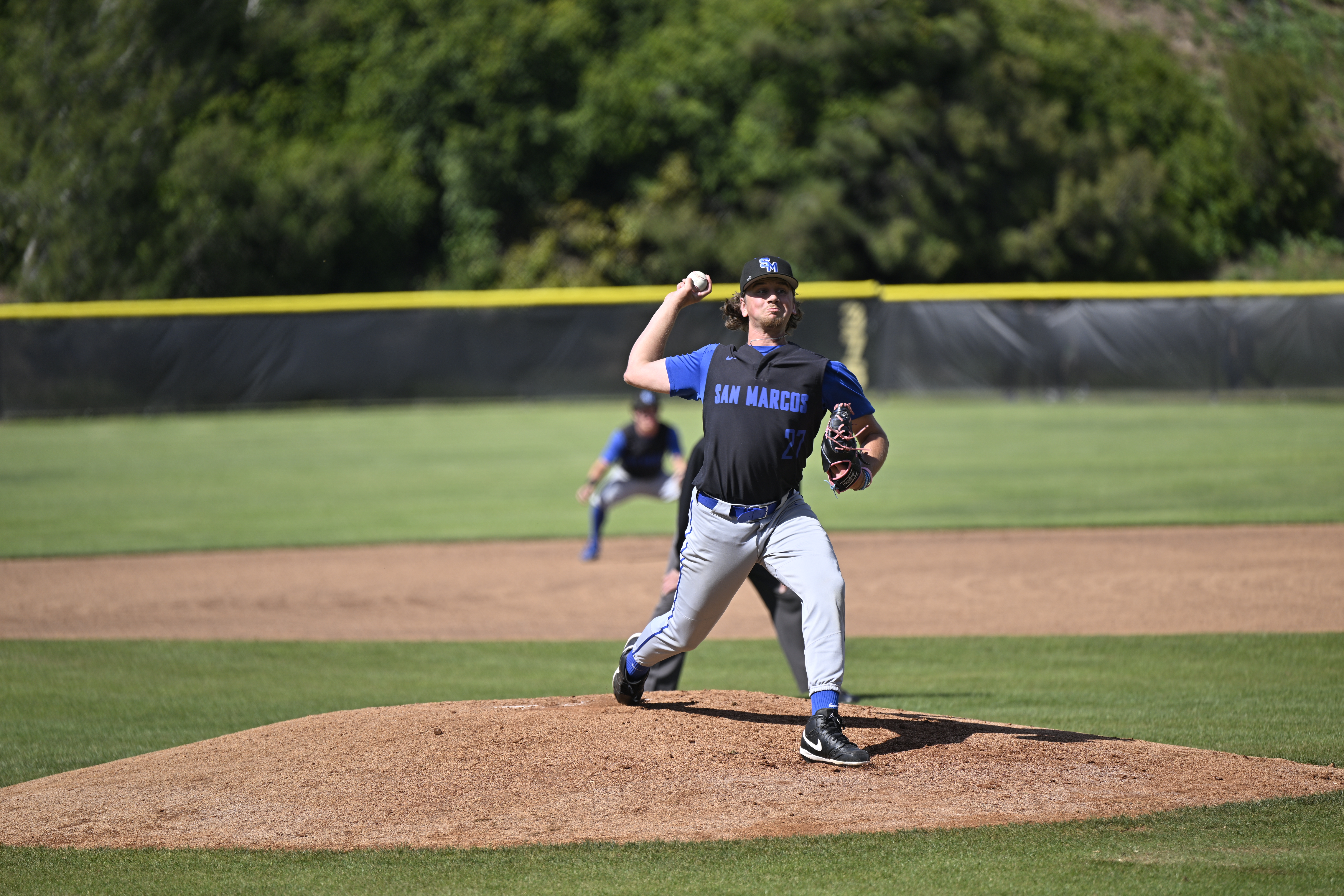 A marathon game that will forever live in rivalry lore left the San Marcos and Santa Barbara baseball teams exhausted as the sun set on Eddie Matthews Field on Tuesday.
San Marcos's Columbia–bound catcher Owen Estabrook singled to left field in the top of the 11th inning to score Brendon Cekada from second base for the go-ahead run that lifted the Royals to a 6-5 victory in a game with several wild twists and turns.
"That was as taxing a game on any team as I've ever been a part of," said San Marcos coach Wes Ghan-Gibson. "[Santa Barbara] is very good. They are very scrappy. I'm proud to be on this field and to be a part of something so special. It is beautiful Santa Barbara rivalry baseball, and it doesn't get much better than that."
The odds appeared stacked against Santa Barbara at the outset as they were set to face San Marcos–ace pitcher Cole Schoenwetter, who is among the top pitching prospects in the United States and a potential early round pick in the 2023 Major League Baseball draft.
The stands were packed. The scouts were out in full force with radar guns locked in on the Royals' pitching prodigy and the Dons didn't flinch. 
"The pitcher they had on the mound is no slouch. I give him all the credit in the world, but I want to give my hitters all the credit in the world too for battling. They competed in the box against him," said Santa Barbara coach Steve Schuck. "That's a potential first rounder and my guys didn't back down."
The Santa Barbara bats came alive in the bottom of the second inning beginning with a triple by freshman Jetner Welch that scored Liam Keithley. Two batters later, Dane Dawson singled to drive in Welch. Kai Mault followed with a double that increased the Santa Barbara lead to 4-0.
"Cole has been great all year and to give up four early—that's OK, he is a human being. He is an 18-year-old kid, and some days he's not as sharp as always, but his toughness to hang in there even though he was getting hit for a four spot, which hasn't happened all year," Ghan-Gibson said. "It was new territory, and for him to be able to keep getting back up there in a hostile environment against a team that is going to put the ball in play and be scrappy—that's a complete team over there, and he was able to stick with what he's good at and keep attacking."
San Marcos got one run back in the top of the third inning when Steven Bradley scored on a single by Caden Hodina.
In the top of the fourth inning, the first four San Marcos batters reached base. A single by Patrick Kelly brought in Schoenwetter, who singled to lead off the inning, cut the San Marcos deficit to 4-2, but Estabrook was thrown out at home on the play.
The next two San Marcos batters reached base on Santa Barbara errors, which scored Brad Cekada to make the score 4-3. Hodina closed out the scoring with a single down the left field line that brought home Darren Orlando and Mason Pettingill to give the Royals a 5-4 lead.
Liam Keithley evened the score at 5-5 in the bottom of the sixth after scoring on a Schoenwetter wild pitch. Erik Perez came on in relief of Schoenwetter and notched a strikeout to end the sixth inning.
Keithley was also Santa Barbara's starting pitcher and went eight innings on the mound and surrendered only one earned run before being replaced by Enrique Ramirez to begin the top of the ninth inning.
Hodina came on to pitch with two outs in the bottom of the ninth and finished off the game with 2.1 scoreless inning of relief.
With the victory San Marcos solidified its place atop the Channel League standings with a 16-5 overall record and 10-1 in League play. Santa Barbara drops to third place with the loss at 12-11 overall and 7-4 in Channel League play.