Public Safety
Santa Barbara County Unveils 'New Toy': The Nanogrid Emergency Response Trailer
Environmentally Friendly Mobile Charging Station to Allow People to Power Electric Medical Devices and More During Power Outages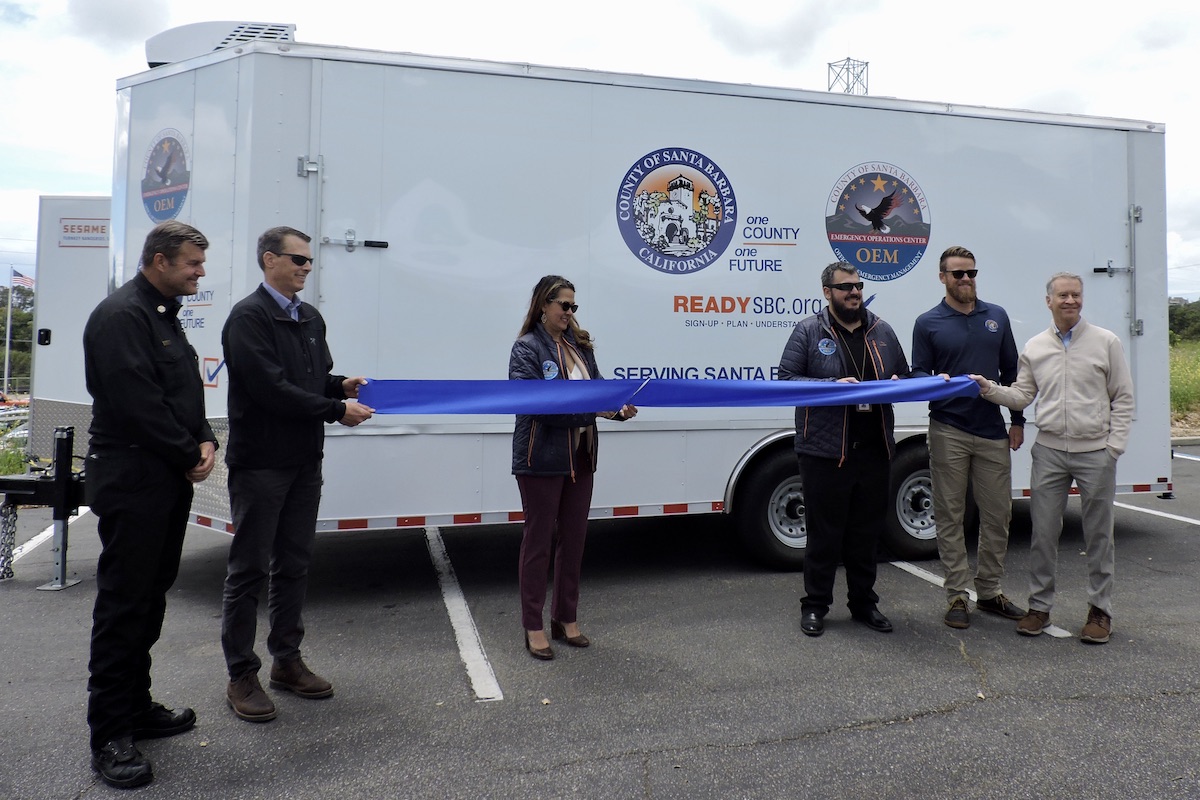 Outfitted with solar panels, battery packs, and a fuel cell powered by green hydrogen, Santa Barbara County's newest disaster response service is an environmentally friendly nanogrid on wheels.
In other words, it's a mobile charging station.
Kelly Hubbard, the director of the county's Office of Emergency Management, cut the ceremonial ribbon to mark the Nanogrid Emergency Response Trailer's arrival to Santa Barbara on Wednesday, May 3, at the County Fire Department Headquarters.
On the outside, the $200,000 trailer boasts the slogan "Serving Santa Barbara County Using Renewable Energy," and it is equipped with a retractable solar array, a tailgate ramp, a pull-out table, power outlets, hydrogen storage tanks, and a television.
But the inside is where the magic happens. Walk through the trailer and you'll pass by the large, energy-independent hydrogen fuel cell, additional power outlets, storage spaces, a mini fridge, and a Keurig coffee maker.
With all that tech, the nanogrid can start generating energy in only 15 minutes.
After seeing the trailer online, Hubbard said her inner disaster geek was excited by the concept and asked Skip Grey, the county's assistant director of general services, "Wanna help me get a new toy?"
She said they purchased the trailer using funding from the state's Community Power Resiliency Allocation, primarily to help people in the community who rely on electric medical devices be able to access a source of power during power outages.
When residents are left powerless in emergency situations — such as a relentless winter storm system or wildfire — the Mobile Nanogrid will be deployed in impacted communities at a central location, such as a park or grocery store.
People will be able to plug in and charge everything from electric wheelchairs to smartphones; watch the news and receive important updates on emergency situations; and store medications that need to be refrigerated.
The nanogrid was developed by Sesame Solar, whose mission is to "focus on decarbonizing disaster response in offgrid power," according to Anne Webb, their vice president of sales. The county hopes to obtain a second trailer soon, Hubbard said, to base one in North County and one in South County.
"What we've built in here are things we pushed Sesame on, that they were like, 'Well, wait, we hadn't thought about that,'" Hubbard said. "We worked together on some of those concepts, making sure there was accessibility in what we were developing, even with the tailgate that comes down for a wheelchair to come into the trailer."
Attendees of Santa Barbara's Earth Day Festival may have seen the trailer on display over the weekend. Another purpose of the county's new toy is to bring attention to resilient power projects and educate the public about energy-independence and emergency preparedness.
"It's an exciting opportunity to be more prepared for emergencies, but also to have a very visible asset for the community to see what the county is doing," said Brandon Kaysen, the county's general services energy manager. "This is a wonderful resource for us to have a further commitment to energy efficiency, renewable energy, and resiliency for Santa Barbara."