Homeless
Tiny-Home Village Proposed for Hollister Avenue Gets Wary Reception from Neighbors
DignityMoves' La Posada Project to Bring 90 Units of Transitional Housing to Site of Former Santa Barbara Juvenile Hall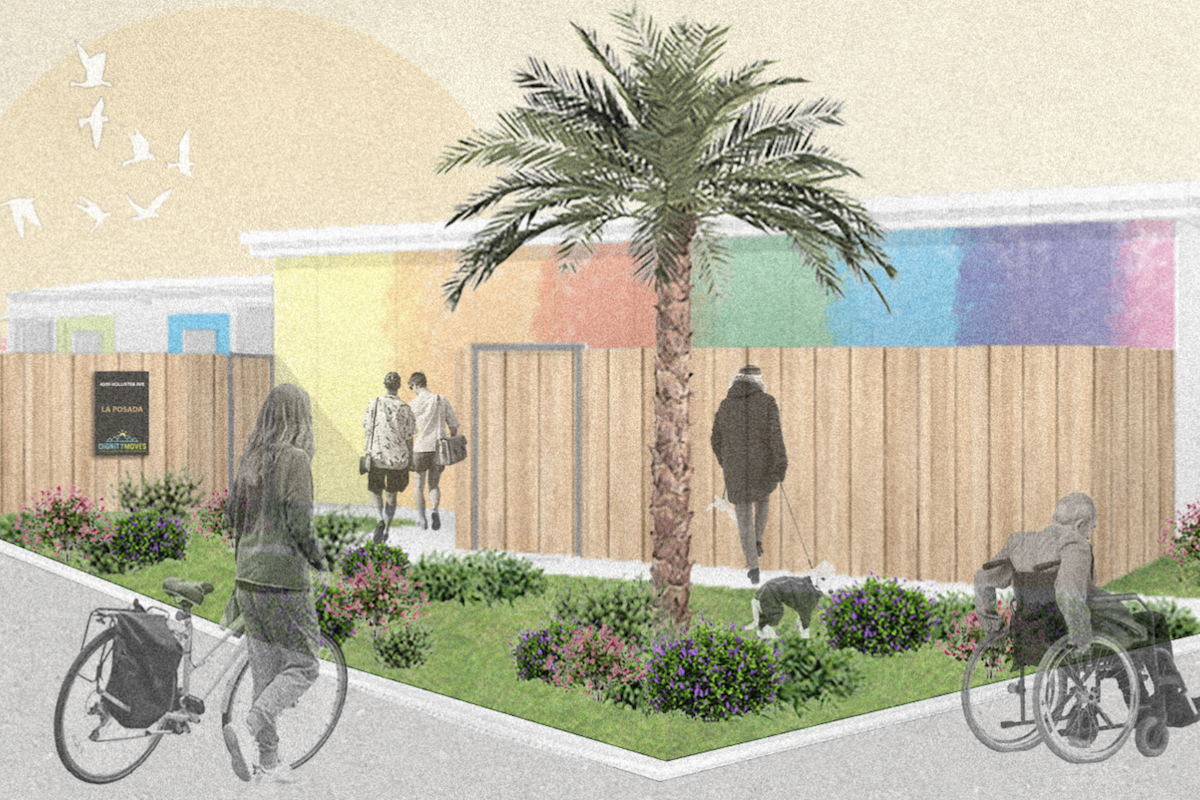 Plans to build a new village of 90 tiny homes of transitional housing for people experiencing homelessness near Hollister Avenue and Modoc Road got a wary but polite response from about 35 neighbors who showed up Monday evening to get briefed by county administrators and representatives of DignityMoves, the private nonprofit proposing to build the new development.
The new project — dubbed La Posada — will be built on the county-owned land at the site of the former Juvenile Hall located upslope from the Creekside Restaurant & Bar. According to Matt Riley of DignityMoves, the project will target chronically homeless people already living in encampments in the area. He estimated 60-90 people are living in these camps right now. 
DignityMoves has vowed to raise $5 million to build the prefabricated tiny homes, making them and the village "nicer than it needs to be." By so doing, he said, residents will be more inspired to succeed in transitioning into permanent housing.
The site — like DignityMoves' downtown village on Santa Barbara Street — offers residents their own individual units with doors they can close and lock. Riley cited what he called the four P's — possession, privacy, pets, and partners — all of which are allowed. Not allowed, he stressed, is any drinking or drugs taken on-site. Curfews and house rules are also enforced, and on-site security is provided 24/7.
The County of Santa Barbara has vowed to match DignityMoves' contribution with $2 million a year to cover the costs of managing La Posada, providing not just the security but 24/7 staffing plus a wide-range of addiction and mental-health services.
One neighbor said the proposals sounded like a "Cadillac program," but suggested that it should perhaps be parked somewhere else. The neighborhood is already slated for a 21-unit homeless housing project near the Page Youth Center, and St. Vincent's has another homeless housing project proposed a few blocks up Hollister Avenue. With four preschools, two elementary schools, and a youth center nearby, she said, that's a bit much. What about putting it in Montecito? she and several attendees asked.
One speaker recounted how he called the police on a homeless man who parked himself in the shelter of a nearby bus stop and screamed nonstop obscenities at the top of his lungs. When the cops showed up, the man reportedly threatened to kill whoever placed the call. Others noted that only one side of the street had a sidewalk, suggesting that people attempting to walk that stretch of road at night were at risk of getting killed.
One woman noted that the campsites where the homeless campers now live are among the prettiest in the area, suggesting that few would want to trade in the beauty of their views and the freedom to come and go for "little boxes" offered by La Posada. And if they did, she wondered, what guarantees were there that other homeless people would not show up and occupy the vacated camp sites?
Former county administrator Terri Maus-Nisich told those assembled that on any given night, there are only three shelter beds available. Under applicable law, she noted, illegal camping ordinances cannot be enforced unless shelter beds are available. By providing the 90 units, she said, the county would be able to legally enforce the camping laws, clean out the encampments, and keep them shut down.
She and other project advocates stressed that the homeless people many of the speaker expressed alarm about were already living in the neighborhood. They cited the success of the downtown DignityMoves project — a handful have found permanent housing, eight have jobs, and several are attending college — as a harbinger of what could happen.
Many residents remained apprehensive and some expressed vexation that the decision had been made before they were notified and given a chance to weigh in. Many expressed disappointment at the outreach effort.
County Supervisor Laura Capps kicked off the meeting by voicing unequivocal support for the project. "It's a safety issue. It's a mental-health issue," she stated. "To me, this really is a moral issue."
On Tuesday, DignityMoves and county officials held a ribbon-cutting and groundbreaking ceremony for yet another DignityMoves project, this one offering 94 units on county-owned land in Santa Maria by the government center. This project — Hope Village — will offer 30 beds of respite care for homeless patients released from Marian Medical and another 10 for former foster care kids ages 18-24.
Groundbreaking ceremony for Hope Village in Santa Maria on Tuesday, May 9. From left: Alice Patino, Santa Maria Mayor, Alma Hernandez, District Representative, Harmon's Office, Das Williams, County Supervisor, Edwin Weaver, Executive Director, Fighting Back Santa Maria Valley, Matt Riley, Executive Director, Santa Barbara, DignityMoves, Bob Nelson, County Supervisor, Balay Ko Foundation (2 people), Steve Lavagnino, County Supervisor, Sue Anderson, President/CEO, Dignity Health Marion Regional Medical Center. | Credit: Courtesy

Groundbreaking ceremony for Hope Village in Santa Maria. | Credit: Courtesy