Business
Six Santa Barbara Businesses Fight to Keep Their Parklets
City Council to Hear Appeals on Tuesday to Decide Fates of Businesses Found Out of Compliance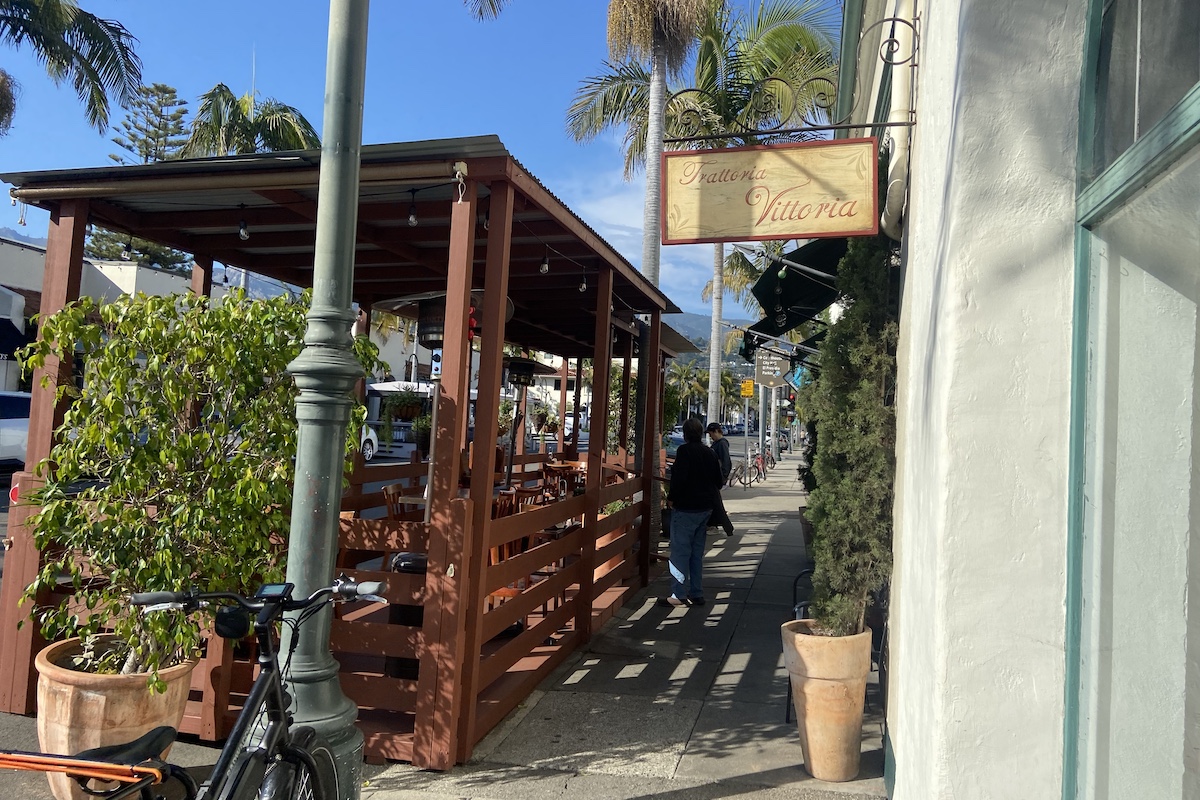 Six Santa Barbara businesses are fighting to keep their outdoor parklets this week after the city suspended the authorization at the locations due to the facilities failing to address multiple violations, according to city officials.
Taza Mediterranean Street Kitchen on State Street, Trattoria Vittoria and Ca'Dario Restaurant on Victoria Street, Folded Hills Winery on Coast Village Road, Courthouse Tavern on Anapamu Street, and Foxtail Kitchen and Bar on Cota Street will all be appealing to the City Council on Tuesday, when the council will be looking at each business on a case-by-case basis to decide whether they will have to comply with the city's order of removal or be allowed to continue operating under the Economic Recovery Extension and Transition Ordinance (ERETO).
Starting at the end of 2022, the city began a "focused effort to enforce accessibility requirements in parklets outside of the State Street Promenade," according to the staff's report, which included individual inspections conducted by "certified access specialists" from M6 Consulting.
During the first wave of inspections in November and December 2022, the city found that several businesses were operating without accessible tables or adequate access to ramps or had violated other accessibility requirements, including leaving gaps in the transitions from the walkway to the parklets. For each violation, the inspectors issued a notice followed by a second inspection in late January. Each business then received an administrative citation and two more inspections before being issued a final removal notice on April 17, 2023.
For several of the businesses appealing the city's orders for removal, the property owners cited hardships that prevented them from addressing the violations in time to be found in compliance by April.
Hitesh Ambadal, who is appealing on behalf of Taza Mediterranean Street Kitchen, said that family issues and medical emergencies over the past few months made it difficult to address the small violation — a half-inch gap between the sidewalk and the restaurant's outdoor parklet.
"Not trying to make an excuse," Amblalal wrote in his letter of appeal to the council, "but this parklet situation generally happened in the midst of all of the family issues and fell through the cracks."
He said the issue could be easily remedied by a "rubber transition slip," and vowed to satisfy any other outstanding Americans with Disabilities Act (ADA) requirement. "Our parklet is the most well-kept and beautiful on our end of the street and I would hate to have to remove it over simple issues that can be fixed immediately," he wrote. "If ultimately, we have to take it down, I completely understand, but we are hoping it is not too late and the council will recognize the special conditions of this particular situation."
On Victoria Street, both Ca'Dario Restaurant and Trattoria Vittoria received similar complaints over accessibility, with both saying that there was some confusion over the notices of violations.
Vittoria Comin, the general manager of Trattoria Vittoria, said that she had recently moved back to Santa Barbara to take over operations of her family's restaurant due to her grandfather Giovanni "Lucky" Comin's declining health.
"There was significant disorganization and confusion during my first few weeks because I had relocated to Santa Barbara on short notice to take over the management of the restaurant and all of the prior managers had resigned without notice," she wrote in her appeal letter.
---
Sign up for Indy Today to receive fresh news from Independent.com, in your inbox, every morning.
---
Since then, she has made arrangements to address the accessibility violations, and she is asking that the city extend its deadline until repairs are made.
Down the street at Ca'Dario, representing attorney Michael S. Fauver wrote that the restaurant "did not receive proper notice of the continued violation," and that his office has been trying to "work with the city to request a reinspection," but the city instead directed them to file an appeal.
"We have pointed out the glaring errors in the city's failure to serve proper notice and the clear effort made by our client to comply with the ordinance," Fauver wrote in the Ca'Dario appeal letter.
At Folded Hills Winery on Coast Village Road, city inspectors found that there was no accessible ramp in the parklet. When inspectors returned, the ramp that the business installed was too narrow and its slope "exceeded the allowed 8.3 percent," according to the staff's report. 
Sam Schmitt, the winery's general manager, wrote in his appeal letter that "severe winter weather throughout January, February, and March, delayed this project" and ultimately forced his repairs to be extended into May.
At Foxtail Kitchen, property owners provided photo evidence that they had, in fact, addressed the half-inch gap city inspectors found at the restaurant and asked that the City Council allow the parklet to remain.
At Courthouse Tavern on Anapamu Street, city inspectors ordered the parklet removed due to a lack of an accessible table. When inspectors came back, the restaurants had ordered a new table that did not meet specifications because it was 27 inches from the ground as opposed to the required 30 inches.
"Unfortunately, the table we ordered was slightly not up to code due to the hinges infringing under the table. So again, we ordered another table," wrote Billy Valdez on behalf of Courthouse Tavern. "The table took longer than expected but we now have an ADA-approved table on our parklet. We have been in communication with city staff to keep them updated on our efforts."
Valdez also explained that the city's original emails were directed at the restaurant's principal, Jack Mathis, who had been hospitalized for several months during that time. "We ask please that we are not required to take down our parklet as it will cost us $10,000 and it will be $2,000 to remove," Valdez wrote.
The City Council will hear each of the appeals at City Hall on Tuesday.