Regional Farm Tours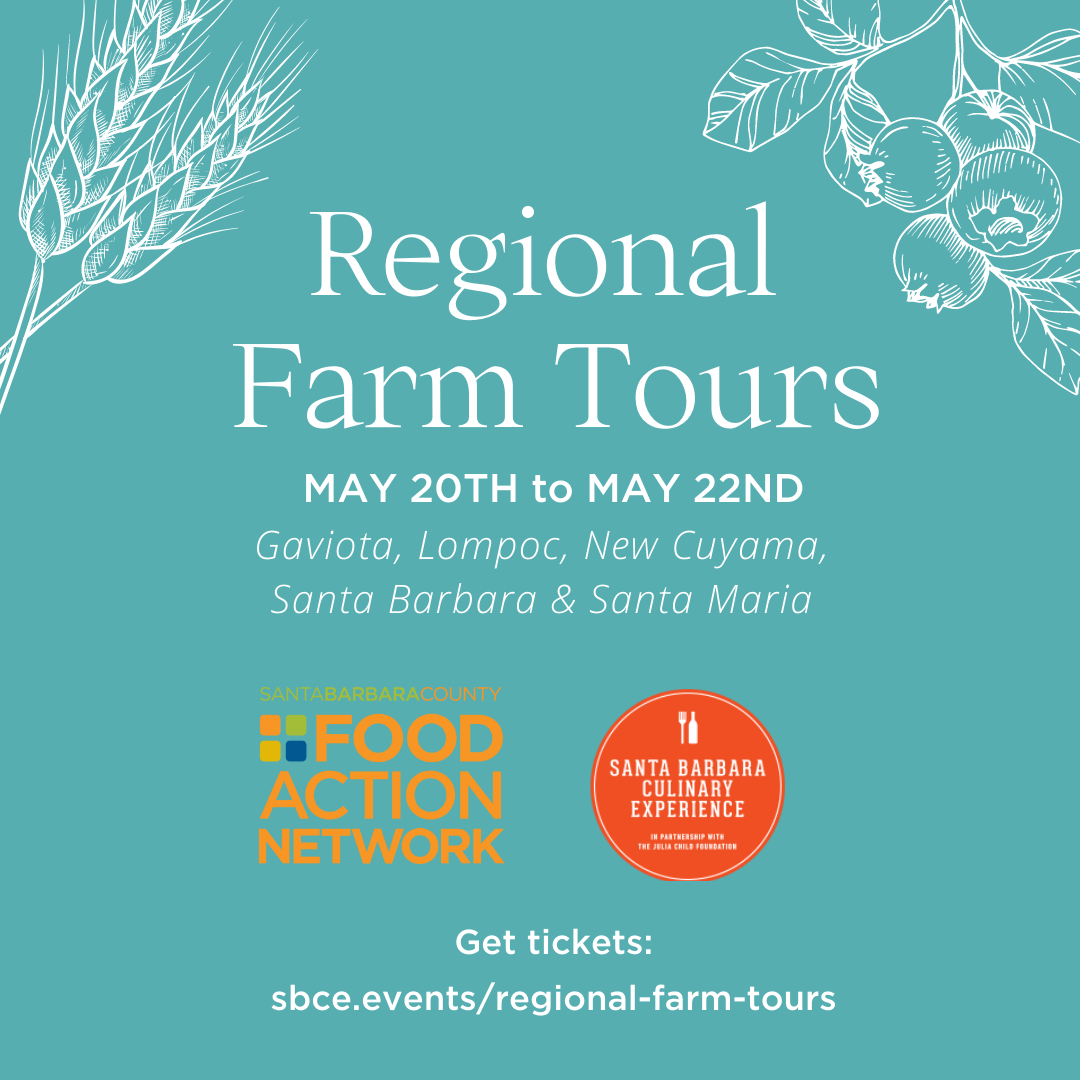 Best Bet
Community
Food & Drink
Countywide
**Events may have been canceled or postponed. Please contact the venue to confirm the event.
Date & Time
Fri, May 20 12:00 AM - 12:00 AM
Join local food producers and land stewards to see first-hand how resilience is being built into our local food system from the ground up.
Tour countywide farms, ranches, community gardens, and processing facilities demonstrating regenerative and sustainable agriculture and food production practices. https://sbce.events/regional-farm-tours/
Rockfront Ranch and the Cuyama Valley Food Action Network
Friday, May 20 at 11:30 a.m.
Cuyama Valley
Piedrasassi Wine & Bread (21yrs+)
Friday, May 20 at 2 p.m.
1501 E Chestnut Ave, Lompoc, CA 93436
Restoration Oaks Ranch and Santa Barbara Blueberries 
Sunday, May 22 at 10:00 a.m.
Restoration Oaks Ranch / Santa Barbara Blueberries, 1980 U.S. Hwy 101, Gaviota, CA 93117
Restoration Oaks Ranch and Santa Barbara Blueberries 
Sunday, May 22 at 10:00 a.m.
Restoration Oaks Ranch / Santa Barbara Blueberries, 1980 U.S. Hwy 101, Gaviota, CA 93117
Center for Regenerative Agriculture at Jalama Canyon Ranch 
Sunday, May 22 at 10:00 a.m.
Camp Lyndsey at Jalama Canyon Ranch, 3635 Jalama Canyon Road, Lompoc 93436
Rodeo Farms Strawberry Field Day 
Sunday, May 22 at 10:00 a.m.
Rodeo Farms / 1875 W. Main Street, Santa Maria CA, 93458
Trinity Community Gardens and Organic Soup Kitchen
Sunday, May 22 at 11:00 a.m.
Trinity Gardens / 909 North La Cumbre Road, Santa Barbara, CA 93110