Hike: Bike and hike to Alder Creek Camp; suitable for fit children ages 11 and above
Mileage: 10-mile roundtrip, with seven spent biking along scenic Juncal Road
Time: About six hours round-trip, not including the 80-minute drive to shuttered Juncal Camp on the upper Santa Ynez River
Maps: Craig Carey'sHiking and Backpacking Santa Barbara and Ventura has this as Route 16 "Upper Franklin Trail" (pp. 88 – 91) and Map 5.
I had been dreaming about getting out to nearby backcountry at Alder Creek Camp for months because it's a fantastic hike/bike combination. Yes, the 10-mile round-trip with considerable dirt road biking scared off most potential hiking partners, but not teaching colleague Chris Caretto. In the third year of our drought, I also wanted to discover if Alder Creek is still flowing and pouring into Jameson Lake through the weird little aqueduct.
Alder Creek Camp — not the better-known site in Ventura County — is a tiny and quaint wilderness locale buried on the backside of the low coastal range right behind Carpinteria. There is no table there, hardly a flat spot for one tent, simply an artful stone circle in which to lay a campfire.
Driving my truck loaded with two bikes the 23 miles from Santa Barbara's Westside to the parking spot at now-shuttered Juncal Campground on the upper Santa Ynez River required about 90 minutes — I used my old Ford Ranger's four-wheel drive, and the dirt portion of Romero-Camuesa Road heading down to the river was rough with some nasty washboard sections.
Immediately after fording the Santa Ynez in the truck, we spied a locked gate and on the right side an ideal parking spot for one or two vehicles. You begin the 3.5 mile Juncal Road biking portion right here, and as we pedaled quietly through the campground that morning, the chill temperatures chafed facial skin and hammered the fingers despite gloves and plenty of warm gear: 37°F at7:30 a.m. The feds closed Juncal Campground in 2000 in order to protect the threatened arroyo toad. Amazed that the tiny upper Santa Ynez River was still flowing, we still couldn't see or hear any of the prized toads.
After some mostly flat cycling with a bit of up, we hit a half-mile of very steep ascending, and in my upper middle-age lack of hubris, I happily hopped off my ancient mountain bike and pushed for about 20 minutes. Juncal Road itself exists mainly to allow the Montecito Water District to monitor picturesque Jameson Lake, one of their water-supply reservoirs, and supply the dam manager's place.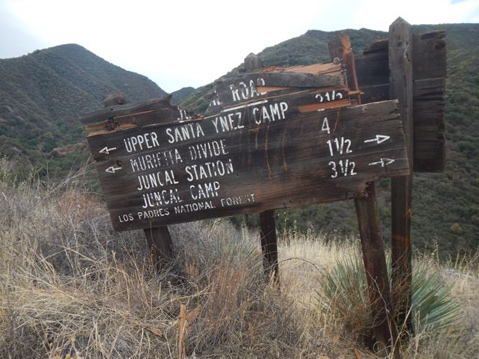 By Dan McCaslin