Whether or not you're a parent, you've probably lamented the dissolution of arts education programs in our public schools. Some have even gone so far as to say that the nation's art-annihilating budget cuts are signaling the "end of the American Dream." In the wake of these changes, after-school programs and nonprofit organizations have popped up by the dozens, attempting to fill the void by offering students everything from musical instruction to pottery classes to dance and yoga, often at little to no cost. Still, few area advocates have succeeded in bringing art back into the classroom quite the way ¡Viva el Arte de Santa Bárbara! has. Started in 2005 as a collaboration between UCSB Arts & Lectures, the Marjorie Luke Theatre, Guadalupe Cultural Arts & Education Center, and Isla Vista Youth Projects, ¡Viva el Arte! aims to reach out to Santa Barbara's Latino communities with free public performances and outreach programs. Last year alone, the organization connected with more than 17,000 children and adults in the greater Santa Barbara County area. And this week, they bring Los Angeles act La Santa Cecilia to town for a three-day mini-tour that includes performances at Isla Vista School, Guadalupe City Hall, and Santa Barbara Junior High.
As for the talent, the timing couldn't be any better. After nearly seven years of cutting its teeth in and around L.A., La Santa Cecilia is finally reaping the benefits of all its hard work. In 2012, the band signed a major-label deal with Universal Music and last month snagged its first Grammy nomination for its 2013 masterpiece, Treinta Días. In many ways, Cecilia is getting its first taste of the spotlight, and true to form, its band members remain focused on how they can give back..
Formed in 2005 by frontwoman La Marisoul (given name Marisol Hernández) and Miguel Ramírez, La Santa Cecilia makes the kind of music that speaks to its origins: It's a melting pot of flavors, ethnicities, and identities that, for many reasons, could only be born in L.A. Marisoul grew up watching and eventually singing in the Mexican bandas that occupy Los Angeles' famed Olvera Street. (Her father owns a bric-a-brac shop on the street's square.) In between playing traditional music at weddings and events, she dabbled in emo bands, collecting musician friends from across the city as she went. Eventually, she recalls, friendships turned to collaborations, which led to a band of her own.
"We all shared this desire to write our own music, to tell our own stories," Marisoul recalls, "and we just kind of came together. We started playing open mikes, coffee shops, fundraisers — wherever people would let us play we would play — and it just grew from there."
As evidenced by their songs, La Santa Cecilia's members come from a broad range of musical backgrounds; traditional Mexican folklóricos and boleros mix and meld with blues, jazz, punk, ska, Afro-Latin, and soul, creating a sound that calls to mind a female-fronted Ozomatli for the next generation.
"There's a big desire amongst us to just experiment," says Marisoul, "to mix around the genres and not be in one box or another."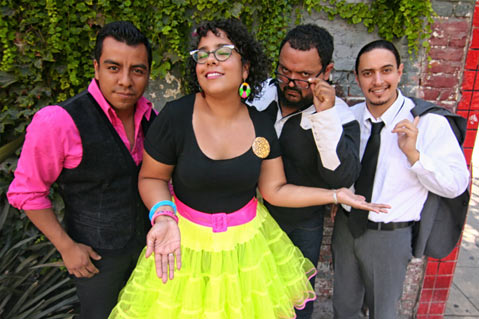 By Courtesy Photo