The biggest bombshell during Thursday's Chumash-county subcommittee meeting came when Santa Ynez Valley resident Bob Field announced he is jumping in the 3rd District supervisorial race. Field — a self-described old-fashioned conservative and characterized as a staunch anti-development advocate — has for years ardently opposed expanding the tribe's existing reservation. Most prominently, the tribe is seeking to annex a 1,400-acre property, better known as Camp 4, which would effectively remove it from county tax rolls and pave the way for development without following the county's strict planning process.
Field's candidacy seriously increases the chances the election will be decided in November rather than in the June primary election. (A candidate would need 50 percent of the vote plus one vote to win in June.) The other three candidates already in the race — Isla Vista resident Jay Freeman and valley residents Joan Hartmann and Bruce Porter — were also at Thursday's meeting at the Marriott in Buellton.
The heated meeting was the seventh in a series of public talks between supervisors Doreen Farr and Peter Adam and Chumash chairman Vincent Armenta. The gatherings convened last September after members of Congress threatened to move forward a federal bill that would immediately add Camp 4 to the tribe's reservation. Currently, the tribe's Camp 4 application is tied up in an appeal with the Bureau of Indian Affairs (BIA), the federal agency tasked with overseeing contracts between local governments and tribes. (The county and several valley groups are the appellants.)
On Thursday, Armenta announced he would recommend that the tribal board submit applications with the BIA to annex every property they own, or seek federal legislation to do the same. "I don't think the county has left us any option," he said.
Armenta also presented a color-coded map depicting the tribe's global vision, which Adam previously requested. The map shows the tribe's proposed land use for three properties it owns in the valley: the 350-acre so-called triangle property, a two-acre, narrow property known as Mooney-Escobar, and Camp 4. (On the map, the triangle property is marked as about half "general commercial" and half "open space/recreation"; Camp 4 is marked as largely "tribal government" and "open space"; Mooney-Escobar is also commercial.)
The room buzzed with frustration. One public speaker called Armenta's remarks a "blatant chase of profit for a few at the expense of an entire community."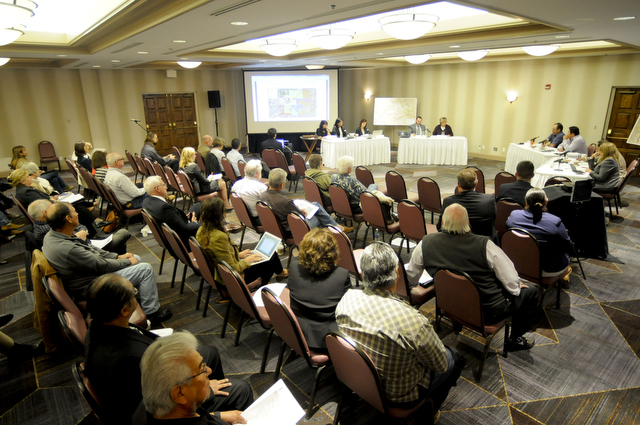 Len Wood, Staff
Santa Maria Times