Five hundred is a significant number in John Moore's life. Until the age of 14, he lived in Japan, where his father was Far East manager for Goodyear Tires. "We'd listen to the Indianapolis 500 every year," he said. "It was a family affair. A.J. Foyt and Bobby Unser were our heroes."
Goodyear also sponsored an amateur basketball team, the Wingfoots. In 1964, they were the AAU national champions and placed three players on the U.S. team at the Tokyo Olympics. Moore, then 9, met some hoop heroes. "My dad had all the players and coaches over to our house," he said. "They included Bill Bradley, Larry Brown, Walt Hazzard, Mel Counts, Lucious Jackson …." Needless to say, they continued America's unbeaten streak in Olympic basketball.
That early inspiration led to Moore's taking up basketball with a passion after his family returned to the States. While playing, he absorbed the methods of his great coaches — Don Johnson, John Wooden's first UCLA All-American, at Cypress Community College, and Chet Kammerer, an NAIA Hall of Fame coach, at Westmont College.
Moore became a coach himself, spending five years at Fresno Pacific and then, in 1993, taking over at Westmont, where Kammerer left a winning legacy. Moore has meticulously continued that tradition. Last month, in his 25th season as Warriors head coach, he achieved a milestone — his 500th win at the college.
He celebrated the 83-74 triumph over visiting Alberta (Canada) with Jeff Azain, another former Westmont player who has been his assistant for all 25 years, as well as his wife, his two daughters, and his mother, Pat, who could be as rowdy as any fan. "She's 89 and still cares a great deal," Moore said. "She's a Hoosier. I've got lots of Indiana basketball roots."
Moore's longevity at a single college is unusual in this day and age. "I care more today than I ever have because I love Westmont more than I ever have," he explained. "I've had some opportunities along the way to go elsewhere. I'm glad I never did. Here I can be a teacher-coach. There aren't many of them anymore. We believe that being a professor and coach is something worthwhile."
Moore took a visitor into the classroom where he teaches a course on public speaking and kinesiology. Coaching is all about communication and contact, he said. "I love the idea that leadership is a contact sport. Basketball is a contact sport where you have to be synergistic with one another, and the game of life is a contact sport. We don't want to sit in a room all by ourselves; we want to make an impact on other people's lives."
The closest he came to leaving Westmont was over a family connection. His brother-in-law, Steve Lavin, was being treated for prostate cancer in 2011 when he was head coach at St. John's University in New York. After much consultation, Moore decided to stay put. "When you go through this process of seeing yourself at someplace else and you don't do it, it gives you a whole new life when you come back," Moore said. He took the Warriors all the way to the NAIA tournament championship game in 2015.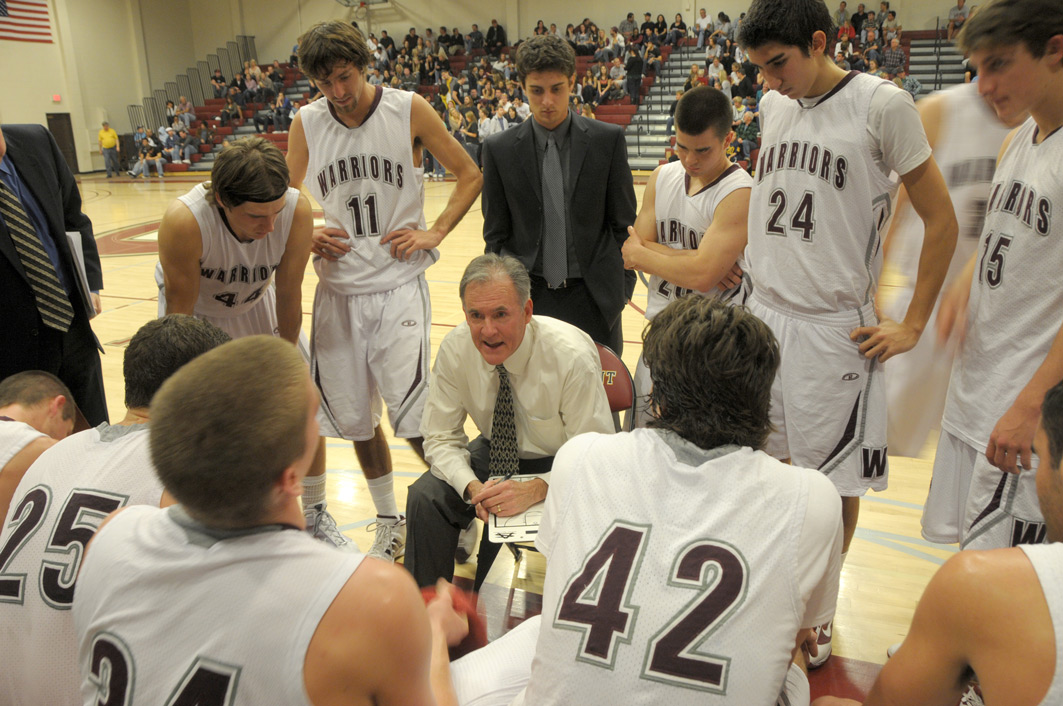 By Paul Wellman