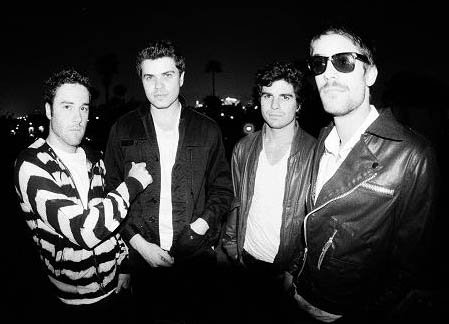 Them Terribles

"Tangerine"

Musicians
Web site: http://myspace.com/themterribles
Email: danpetel@gmail.com
History
Them Terribles are that warm fuzzy place you go to after a few whiskeys. Mixing the catchy straightforwardness of the Strokes with the twisted swamp rock of the Von Bondies, they play a brand of rock that has the paradoxical markings of both punk and good old fashioned guitar pop, without being exactly either - familiar yet somehow new.
Since forming in 2003, the Santa Barbara natives migrated to Los Angeles, where they spent countless hours in musty rehearsal studios, writing and then discarding songs, ultimately creating the sound that defines the band today. In 2005 Them Terribles won a brief stint on the Van's Warped Tour after winning the Velvet Jones Battle of the Bands. Also in 2005 they won the Rock the Plank battle of the bands, beating out over 40 other bands to win a mentorship program with Loren Israel (Beck, Jimmy Eatworld). Bolstered by these encouraging developments, the kids put their proverbial nose to the grindstone and pulled together a dashing collection of songs for their 2007 debut - Rock, Paper, Terribles.

Upcoming shows
None scheduled
Formed
2003, Santa Barbara, CA
Influences
The Strokes meets the Von Bondies