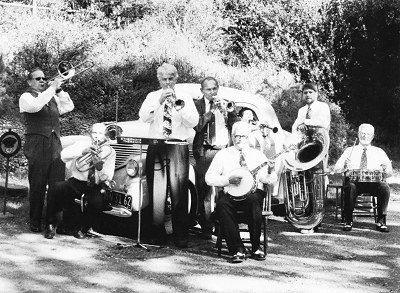 Ulysses S. Jasz
Musicians
Sound description: Bringing the feel-good tunes of Dixieland to The James Joyce every Saturday night since 1998, the group's fans range from college kids to yuppies to retirees, all of whom are attracted to the band's talented improvisation and the joy with which they bang that banjo. -The Indy
Web site: http://ojaimusicservice.com/UlyssesJasz.aspx
History
Ulysses S. Jasz didn't start out as a band. It was a weekly jam session open to traditional jazz revivalist players. Tommy Byrne, the jazz-loving proprietor of the popular Irish pub in downtown Santa Barbara, made the corner of his hostelry available. A honky-tonk was obtained and a regular band evolved, named in honour of J. Joyce's notorious novel, Ulysses. Jasz is a historical spelling of the name for America's classical music.
This successful gig has persisted for over five years and now has the distinction of being one of only two venues in Southern California presenting this essential roots music on a weekly basis.

Upcoming shows
None scheduled
Formed
1998, Santa Barbara, CA
Current status
Playing every Saturday night from 7:30 to 10:30 p.m. at the James Joyce in Santa Barbara.