Yesterday afternoon, to the relief of many down in Santa Barbara who feared the fire had escaped containment lines, fire fighters pulled off one of the finest back fire operations ever performed.
With the fire pressing up Agua Caliente and Diablo Canyons, and a small slopover into the Matilija Wilderness causing a momentary fear they'd lost Monte Arido Ridge and continued movement of the fire in the Mono Creek area, command decided it was time to implement "Plan A" - and burn out ahead of the advancing flames.
The back firing began just after noon. Not too long after that the fast-rising plumes of brown smoke topped with what looked like mounds of pure white began to appear over the Santa Ynez Mountain crest behind Montecito.
From town it was difficult to believe reports the fire was miles beyond the crest, yet from the top of Cold Springs Canyon it was clear the back firing operation was at least three air miles northeast of the city and clearly not a danger to Santa Barbara.
Back Firing Continues Today
At the morning briefing at Live Oak Camp, operations leaders confirmed that they would continue the back firing and hope to bring the fire down the lower four miles of Pendola Jeepway to the mouth of Agua Caliente Canyon.
"We've still got a lot of hard work down there," Forest Service Liaison Brad Joost told those assembled at the briefing. "When we bring the fire down to Pendola Station, this will be the closest point we'll be to Santa Barbara.
"The difference, however, is that we are now in control of the fire," Joost added.
Today will be pivotal. At the closest point to the coast, the fire will be on the edge of the Santa Ynez River and almost directly north of Toro Canyon. "They'll be taking this part really slowly," Montecito Fire District Chief Kevin Wallace explained. "They may take two days to complete this section."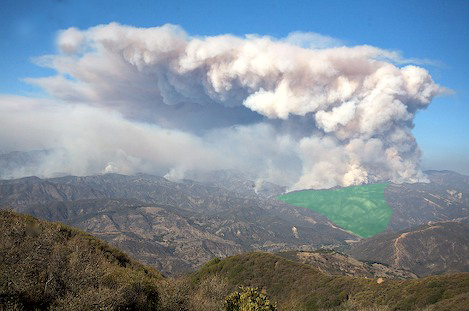 By Ray Ford