"There are two ways to see Hawai'i," a friend once told me. "One, you get off the plane, strip down to your bathing suit in your hotel room and spend a week down at the pool, reading well-written contemporary trash that has absolutely nothing to do with Hawai'i. Two, explore these amazing islands and learn from the Hawaiian people."
For 40 years, I've worked diligently on number two. Surprisingly to some, perhaps, I've found O'ahu-with Honolulu a virtual metropolis of 900,000 residents-in some ways the most interesting of the Sandwich Islands.
"This is where you find the real Hawai'i," an old friend, Joyce Matsumoto, once said to me. "Waikiki is where you really find the Aloha spirit," insisted a young, well-traveled mainlander who's been to Hawai'i often.
When Hawaiians talk about the Aloha spirit they really mean it; they're proud of their friendliness toward the hordes of tourists, though you might expect them to be a bit cranky, since the U.S. grabbed this lovely necklace of green islands from them.
Capt. James Cook visited in 1778 (and died there), naming the archipelago the Sandwich Islands in honor of Great Britain's Earl of Sandwich. But the name didn't stick, nor did the English claim.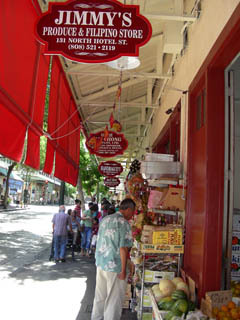 By Sue De Lapa