A small brush fire broke out Thursday afternoon in a citrus orchard above Romero Canyon Road in Montecito. The Montecito Fire District responded at 12:15 p.m. after smoke was seen in the foothills. According to Montecito Fire District Chief Kevin Wallace, firefighters were unable to save a small fruit packing building in the orchard that burned down.
Photo Gallery
Romero Canyon Fire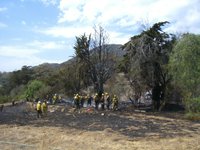 A small brushfire broke out in the Montecito foothills and was quickly put out, but not before burning a small building.
Wallace said five engines responded to the fire along with a squad and two-hand crew. Along with the Montecito Fire District, Carpinteria, Santa Barbara County, and Santa Barbara City Fire sent assistance. At 1:15 p.m., Chief Wallace said the fire was under control, adding damage assessments and cause of the fire are still under investigation.