The sun shines brightly on the northern ridge of Foley Vineyards as a dense layer of morning fog retreats westward toward the Pacific. As far as the eye can see are the undulating grapevines of pinot noir and chardonnay that have garnered international praise for California's Sta. Rita Hills appellation, but one thing is curiously absent: the usual 25 mph gusts of wind that torment the region.
That delights winemaker Alan Phillips (pictured above) and vineyard foreman Jorge "Beto" Garcia since the vineyard is in its most crucial period-the time when the flowers bloom and the fruit must "set" on the vines. Too much wind, too much cold, or too much rain in this 10-day window could knock off the fruit and result in a lackluster harvest. "The same things that make pinot great are the very things we fight," explained Phillips, waxing philosophically about winemaking's most temperamental-and sought-after-grape.
But today, the air sits still, and the two men are visibly thrilled as they examine the tiny flowers and miniscule nodules clinging to the vines. They smile at each other, and then Garcia, who scours the vineyard's 230 acres daily, confirmed, "I like this year very much."
While the 2007 harvest may be bountiful, it's impossible to talk about pinot noir and the Sta. Rita Hills-which extend roughly from Buellton to Lompoc- without delving into 2004. That's the year the hit film Sideways popularized both the grape (by romanticizing its sophisticated subtleties) and Santa Barbara County wine country (by showing off its eclectic beauty). Everyone's tired of talking about it-and I'm tired of writing about it-but the film's impact on skyrocketing sales of pinot noir across the country is undeniable and tasting rooms from Summerland to Santa Maria are still enjoying bigger crowds (for better and, many times, worse).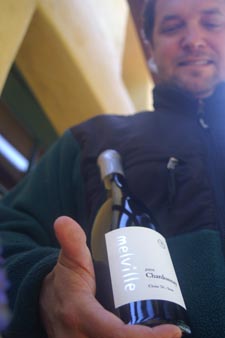 By Matt Kettmann