While Caltrans management no doubt likes their freeways, you'd have to believe that even they'd think twice about jumping on the 101 on a Friday afternoon to cruise from their San Luis Obispo headquarters to Montecito for a mere meeting. However, Supervisor Salud Carbajal gave them such a concrete reason - child safety - that the Caltrans team went into overdrive and made the Friday trek, more than willing to pay the slow SLO-roundtrip price.
The First District Supervisor organized Montecito's 3:30 p.m. community-county-Caltrans confab last Friday. At issue: safe walking routes to school. Currently at high risk are elementary school students wanting to walk from nearby homes to Montecito's Cold Spring School. Forced to cross or walk alongside busy Sycamore Canyon Road, a pedestrian must navigate narrow uneven paths, no shoulders, dangerous ditches, and overgrown foliage. Parents have had it with the roots and the route and, led by Cold Spring parents Tracie Willfong Singh and Don Miller, they are seeking solutions.
In recent months, they have garnered some important attention and gathered some important allies. Cold Spring School principal Dr. Bryan McCabe is on board, along with the school's parent body. The Montecito Association is showing interest, and sent three representatives to Friday's meeting: Bill Palladini, Ted Simmons, and Elisa Atwill. And, even though Sycamore Canyon is a state highway, and outside the county's purview, the county's interim Public Works Director Scott McGolpin attended, joining PW's Matt Dobberteen and Gary Smart to offer suggestions. COAST, the Coalition for Sustainable Transporaton, sent Eva Inbar and Katharine Bechtel to offer ideas.
However, the big guns at this meeting were Caltrans representatives, including district director Rick Krumholz, who oversees a five-county jurisdiction, and Steve Price, Mike Giuliano, and Chris Engelman.
Photo Gallery
Sycamore Canyon Walking Tour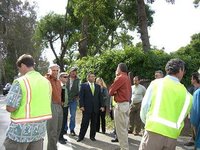 Caltrans, Supervisor Salud Carbajal, and others took a walking tour of Sycamore Canyon Road last week to find out how to make it safer for students of Cold Spring School.
Often charged with cheering only the "Just Say No" chant, this Caltrans team seemed genuinely interested in partnering for solutions. However, state highway regulations are strict and, for the most part, unbendable. For example, a stop sign, crosswalk, or even a decorative sidewalk must be "warranted" by specific measurements and meet, among other things, ADA requirements. Don't expect, for example, pleasant, winding, ambient rural decomposed granite paths along a state highway. Think straight and strict curbs and concrete.
Sensing community frustration with Caltrans confines, Krumholz offered a solution that drained the color right out of Salud Carbajal's face and turned him the chartreuse-hue of his tie. With the discussion stalled over state requirements, Krumholz offered to give the highway back to the county, where softer regulations could be applied.
"This doesn't have to be a state highway," Krumholz said, referring to the long stretch of state highway 192 running through Montecito. With road costs going up and Measure D going down, Carbajal was not interested in a game of highway hot potato. "No wonder you wanted to drive down here on a Friday," he retorted.
Upon regaining his color, the supervisor said perhaps the county could look into accepting a one-quarter mile section of the highway, if that would help in the solution. With that, before heading off toward a SLO sunset, Krumholz said he looked forward to continuing to be a part of Montecito's pedestrian solution-partnership.
CUTTING HIM A WIDE PATH: One Cold Spring School neighbor and parent named Don Miller, who's also a primary advocate of the Sycamore Canyon path, showed Friday's Caltrans walkabout some of his handiwork. Tired of talking about the issue and wanting to be more hands on, Miller and pal Billy Reyner grabbed a chain saw and took matters in their own hands.