Columns
Making Sycamore Canyon Better for Pedestrians
How to Make the State Highway Safer; Some Musical Chairs; And More Meanderings
While Caltrans management no doubt likes their freeways, you'd have to believe that even they'd think twice about jumping on the 101 on a Friday afternoon to cruise from their San Luis Obispo headquarters to Montecito for a mere meeting. However, Supervisor Salud Carbajal gave them such a concrete reason – child safety – that the Caltrans team went into overdrive and made the Friday trek, more than willing to pay the slow SLO-roundtrip price.
The First District Supervisor organized Montecito's 3:30 p.m. community-county-Caltrans confab last Friday. At issue: safe walking routes to school. Currently at high risk are elementary school students wanting to walk from nearby homes to Montecito's Cold Spring School. Forced to cross or walk alongside busy Sycamore Canyon Road, a pedestrian must navigate narrow uneven paths, no shoulders, dangerous ditches, and overgrown foliage. Parents have had it with the roots and the route and, led by Cold Spring parents Tracie Willfong Singh and Don Miller, they are seeking solutions.
In recent months, they have garnered some important attention and gathered some important allies. Cold Spring School principal Dr. Bryan McCabe is on board, along with the school's parent body. The Montecito Association is showing interest, and sent three representatives to Friday's meeting: Bill Palladini, Ted Simmons, and Elisa Atwill. And, even though Sycamore Canyon is a state highway, and outside the county's purview, the county's interim Public Works Director Scott McGolpin attended, joining PW's Matt Dobberteen and Gary Smart to offer suggestions. COAST, the Coalition for Sustainable Transporaton, sent Eva Inbar and Katharine Bechtel to offer ideas.
However, the big guns at this meeting were Caltrans representatives, including district director Rick Krumholz, who oversees a five-county jurisdiction, and Steve Price, Mike Giuliano, and Chris Engelman.
Often charged with cheering only the "Just Say No" chant, this Caltrans team seemed genuinely interested in partnering for solutions. However, state highway regulations are strict and, for the most part, unbendable. For example, a stop sign, crosswalk, or even a decorative sidewalk must be "warranted" by specific measurements and meet, among other things, ADA requirements. Don't expect, for example, pleasant, winding, ambient rural decomposed granite paths along a state highway. Think straight and strict curbs and concrete.
Sensing community frustration with Caltrans confines, Krumholz offered a solution that drained the color right out of Salud Carbajal's face and turned him the chartreuse-hue of his tie. With the discussion stalled over state requirements, Krumholz offered to give the highway back to the county, where softer regulations could be applied.
"This doesn't have to be a state highway," Krumholz said, referring to the long stretch of state highway 192 running through Montecito. With road costs going up and Measure D going down, Carbajal was not interested in a game of highway hot potato. "No wonder you wanted to drive down here on a Friday," he retorted.
Upon regaining his color, the supervisor said perhaps the county could look into accepting a one-quarter mile section of the highway, if that would help in the solution. With that, before heading off toward a SLO sunset, Krumholz said he looked forward to continuing to be a part of Montecito's pedestrian solution-partnership.
CUTTING HIM A WIDE PATH: One Cold Spring School neighbor and parent named Don Miller, who's also a primary advocate of the Sycamore Canyon path, showed Friday's Caltrans walkabout some of his handiwork. Tired of talking about the issue and wanting to be more hands on, Miller and pal Billy Reyner grabbed a chain saw and took matters in their own hands.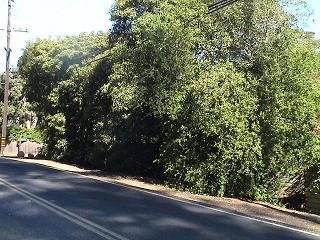 When the sawdust settled, Miller, Reyner, and a few friends had cut back blocks and blocks of offending tress and bushes and removed nearly 80 feet of chain link fence from the school's roadside wall. The result? A nearly safe, stop-the-talk-walk-the-walk pedestrian path along Sycamore Canyon Road
"I didn't want you to think that we are just sitting by and waiting for Caltrans or the county to make everything right for us," he told Supervisor Carbajal, as he showed off his handiwork. "I guess it would be safe to say just be happy we couldn't get out hands on a bulldozer or we might have be out cleaned up all of Sycamore Canyon Road!"
MONTECITO'S MUSICAL CHAIRS: J. W. Colin was appointed Tuesday to the Board of Directors of the Montecito Association to fill out the remaining term of departing director and past president Ralph Baxter, who is departing for undisclosed reasons. Both Baxter and retired MPC Commissioner Dick Thielscher were elected to non-voting seats on the Association's Honorary Board.
Colin, you may recall, was a write-in candidate during last year's Association board elections. He was heavily favored by the Voices of Montecito, but lost the bid. Colin also put his hat in the ring for the Montecito Planning Commission, a slot that recently went to Jack Overall.
Colin (who goes by the initials J.W.) holds a B.S. in engineering form UCLA and a MS in industrial engineering from Stanford, where he was an IBM Fellow. He has a PhD from North Texas University in Finance and Economics and is a registered professional engineer. He worked for IBM, First National Bank of Dallas, and was project head of planning and development of Snowmass at Aspen. He has been a visiting professor at Stanford, SMU, TCU, and North Texas State University.
Locally, Colin is involved in the UCSB Affiliates and Hillel, the County Arts Commission, and is a member of the Montecito Country Club Men's Golf Committee. He's married to his active and elegant wife, Sue.
"I am looking forward to working with the directors in moving the Association forward in improving its level of communication and transparency to its members and the public at large," Colin said.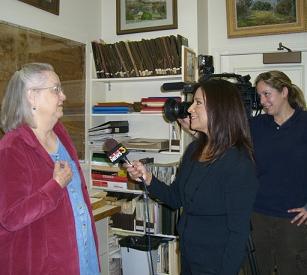 MONTECITO MEANDERINGS: Paula Lopez was in Montecito last week to interview locals about the nuances of the village. The spot airs Wednesday, May 9, on the 6 p.m. newscast:.
Westmont greeted nearly 5,000 family and friends to their annual graduation ceremony. It was one of the last official events of chancellor/interim president David K. Winter and a first look at Gayle Beebe, who will take over the presidency on July 1. Bob Bryant was awarded the Westmont medal for service and Rev. John Ortberg Jr., pastor of Menlo Park Presbyterian Church, gave the commencement address. With that, 356 graduates – 170 with honors – received their diploma and commenced:.
Pedro Nava held a festive Cinco de Mayo luncheon at Stow Grove Park to thank past supporters and honor local city and county fire workers. "As chair of the joint committee on emergency service and homeland security, I am very proud of the Santa Barbara firefighters. They stand out and I wanted to express my gratitude," the Assemblyman said. Nava is pictured here with wife, Susan Jordan, former Montecito scribe Cami Cohee Barnwell, and Montecito resident and real estate pro Suzanne Perkins:.
The Music Academy of the West's May Madness was a huge success, and first reports are it may beat last year's grand take. The 32-year-old garage sale takes a year off next year as the academy goes into a one-year construction phase facelift:.
Don't forget, Wednesday, May 9, at 7 p.m. a the Faulkner, the Citizens Planning Foundation, the Montecito Association, and the City of Santa Barbara present a free land-use planning seminar. Don't miss this opportunity to learn the process. Take this Montage tip to heart: It's so much easier to fuss when you know the system!