The fire-scorched ground had barely cooled enough to walk on when I headed down off West Camino Cielo for a first-hand look at the impacts from the Gap Fire. Given the acreage being chewed up by fires elsewhere in California, a 9,400-acre fire doesn't sound like much - except when it's on steep mountainsides immediately above where you live. Then it becomes a really big deal.
With wet weather just a few months away, the reality is a stark one. Because the Gap Fire spread laterally, there are a handful of canyons - Eagle, Tecolote, Ellwood, McCoy, Bartlett, San Pedro, and San Jose - that can funnel ash, loose dirt, rocks, burned brush, and other materials down from the mountains into the ranchlands and, if the rainfall is ample enough, all the way to town. While many won't remember the huge piles of deadwood clogging each of the Carpinteria area bridges on Highway 101 and the miles of mud-filled freeway after the 1971 Romero Fire, the potential for such damage this winter is real.
My first entry into the post-fire wilderness above Goleta is with two friends, Otis and Ron, who, like me, are curious how much burned and how far we can really go. Near the crest, much of the brush is still in place, a curious twist given that the fire started not too far from here. The reason is simple: For most of the Gap Fire, gentle sundowner winds kept the fire from reaching the crest, save for the few places where firefighters had to stop it from jumping the road.
We head downhill along the firefighters' initial attack line and, within a few hundred yards, the live brush gives way to big patches of black hillside. A few hundred more yards bring us to a swatch of sandstone boulders ranging from 10 to 15 feet in height. With the exception of larger oaks and a few other trees sheltered by the rocks, everything has burned, so navigating through the charred maze is relatively easy. Otis follows Ron down through a series of channels that take us further down the hill and I follow. Almost as quickly as we enter, we exit into what looks like open territory, soon realizing everything that could be consumed by the fire was.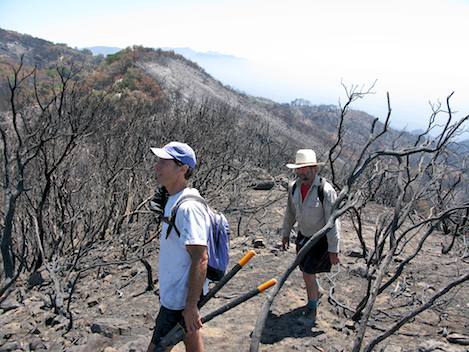 By Ray Ford