Looming like a sick joke - or perhaps a cruel cautionary tale - over the county's current judicial race is last week's ruling by the California Supreme Court giving gays and lesbians the constitutional right to get married. That's because there probably wouldn't be any contest for the judgeship at the Santa Barbara County Superior Court were it not for former judge Diana Hall's intense panic several years ago that North County voters would find out that the woman with whom Hall shared her Santa Maria home was her romantic partner.
Hall worried, she later explained, that the voters were "too redneck" to understand such romantic arrangements, and that they'd vote her out of office if they knew. Her insistence on remaining closeted generated friction with her domestic partner, and that tension turned nasty in December 2002. Hall was arrested for drunk driving after a violent argument with her lover, during which Hall wielded a hand gun and threatened to shoot one of the couple's dogs.
That incident got Hall prosecuted by the Santa Maria District Attorney's office, where she was once a star. But what eventually caused Hall's removal from the bench was the revelation that she falsified a campaign finance disclosure report, claiming to have donated $20,000 to her own election campaign when it was her partner who had written the check. Without this turn of events, Hall could have likely remained on the bench for as long as she wanted.
Three white male candidates - John MacKinnon, Kevin Ready, and Jed Beebe - are now vying for Hall's former post. (Technically, it's four, but veteran prosecutor Lynn Cutler, a man, withdrew from the race too late to strike his name from the ballot.) These career civil servants of Santa Barbara County contend they possess the breadth and depth of legal experience to handle the weighty job of being judge.
As with many judicial races, these candidates have had to rely on the generosity of relatives or dig deep into their own wallets to get their message out. As of March 24, MacKinnon had raised $9,200 and spent $16,500; Ready had raised and spent $8,750; and Beebe had raised $1,700 and had spent only $75. While the vacant seat is situated in Santa Maria, the race itself is countywide in scope, meaning residents North and South get to vote.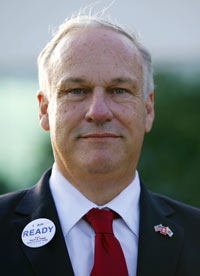 By Ian Gonzaga/Santa Maria Times