News
Three Vie for the Black Robe
Kevin Ready, John MacKinnon, and Jed Beebe Run for Santa Barbara County Judge
Looming like a sick joke – or perhaps a cruel cautionary tale – over the county's current judicial race is last week's ruling by the California Supreme Court giving gays and lesbians the constitutional right to get married. That's because there probably wouldn't be any contest for the judgeship at the Santa Barbara County Superior Court were it not for former judge Diana Hall's intense panic several years ago that North County voters would find out that the woman with whom Hall shared her Santa Maria home was her romantic partner.
Hall worried, she later explained, that the voters were "too redneck" to understand such romantic arrangements, and that they'd vote her out of office if they knew. Her insistence on remaining closeted generated friction with her domestic partner, and that tension turned nasty in December 2002. Hall was arrested for drunk driving after a violent argument with her lover, during which Hall wielded a hand gun and threatened to shoot one of the couple's dogs.
That incident got Hall prosecuted by the Santa Maria District Attorney's office, where she was once a star. But what eventually caused Hall's removal from the bench was the revelation that she falsified a campaign finance disclosure report, claiming to have donated $20,000 to her own election campaign when it was her partner who had written the check. Without this turn of events, Hall could have likely remained on the bench for as long as she wanted.
Three white male candidates – John MacKinnon, Kevin Ready, and Jed Beebe – are now vying for Hall's former post. (Technically, it's four, but veteran prosecutor Lynn Cutler, a man, withdrew from the race too late to strike his name from the ballot.) These career civil servants of Santa Barbara County contend they possess the breadth and depth of legal experience to handle the weighty job of being judge.
As with many judicial races, these candidates have had to rely on the generosity of relatives or dig deep into their own wallets to get their message out. As of March 24, MacKinnon had raised $9,200 and spent $16,500; Ready had raised and spent $8,750; and Beebe had raised $1,700 and had spent only $75. While the vacant seat is situated in Santa Maria, the race itself is countywide in scope, meaning residents North and South get to vote.
Kevin Ready
Candidate Kevin Ready – who has provided legal advice to an alphabet soup of government agencies such as The Santa Barbara County Association of Governments (SBCAG) and the Beach Erosion Authority (BEACON) in the 18 years he's worked for the county counsel's office – has secured an impressive list of endorsements from elected officials and South Coast democrats. But Ready has also managed to snag the support of Republican county supervisors Brooks Firestone and Joe Centeno, who represent the Santa Ynez Valley and Santa Maria, respectively.
Kevin Ready's resume reads like an espionage thriller. The son of working class parents, Ready grew up in Iowa and Colorado and enlisted in the military in 1971 – at the height of the anti-war movement – so he could study Russian and Arabic. Later, while in the Navy, Ready helped scoop Vietnamese fleeing their war-torn nation out of the water; during the Iranian hostage crisis of 1979, Ready and crew found themselves stationed in the Persian Gulf. He would later collaborate in writing two nonfiction books, Gaia Weeps – which details the effect of global warming on aviation safety – and TWA 800: Accident or Incident, in which he seeks to debunk that tragedy's official explanation and suggest that the plane was the target of a terrorist attack.
Ready, 55, moved to Riverside in the late '80s, but the blazing temperatures of the Inland Empire would eventually chase the family to Santa Barbara, where, in 1990, he secured a steady gig with the Santa Barbara County Counsel's office. But Ready wanted to do more than provide legal opinions for elected decision makers. He wanted to be making the decisions himself.
Before moving to Santa Barbara, Ready had run for Congress as a Democrat in Iowa and lost. Since arriving, he's previously led unsuccessful campaigns against Republican Congressman Elton Gallegly in 1996 and against sitting North County judge Art Garcia in 2006. Garcia enjoyed wide support, and some judges were offended that Ready would run against a seated judge, arguing privately that his actions violated the collegial cordiality of the court. But Ready makes no apologies for such audacity. "I'm a believer in the electoral system," he said. Furthermore, Ready supports changing the electoral rules that gives judges a free ride if unopposed judges fail to garner a simple majority of the votes cast. He says they should not be allowed to serve another term.
Ready is hoping to persuade voters that his 32 years of legal experience give him the depth of experience to serve as judge. While the majority has been in civil matters, Ready points out that he had been hired by the federal government to prosecute misdemeanor offenses taking place on a federally owned island in the Mississippi River while he still lived in Iowa. (Ready concedes that whoever wins will likely be assigned criminal cases; but also points out that judges can be reassigned.) A Ballard resident, Ready clearly regards MacKinnon as his chief rival in the race, dismissing Beebe's campaign effort as too little, too late. MacKinnon, Ready said, has done a good job at what he's done; he just hasn't done it for long enough. "Certainly, what he's done is not the stuff of being a judge in Santa Barbara County," Ready stated.
Perhaps Ready's biggest challenge is persuading South Coast voters and media to care about a seat long regarded as part of the North County bench. "Rulings made in North County can have a huge impact on people living down here," he said. "It's not just a North County thing." Ready contended his experience representing the County of Santa Barbara in a myriad of complex land use, tax, transportation, and beach preservation matters would serve county residents well. Judges don't merely preside over trials, he said, they help make warring parties settle. "I can get between two sets of people and see what they are really saying. I've had good results in doing that. I think I'm ready," he said. "That's with a small 'r.'"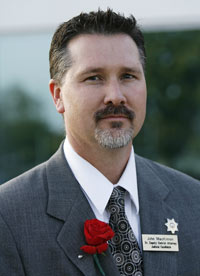 John MacKinnon
To the extent that elections are won by planting billboard-sized yard signs throughout the county, John MacKinnon enjoys a head start. A native of Santa Maria, MacKinnon, 38, has spent the past eight years working criminal cases for the Santa Maria District Attorney's office, and nearly four more in Fresno. He's lined up substantial support among North County law enforcement personnel and elected officials, though he's also won over some Democrats, too – like Santa Maria City Councilmember Hilda Zacar-as – and a few judges by virtue of his involvement in substance abuse diversion programs.
MacKinnon is hoping to emerge out of this race as the local boy who made good. A child of two teachers – his father teaches college history and his mother teaches elementary students – MacKinnon grew up in Santa Maria. First in Fresno and then in Santa Maria, this career prosecutor has gone after scam artists, wife beaters, child abusers, and sex offenders. Now, he wants to be judge. "You see, there's a need, and you want to make a difference," he said.
Around the office, MacKinnon is known as both a solid courtroom attorney and a diligent prosecutor. But MacKinnon has never been shy about his interest in higher office, and set out in 2005 to secure a seat on the bench. This ambition has ruffled more than a few feathers. When acerbic Santa Maria prosecutor Cutler jumped into the race, many wondered whether he was just trying to spite MacKinnon. And when Cutler dropped out, explaining that he did not have an ego "the size of the Santa Maria Valley," there was little question the remark was pointed at MacKinnon.
MacKinnon's pitch is simple: The seat in question is a North County seat, and it's dedicated to criminal cases. Who else in the race can match his criminal experience? No one, he claims. "In the past 13 years, I've taken 53 cases to jury trial. I know how a courtroom works. I know the logistics that are involved in bringing a case to trial," he said. MacKinnon enjoyed considerable media attention during his four-week prosecution of Euell Ryles, the Lompoc man convicted of swindling the poor and unsuspecting by pretending to offer cheap legal advice. But most of his caseload has been crime drawing less media interest.
Where MacKinnon has set himself apart, however, has been with drug court and other Proposition 36 substance abuse diversion programs. For years, relations between the Santa Maria prosecutors' office and Judge Rogelio Flores, who ran the drug court program, were notoriously awful. The prosecutor assigned to the diversion program was openly contemptuous of the undertaking. Flores threatened he'd walk if something didn't change. He'd already had two heart attacks, he said, and wouldn't risk another.
Recognizing MacKinnon's more polished people skills, his boss, Gene Martinez, reassigned the young prosecutor to the post. Today, MacKinnon boasts that the North County drug court has the highest success rate in the county, with an 80 percent graduation rate and a 20 percent recidivism rate within three years. While County Public Defender Gregory Paraskou has taken utmost pains to maintain strict neutrality throughout this race, attorneys with his office privately credit MacKinnon for helping turn around an ailing effort.
For all involved, drug court requires an exhausting degree of handholding, nagging, threatening, and ultimately, jail, if required. MacKinnon said his main goal is to keep the offenders before him in treatment. "As long as they're still trying, and not running off, I'm willing to work with them," he said. To that end, he takes a looser view than some colleagues of the legal requirements that three-time violators need to be bounced from the program. MacKinnon's said his enthusiasm for the program is rooted in common sense. "Either way, we're going to have all these addicts coming into the system. Either we treat them today or incarcerate them tomorrow," he said. As a judge, MacKinnon said he hopes to work closely with Judge Flores to make the diversion programs even stronger.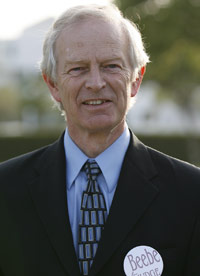 Jed Beebe
And to the extent the judges themselves have thrown their weight behind anyone, it's Jed Beebe, who for the past 18 years has served the North County bench as a research attorney. Beebe has provided Santa Maria judges the legal scholarship upon which they've based their rulings on a range of civil and criminal cases. Additionally, Beebe served as an acting judge, helping out with the North County's daunting juvenile caseload and small claims complaints. Before that, Beebe also worked for the County Counsel's office.
Beebe regards the time he's spent conducting the legal research as an apprenticeship for becoming judge. He's been a major cog in the North County's wheels of justice, preparing thousands of legal opinions on an array of legal questions. Judges rely upon that research in determining the fate of the countless motions filed civil and criminal attorneys in the course of their advocacy. As such, Beebe has been intimately involved in some of the highest profile trials the North County has seen, including the most recent Michael Jackson trial. "My work so far has been behind the scenes, advising the judges. Now I'd like to be more directly involved," he said. "I'm ready to take up the mantle."
Beebe started his career as court researcher in 1990; before that at the County Counsel's office, he grappled with the environmental meltdown occurring at the Casmalia toxic waste dump in-now an EPA Superfund Site-and provided the County Supervisors legal advice on the extent of their regulatory authorities. A resident of Santa Maria since 1986, Beebe has jumped into the North County culture scene, playing violin with the Santa Maria Philharmonic and the Lompoc Repertory. Additionally, he's active with the Rumpole Society, a "loose gathering" of lawyers, psychologists, and doctors who meet and read tales of British legal society. He said he'd like to "contribute to the excellence of the overall system," by becoming judge. But if that doesn't happen, he said, he's content with the position he now holds.
Of the three candidates, Beebe is the most gentle in his campaign style and the least inclined to verbally jab his opponents. Whereas Ready is steeped in civil law and MacKinnon in the criminal caseload, Beebe offers a blend of both. And his work has not been relegated exclusively to research: Given the high volume of cases, Beebe has been drafted to preside over small claims disputes, traffic court, unlawful detainer cases, and juvenile court. "I've done thousands of cases in juvenile, maybe 35 to 50 a day," he said. "It doesn't feel to me there'd be anything I'd be unprepared to do."
If some in the District Attorney's office are less than enthusiastic about Beebe's candidacy – the scuttlebutt being they didn't like the way some of the rulings went in the Jackson trial – the judges themselves have come out en masse for Beebe. Thus far, he's been endorsed by 15 present and past jurists.