Fr. Virgil Cordano, OFM, pastor emeritus of the Santa Barbara Mission, died on Thursday, May 22, at about 5:14 p.m. in the Mission Terrace convalescent home.
He had been in failing health and fighting throat cancer. In an interview Wednesday, he told me that he wanted to "die at the Mission," but that was not to be. His two nephews, Jim and Alan Cordano of Sacramento, were at his side Wednesday as Fr. Virgil spoke to them in a whisper.
Photo Gallery
Father Virgil Cordano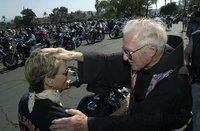 Father Virgil Cordano died on Thursday, May 22, at 89. Here are some photos from the latter years of his life.
At the initial time of this posting, no arrangements for funeral services were announced, and as one Santa Barbaran said, "There isn't a church in Santa Barbara large enough to hold everyone who would want to come." However, it has not been officially announced that there will be a memorial service for Father Virgil on Friday, May 30, at 11 a.m. on the Mission steps. See below for more details.
Fr. Virgil was widely known on the South Coast among Catholics and non-Catholics alike for his many years of hosting the annual Fiesta Pequena festivities of song and dance on the Mission steps, kicking off Old Spanish Days.
The man who grew up in an Italian family in Sacramento only wanted to be a humble country priest, but found himself not only personifying the Mission, but beloved by the community as a whole for his humanity, humor, erudition, and readiness to reach out his hand in friendship to all.
During his last months of life he still said Mass and taught classes. Fr. Virgil first came to the Mission in 1934, studying for the priesthood at the adjacent St. Anthony's seminary, There, far from home, he felt shy, "like a fish out of water," he said in his memoir, Padre. Except for graduate work at Catholic University in Washington, D.C., he spent his career at Mission in a wide variety of duties.