Opinion
Father Virgil Cordano Dead at 89
Pastor Emeritus was the face of the Santa Barbara Mission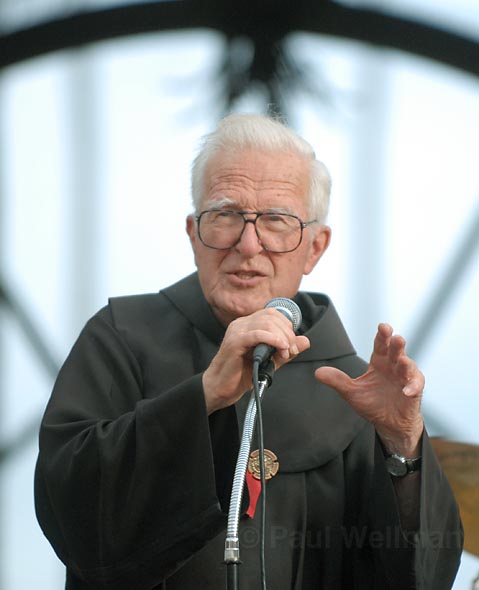 Fr. Virgil Cordano, OFM, pastor emeritus of the Santa Barbara Mission, died on Thursday, May 22, at about 5:14 p.m. in the Mission Terrace convalescent home.
He had been in failing health and fighting throat cancer. In an interview Wednesday, he told me that he wanted to "die at the Mission," but that was not to be. His two nephews, Jim and Alan Cordano of Sacramento, were at his side Wednesday as Fr. Virgil spoke to them in a whisper.
At the initial time of this posting, no arrangements for funeral services were announced, and as one Santa Barbaran said, "There isn't a church in Santa Barbara large enough to hold everyone who would want to come." However, it has not been officially announced that there will be a memorial service for Father Virgil on Friday, May 30, at 11 a.m. on the Mission steps. See below for more details.
Fr. Virgil was widely known on the South Coast among Catholics and non-Catholics alike for his many years of hosting the annual Fiesta Pequena festivities of song and dance on the Mission steps, kicking off Old Spanish Days.
The man who grew up in an Italian family in Sacramento only wanted to be a humble country priest, but found himself not only personifying the Mission, but beloved by the community as a whole for his humanity, humor, erudition, and readiness to reach out his hand in friendship to all.
During his last months of life he still said Mass and taught classes. Fr. Virgil first came to the Mission in 1934, studying for the priesthood at the adjacent St. Anthony's seminary, There, far from home, he felt shy, "like a fish out of water," he said in his memoir, Padre. Except for graduate work at Catholic University in Washington, D.C., he spent his career at Mission in a wide variety of duties.
He walked with the mighty, including greeting Queen Elizabeth during her 1983 visit, but made it a point to preside at the blessing of the motorcyclists every year.
Bells in the Mission tower were tolling on Friday to announce Fr. Virgil's passing and artists working on I Madonnari chalk art festival in front of the Mission were planning memorials in his honor.
He was preceded in death by his parents, Victor and Mary Cordano; four brothers, James, Andrew, Garfield and Raymond; and survived by nephews James Cordano and Alan Cordano of Sacramento.
Father Virgil's Funeral
A funeral mass will conducted for Fr. Virgil on Friday, May 30, at 11 a.m. outdoors on the steps of his beloved Mission. The steps were chosen in order to accommodate as many people as possible.
There will be no reception afterwards. Burial will take place afterwards in a crypt in the Mission mausoleum in a private ceremony for family and friars only. Next week his body will lie in state in an open coffin for prayerful public viewing throughout the day on Wednesday and Thursday, May 28-29, from 9 a.m. until 5 p.m. He will be wearing his brown Franciscan friar's habit. Since the church can accommodate approximately 400 people, doors will be closed once the church is filled, due to fire and safety laws.
On Wednesday, May 28, there will be a morning prayer service at 9 a.m. and an ecumenical funeral prayer service at 7 p.m. at which representatives of various community religious organizations will take part. On Thursday, May 29, the Rosary will be recited at noon, and the evening prayer vigil service will be at 7 p.m., with the Mission Choir.
At his request, contributions in honor of Fr. Virgil can be made for the preservation and advancement of Old Mission Santa Barbara. The Fr. Virgil Cordano Living Memory Fund has been created for this purpose.
Memories of Father Virgil?
Anyone with memories of Father Virgil can leave their comments below, or send their thoughts to letters@independent.com. There will be a special tribute in next week's issue of The Independent.
Barney Brantingham can be reached at barney@independent.com or (805) 965-5205. He writes online columns and a print column on Thursdays.