Hundreds of young people grabbed hold of a long rope, wrapping themselves along Cabrillo Boulevard and chanted for peace on Saturday afternoon. They were not alone in their cause; tens of thousands of others worldwide were also voluntarily "abducting" themselves at the same time, waiting to be "rescued." Invisible Children - an organization dedicated to ending Africa's longest-running war and saving its abducted child soldiers - organized the events as part of a 100-city, nine-country rally they titled "The Rescue."
The demonstration aimed to symbolize the lives of the child soldiers of Joseph Kony's Lord's Resistance Army (LRA), a rebel group that has wreaked havoc and killed thousands in Northern Uganda for nearly three decades. At the heart of the LRA are soldiers who are abducted from their families and trained to rise against the government. The Rescue aimed to be an "emphatic demonstration where [supporters stood] in solidarity with the abducted kids in the LRA," according to invisiblechildren.com.
"We want people to know that they are standing in solidarity with the masses for these children and the people of East Africa," said Ashley Gutierrez, a 21-year-old Grand Valley State University student from Michigan who has been traveling across California for the past four months, volunteering her time as an Invisible Children roadie.
As a reenactment of the LRA child soldiers' daily struggles, supporters marched from Chase Palm Park to their "LRA base" at Santa Barbara City College (SBCC). Once they reached SBCC, participants refused to leave until their efforts were recognized by the media.
"I hope that the U.S. will take this event seriously and that they will help bring us together globally to see this war end," said Danielle Royston, a senior at Santa Barbara's Providence Hall high school.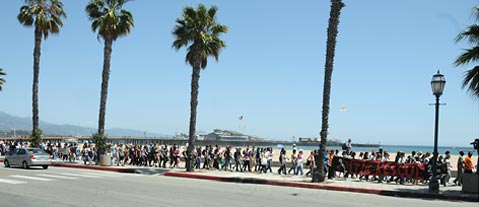 By Paul Wellman