Living
Activists Encourage Awareness of African War with Mock Abductions
Invisible Children-Organized Event Aims to Push High-Profile People to Take Stance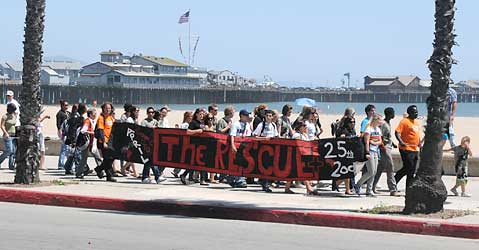 Hundreds of young people grabbed hold of a long rope, wrapping themselves along Cabrillo Boulevard and chanted for peace on Saturday afternoon. They were not alone in their cause; tens of thousands of others worldwide were also voluntarily "abducting" themselves at the same time, waiting to be "rescued." Invisible Children – an organization dedicated to ending Africa's longest-running war and saving its abducted child soldiers – organized the events as part of a 100-city, nine-country rally they titled "The Rescue."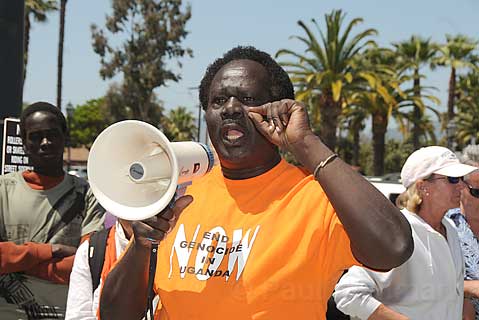 The demonstration aimed to symbolize the lives of the child soldiers of Joseph Kony's Lord's Resistance Army (LRA), a rebel group that has wreaked havoc and killed thousands in Northern Uganda for nearly three decades. At the heart of the LRA are soldiers who are abducted from their families and trained to rise against the government. The Rescue aimed to be an "emphatic demonstration where [supporters stood] in solidarity with the abducted kids in the LRA," according to invisiblechildren.com.
"We want people to know that they are standing in solidarity with the masses for these children and the people of East Africa," said Ashley Gutierrez, a 21-year-old Grand Valley State University student from Michigan who has been traveling across California for the past four months, volunteering her time as an Invisible Children roadie.
As a reenactment of the LRA child soldiers' daily struggles, supporters marched from Chase Palm Park to their "LRA base" at Santa Barbara City College (SBCC). Once they reached SBCC, participants refused to leave until their efforts were recognized by the media.
"I hope that the U.S. will take this event seriously and that they will help bring us together globally to see this war end," said Danielle Royston, a senior at Santa Barbara's Providence Hall high school.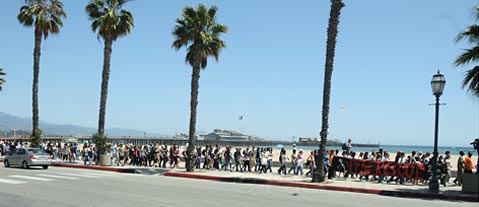 Sprawled across the West Campus lawn, hundreds of young activists wrote letters to senators and policymakers, made phone calls to TV and radio stations, and pleaded with moguls and people of influence to help support their cause in forcing political leaders to take action.
"It's a war of neglect," Gutierrez said. "We're taking a stand so that it's not neglected any longer. It's not just a U.S. issue – it's a global issue."
The greater goal of the event, and of the organization, is to urge global dialogue between the U.S. government and the Ugandan government in order to rescue the child soldiers, as well as put an end to the war. However, Invisible Children urged its participants that this would only be possible through the individual contributions of each person. "I hope that our city-wide rallies will bring the country, as a whole, a step forward in helping the fight to rescue the children soldiers," said UCSB senior Michelle Fujisaki. According to Invisible Children's site, 76,000 people have signed up to help the cause and over $20,000 has been donated.
At around 7 p.m., Santa Barbara was marked a rescued site when Tom Curren, three-time world surfing champion and Santa Barbara resident, arrived on campus to rescue the "abducted" activists. Curren, along with several friends, also performed at Sandbar last week to raise money for Invisible Children. Other media mogul "rescuers" for the worldwide event included actress Kristen Bell in Los Angeles, former Spice Girl Mel B. in Las Vegas, and Fall Out Boy rocker Pete Wentz in Washington, DC.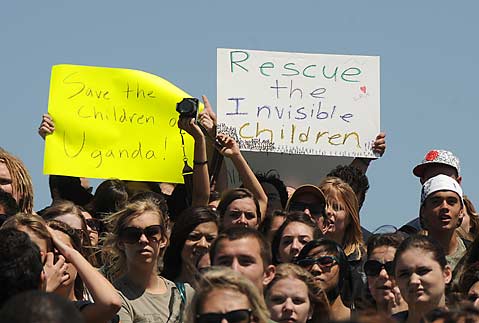 Participants were then asked to become "rescue riders" and help save the rest of the cities across California, and subsequently, the rest of the country. Devon Chapman, a second-year UCSB student, camped out in Santa Barbara all day and continued to protest up the coast to San Luis Obispo. Buses and cars, packed with rescue riders, planned on visiting city after city, traveling in solidarity, and leaving no city behind.
"It's even more of a powerful statement when there are more people," Chapman said. "I've been waiting months for this event, trying to get as many people involved as possible. I won't stop until all the cities are rescued. We won't stop until the child soldiers are freed."
Currently, Chicago remains the last to be rescued. All Invisible Children rescue riders and supporters from across the U.S. have caravanned to Illinois to help.
"Overall, The Rescue is geared to turn an international eye for the children and the people of East Africa to tell them that they're not alone," said Gutierrez. "We're abducting ourselves to essentially free the abducted children who have been used as weapons in this war and we want to say it's time for it to end. It's time that people stop reading the headlines and start turning their heads."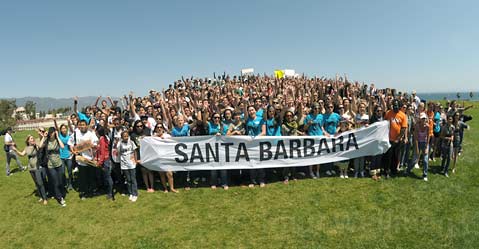 Invisible Children was started six years ago by three USC students, Jason Russell, Bobby Bailey, and Laren Poole. Since then, they have created documentaries on the plight of children in East Africa. The organization has contributed greatly to ending Africa's practice of night commuting, where thousands of children would flee their households at night to escape and protect themselves against the threat of abduction from the LRA. Invisible Children continues its efforts to petition the U.S. government to develop a strategy and support existing efforts to rescue the LRA child soldiers, promote aid to the people of Uganda, and end the war in Africa.