Against the recommendation of its own staff, the California Coastal Commission voted 9-1 on Wednesday to deny Santa Barbara County's proposal to build a permeable pile pier - a structure designed to slow the effects of beach erosion by holding sand on the beach - along the wharf at Goleta Beach.
After facing several El Ni±o storms over the past decade, erosion at Goleta Beach has prompted community concern for the future of its most heavily visited public park, and some supporters now call for drastic measures to save it. On most weekends throngs of people can be seen relaxing on the park's green lawns and sandy beach, and public sentiment has been largely in favor of protecting it. Although the county was singularly dedicated to developing the permeable pile proposal, the Environmental Defense Center (EDC) and the Santa Barbara Chapter of the Surfrider Foundation have sought an alternative with fewer environmental impacts. They propose an alternative initially called a "managed retreat" and more recently "park reconfiguration," which appears to have driven the final nail in the coffin of the proposed pile pier.
"This is a big surprise to us. We thought that because of staff approval, we'd just get a nod to get approved and go home," said Dave Hardy, co-owner of the Beachside Cafe. Situated at the base of the pier, Hardy's business has perhaps more to lose than others weighing in on the situation.
The Coastal Commission's final verdict was not the only surprise during Wednesday's proceedings. At the last minute, Coastal Commission alternate Dr. Dan Secord unexpectedly recused himself because of his supportive comments he made public on July 2. "I went to Goleta City Council and advocated for the project, and that wasn't the proper thing to do, so I had to recuse myself," he said.
Some environmental activists offered public comments at this week's Coastal Commission hearing that significantly swayed Wednesday's vote. Often, some commissioners will defer their vote to the commissioner of the region that the vote will affect. However, Secord indicated otherwise. "The vote was 9-1, and if I'd been there, it would have been 9-2," he said.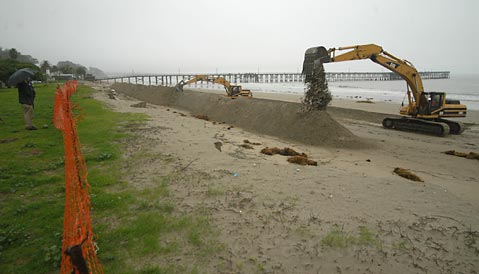 By Paul Wellman (file)