Beautiful scenery, charming characters, laidback atmosphere, fantastic wine. No, this isn't yet another fawning description of Santa Barbara County's winemaking industry-this time, we're talking about another unpretentious-yet-superb wine country: Monterey County. Located about three hours north, "the MC" makes for a great overnight sipping escape or long wine weekend, whether you're staying on the shores of Monterey Bay, in the posh village of Carmel Valley, or closer to Highway 101 amid the Steinbeckian towns that straddle the Salinas River. And there are so many similarities with our own wine country that you'll feel right at home, just with more wineries to explore.
"The majority of our wineries are family owned and operated," said Julie Rosenau of the Monterey County Vintners & Growers Association, which represents the area's 80 wineries and 36 tasting rooms. "The majority don't have a fortune from somewhere else. They're putting every dollar they have into making their expression of art." In many cases, Monterey's modern winemakers are merely the latest in a long line of farmers, sometimes growing grapes on their great-grandfather's long-gone lettuce patch or mixing 21st-century wines on the site of an early-20th-century dairy barn. That intimate relationship to the land also means that when visiting a tasting room, you're likely to have the winemaker or proprietor pouring you wine rather than just another hired hand.
And then there are the wine grapes, which get plenty of interesting influence from the Monterey Bay, which Rosenau's organization has taken to calling the "blue water Grand Canyon." Very cool air flows from the bay into the Salinas Valley, where it blends with the hot air that flows north from the Paso Robles region. "It's really cool that the wineries are all so different," said Rosenau. "Everyone has such a different profile. It's not like you can say there's a Monterey taste. If you come up here, you won't get bored."
One of the more interesting emerging regions is the River Road Wine Trail, which meanders through the Salinas Valley and features both eclectic accommodations-from luxurious Ch•teau Coralini to the wild animal park-ish Vision Quest Safari Bed & Breakfast-and good eats, from authentic Mexican grub to fancy food at 1645 River Road. It would be easy to forget about the 12 wineries on the path, so here are a couple wines worth trying on your next Monterey County crawl.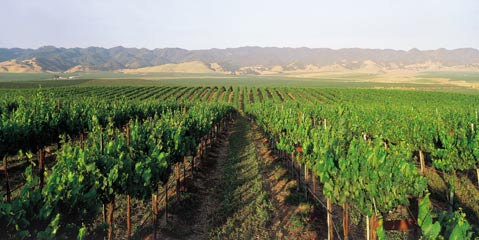 By Courtesy Photo