We are under attack.
Every millisecond, the billions of people across the globe who rely on the Internet for information and email for communication are assaulted by an unknown number of constantly evolving criminals. They prey upon our technological stupidity to take over bank accounts, sell us fake products that never arrive, and otherwise extract money from our wallets in creatively devious ways. It is nothing short of the biggest crime wave in human history, but, as individuals, we have very little to use to defend ourselves, save not opening suspicious emails, avoiding weird Web sites, and keeping our computer software up to date. Add to that the growing threat of cyberwar against nations and corporations, which — as shown in the ongoing online battle over WikiLeaks and recent attempts to attack Iran's nuclear reactors with a computer virus — might be effectively launched by anyone from state soldiers to pissed-off hacktivists.
But while this cyber-crime monster salivates over your hard drive, there's a team of good guys working overtime in an ocean-view office on the second floor of UCSB's Harold Frank Hall to slay the beast. This is the lair of the Computer Security Group, a collection of professors, researchers, and students who are considered critical players in this global game of cops and robbers. In recent years, these professional hackers — led by longtime computer science professor Richard Kemmerer, Italian-born ringleader Giovanni Vigna, and Austrian whiz kid Christopher Kruegel — have infiltrated the State of California's electronic voting machines (legally, by request), hosted the world's biggest hacking competition ever (just two weeks ago, with 17 countries and 900 participants), won the world's most competitive hacking battle (DEFCON 2005 in Las Vegas), and taken over one of the cyber underground's most devious networks, a "botnet" that's infected nearly 200,000 computers in order to illicitly snag credit card numbers and bank account information.
"UCSB is one of the top research centers in the country and world in cyber security," said Virgil Gligor, a professor at Carnegie Mellon University in Pittsburgh and possibly the world's foremost expert on the matter. "Dick Kemmerer and his colleagues have accumulated a large pool of talent that produces very good research results to really important problems. There are only a few schools worldwide with the same level of competence."
What truly sets UCSB apart is the ability to make research work in the real world, from prosecuting the bad guys to analyzing how we cast our votes. "They have been involved at a national level working on cyber crime and cyber security and have managed to have a significant impact on a number of major cases," said one federal law enforcement source who spoke on condition of anonymity. Debra Bowen, California's Secretary of State, hired UCSB and others to test the hackability of the state's electronic voting machines in 2007. She said the group's work "is felt by every California voter, each election cycle. … The work carried out by the top-to-bottom reviewers strengthened voting system security requirements in the state, and ultimately across the nation, since many states piggybacked on the work done in California."
But as the ongoing cyber war over WikiLeaks reveals, the fight has just begun. The U.S. government — which noted a 450-percent jump in cyber crime in just the past four years — is expected to spend more than $13 billion annually on cyber security by 2015, and much of that will come to UCSB and institutions such as Princeton, Purdue, and Georgia Tech, which are also leaders in this field. Early next year, the group will be unveiling the Center for Cybersecurity at UCSB, where experts from different disciplines can come to work on security issues. It's a sign that the Computer Security Group is evolving to the next level, but the center will also pave the way for more government money to come through the door, much like the $6.2-million grant that the U.S. Army Research Office allocated to UCSB and two other schools to investigate the Internet's underground economy.
"It's clear the arms race is going to continue," said Kruegel, who finally signed on as a professor in 2008, after nearly a decade of popping between Santa Barbara and Vienna. "When you have well-funded, clever, multi-headed adversaries, they don't just stop when you put up a good defense. We're in this for a little longer."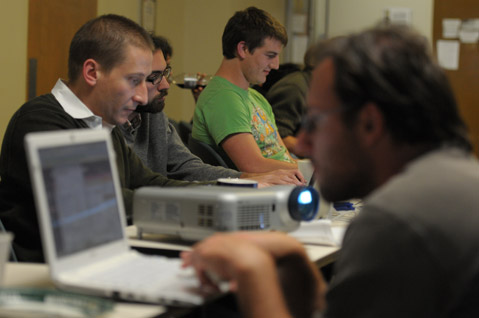 By Paul Wellman