Just after lunchtime on any Friday of the year, take a trip down to the Goleta Valley Community Center (GVCC), meander your way to the central patio, and then peek through the doors into the central auditorium. Inside, you'll find a carpet-covered floor with dozens of men, women, and children kneeling, then bowing, then standing, then repeating the process. They'll all be facing away from the stage and toward the front doors at a slight angle, a man's song will resonate off the walls, and prayers will be first exclaimed by the leader and then whispered by the crowd. This is the main event every week for the Islamic Society of Santa Barbara, one of the oldest Muslim communities in California, but one that few South Coast residents realize even exists.
For a first-time visitor, two things become immediately apparent. First, you'd be hard-pressed to find a more diverse display of the planet's many skin colors, cultures, and classes in any setting, at least between the Bay Area and Los Angeles. There are young and old; whites, blacks, Latinos, Asians, North Africans, and Middle Easterners; clean-shaven and long-bearded; converts who were Christians, native Californians raised as Muslims; folks wearing baseball caps, skull caps, turbans, beanies, hijabs, and red-and-white keffiyehs; T-shirts, shorts, ripped jeans, pressed slacks, Blackberry-adorned belts, suits and ties, tunics, robes, and traditional dresses; and, piled by the door in a footwear exposé, flip-flops, penny loafers, Crocs, running shoes, hiking boots, skater kicks, gym slippers, and patent leather slip-ons.
Altogether, the eclectic assembly is a powerful affront to the ignorant Western notion that all Muslims are coffee-skinned Arabs, but it's also an eye-opener into how many practicing Muslims live in Santa Barbara County, a region rather notorious for its lack of ethnic diversity. "We are a big tent," explained the society's chair Jamal Hamdani to me on my first visit last month as the people filed out toward the Afghani food buffet on the patio. "We are a place for everyone to find their peace in their own ways."
The second thing you realize is that they don't actually have their own tent. The GVCC, while welcoming and charming in that Old Town Goleta kind of way, is no mosque — the auditorium is just that, a place for school dance performances, karate classes, senior citizen get-togethers, and neighborhood meetings, but completely devoid of the meditative spiritual character found in the hundreds of churches, temples, and other houses of worship in the Santa Barbara area. The same can be said for the place where a lesser number come to pray on the other days of the week, a converted office space behind the biotech companies and industrial warehouses off Ward Drive near Highway 217 — the small, low-ceilinged prayer room's green walls with yellow trim are quaint and quiet enough, but it must be hard to find spiritual fulfillment amid Goleta's version of a concrete jungle. These people, it cannot be denied, need and deserve their own permanent place to pray.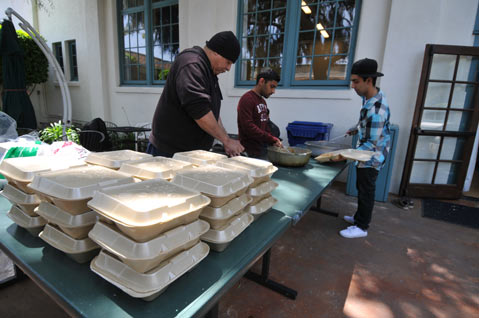 By Paul Wellman