Cover Story
A Mosque Grows in Goleta
Inside the Islamic Society of Santa Barbara's Quest to Build a Community Center
Just after lunchtime on any Friday of the year, take a trip down to the Goleta Valley Community Center (GVCC), meander your way to the central patio, and then peek through the doors into the central auditorium. Inside, you'll find a carpet-covered floor with dozens of men, women, and children kneeling, then bowing, then standing, then repeating the process. They'll all be facing away from the stage and toward the front doors at a slight angle, a man's song will resonate off the walls, and prayers will be first exclaimed by the leader and then whispered by the crowd. This is the main event every week for the Islamic Society of Santa Barbara, one of the oldest Muslim communities in California, but one that few South Coast residents realize even exists.
For a first-time visitor, two things become immediately apparent. First, you'd be hard-pressed to find a more diverse display of the planet's many skin colors, cultures, and classes in any setting, at least between the Bay Area and Los Angeles. There are young and old; whites, blacks, Latinos, Asians, North Africans, and Middle Easterners; clean-shaven and long-bearded; converts who were Christians, native Californians raised as Muslims; folks wearing baseball caps, skull caps, turbans, beanies, hijabs, and red-and-white keffiyehs; T-shirts, shorts, ripped jeans, pressed slacks, Blackberry-adorned belts, suits and ties, tunics, robes, and traditional dresses; and, piled by the door in a footwear exposé, flip-flops, penny loafers, Crocs, running shoes, hiking boots, skater kicks, gym slippers, and patent leather slip-ons.
Altogether, the eclectic assembly is a powerful affront to the ignorant Western notion that all Muslims are coffee-skinned Arabs, but it's also an eye-opener into how many practicing Muslims live in Santa Barbara County, a region rather notorious for its lack of ethnic diversity. "We are a big tent," explained the society's chair Jamal Hamdani to me on my first visit last month as the people filed out toward the Afghani food buffet on the patio. "We are a place for everyone to find their peace in their own ways."
The second thing you realize is that they don't actually have their own tent. The GVCC, while welcoming and charming in that Old Town Goleta kind of way, is no mosque — the auditorium is just that, a place for school dance performances, karate classes, senior citizen get-togethers, and neighborhood meetings, but completely devoid of the meditative spiritual character found in the hundreds of churches, temples, and other houses of worship in the Santa Barbara area. The same can be said for the place where a lesser number come to pray on the other days of the week, a converted office space behind the biotech companies and industrial warehouses off Ward Drive near Highway 217 — the small, low-ceilinged prayer room's green walls with yellow trim are quaint and quiet enough, but it must be hard to find spiritual fulfillment amid Goleta's version of a concrete jungle. These people, it cannot be denied, need and deserve their own permanent place to pray.
Of course, no one appreciates that more than the society's 80 active members. "There's always been a need for a center," said cofounder Mukhtar Khan, who was born in Saudi Arabia, came to UCSB in the '70s, and stuck around ever since. "We're just Muslim people who want to practice our religion peacefully and teach our children."
Ever since Khan and friends officially formed the society in 1984 — and even prior, since he also founded the Muslim Student Association (MSA) at UCSB in 1975 — they've debated whether to convert an existing and empty church into a mosque, buy property and build from scratch, or simply put resources elsewhere and deal with their modest digs. In fact, all of those options have been pursued in one way or another over the years, but a decade ago, the society settled on building from scratch. They finally purchased some land in Goleta in 2001, and have been trying to build there ever since.
As the decade of passed time suggests, it's been a steady struggle. Not only has the society had to endure the regular planning rigmarole, but they've had to do it twice: once with the County of Santa Barbara and then again when the City of Goleta incorporated, enacted a year-long development moratorium, and then made applicants run through the process again. Their initial design was sent back to the drawing board, then there were environmental hurdles, then an opponent over-counted cars at a GVCC event and triggered a redo of the parking and traffic studies. "Sure, it could have happened faster, but we are where we are," observed Hamdani recently. "We look forward, not back."
Almost 10 years and $150,000 in paperwork alone later, the society is closer than ever to building their own community center, with their environmental report complete and a hearing before the City of Goleta's planning commission due to be scheduled soon. They are optimistic, but cautiously so, as anyone would be after years of false starts and other planning process pains. Plus, being Muslims in a post-9/11 world, they also wonder whether a prejudiced backlash lurks around the corner, even in a place as educated and tolerant as Santa Barbara.
Amazingly enough, this 10-year march through the valley of difficulty has not left them embittered. There are no splinter groups, no internal disputes that threaten to tear them apart, none of the partisan bickering that seems to hammer away at the rest of the modern world. Rather than let their divergent countries, cultures, and classes divide them, the society derives strength from its diversity, choosing to focus on what makes them similar instead of what makes them different. In so doing, the Islamic Society of Santa Barbara is not only becoming a beacon of hope for Muslims everywhere; it's also teaching how diversity can be an opportunity for peace rather than grounds for war. And for a country famed as a melting pot and a world that's fast becoming one, it's a powerful message that we should all learn.
The People
At 9 p.m. on a Tuesday night, there were few streetlights and even fewer vehicles on Ward Drive, that obscure stretch of street off of Hollister Avenue that parallels Highway 217. Behind the steam-puffing Dupont facility and in front of a nondescript two-story building that also houses roofing contractors and water softener suppliers, I met the tall and slender Nabil Alshurafa, a 26-year-old engineer for a Goleta-based tech firm who's the Islamic Society's current president.
Of Palestinian heritage and raised in Kuwait before the first Gulf War caused his family to come to the United States — where, incidentally, he was born — Alshurafa told me that he's taken a deeper interest in promoting Islam because he's tired of seeing his religion associated only with terrorism and evil. To that end, he's pushed the society into more goodwill causes, such as feeding the homeless, tries to always oblige with requests from school kids in the area to meet with "real Muslims," and wants to spread the message of Islam beyond just the Muslim community, which is why he agreed to show me the society's prayer room. It was the last prayer of the five that are required each day of practicing Muslims, and after he led me up the metal staircase to the converted office, others casually trickled in, washed their hands, and prepared for the brief observance in the simple space that's been remodeled to face toward Mecca.
Arriving first in a blue-and-white hijab was Afaf Turjoman, who came from Saudi Arabia to study English literature at UCSB in the 1970s, intent on returning home afterward to raise her future children. But with her husband, Mukhtar Khan, the society's aforementioned cofounder, she stayed because, "It's such a beautiful place that we decided to start our family here." A big player in Santa Barbara's active Interfaith Initiative — where leaders of Jews, Christians, Muslims, Buddhists, and other religious orders meet monthly — she's cultivated much support for the mosque among the other faiths, but it's taken much longer than she ever expected. When her daughter was in first grade, for instance, the child kept pestering Turjoman about when the mosque would be built, and Turjoman promised that it would be there when she was in third grade. "She's in ninth grade now," laughed Turjoman, "so I am a liar."
I met many from the congregation that evening, including Mohamed Elzeftawi, an Egyptian studying engineering at UCSB who led prayers that night; Sajid Hussain, a post-doc in cancer research originally from Bangladesh; former society president Mohammad Wahiduzaman; and his father-in-law, whose long beard and robe were traditional Bangladeshi attire, as well as two converts: Sayyed Akbar, a gregarious man originally from Atlanta, and Eduardo Flores, a Santa Barbaran who was raised Catholic but recently came to Islam because it more reflected his outlook on life.
In the coming weeks, I met other converts, as well, including Ken Mineau, the architect who is working on the mosque pro bono and converted to Islam after meeting his Malaysian wife in 1995. Mineau speaks proudly of his adopted society, which he likens to a "rag-tag team." "There's not any major dominant group, which makes it interesting, because so many different cultures have come together for the religious part of it," he explained. "Obviously, people from Indonesia have a different culture than people from Saudi Arabia, yet they still try to come together."
There's also Brendan Newlon, a graduate student in religious studies at UCSB who took a break from serving food at the Friday service to speak with me. "I was looking for something that matched the values I was brought up with," explained the Santa Rosa native, who liked the meditative aspect reminiscent of Buddhism but wanted the structure provided by monotheism. "People are very welcoming," he said. "Today, everyone understands that Muslims come from all over the planet. They don't care if you're Arabic or Pashtun. They've gotten used to it, especially in California. Diversity has become the norm."
Especially proud of that diversity was the second woman to come to the Tuesday-night prayer service, Samaneh Oladi, a Persian from Iran who teaches Farsi at UCSB. "We have people who wear everything from bikinis to burkas," she explained with a smile. So what do other Islamic communities in the country think about this varied group? "I think we're envied," said Turjoman, as if divulging a special secret.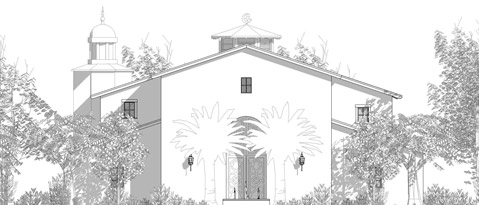 The Project
That envy will only grow when the Islamic Society of Santa Barbara finally builds the center. Although the estimates vary dramatically depending on whom you talk to, there are likely more than a thousand Muslims in southern Santa Barbara County, but the nearest places of worship are in Newbury Park and Oxnard — both certainly too far for daily prayers, and even out of reach for midday Friday prayers, a service most working people attend on their lunch hour.
Estimating that as many as 4,000 Muslims live on the South Coast, Khan recalled that the practicing membership has swung from as low as 70 people to as high as 900. "There are lots of Muslims who we don't know about until someone in their family passes away," he explained a few weekends ago over roasted leg of lamb during a potluck picnic at Tucker's Grove. "But the support is there, and we are known. I'll be on Milpas, and someone will walk by and say, 'Salaam.'"
Khan said that the dream for a home mosque started in the mid 1980s, coming on the heels of a late-'70s surge in the Muslim population, including many Saudis and Libyans. As with many other groups, Santa Barbara has always proved a hard place for Muslims to stick around — too expensive, not enough work, better pay and lower cost of living elsewhere. They had moved the prayer room off of the UCSB campus, where parking was a pain, to a spot on Aero Camino near the airport, but space was tight still. So in the '80s, the leaders devised a plan to purchase a home in Goleta and simply convert it into a mosque. "We were naïve," laughed Khan, who quickly learned about the need for a special-use permit and the regulations against making a residence into any house of worship.
There was another surge of Muslims in the early 1990s, so the discussion grew more serious again, with debates on whether to site the mosque in Santa Barbara or Goleta. "We almost bought a church downtown," said Khan, "but that didn't happen either." Another dead-end was a property at the corner of Fairview and Cathedral Oaks that the society eyed; they were warned that it would be hard to develop because of its proximity to the nearby creek.
In the meantime, Khan's children and others were growing older, and the community decided that their money might be better spent on a proper imam, or Muslim cleric, who could teach both kids and adults about Islam. "We definitely hoped to have a place, but we needed a teacher more," said Khan. They brought in Abdur Rahman from England in 2000, and he provided the exact guidance they'd desired, until his visa was revoked in 2008 for allegedly selling spiritual texts on the Internet. His hunt for a permanent visa was cut short, despite the intervening of Representative Lois Capps, and he was sent home.
Since then, the role of spiritual educator has been taken on by Yama Niazi, an Afghani man whose family fled their homeland when the Soviet Union invaded. He attended San Marcos High, has owned both silver and rug stores on State Street, and now teaches classes for all ages in Santa Barbara, as well as Oxnard, and has a knack for relating the fundamentals of Islam in a contemporary setting.
Around the time Rahman was hired, the move for a mosque was on again, so the society finally bought the land they now own, an empty lot at the northeast corner of Los Carneros Road and Calle Real, adjacent to Lake Los Carneros, across from the CHP station, and once zoned "highway commercial," which basically translates to "gas station." Soon after, architect Mineau got involved and, taking cues from the Moorish-influenced Spanish style of Santa Barbara — a motif echoed in Goleta's Camino Real Marketplace among other developments — he came up with a red-tile roof design. That didn't fly with the City of Goleta, however. Based on input from the city's design review board, said Mineau, "It morphed into more of a rural Goleta kind of thing." And that's fitting, because he explained that mosques are "always vernacular … There is no set style. They have always been designed and built around the local materials and environment."
Based on the sketches available on the society's Web site, islamsb.org, it is indeed an unassuming structure, with only a rounded back edge to give it the look of a place of worship. There is no minaret, so calls to prayer will not be happening, but there will be a mosque, a gathering place for kids to learn, other small classrooms, a catering kitchen for events, a place to eat, and a residence for the imam, who also acts as a caretaker, to live. It will be built with the latest eco-friendly and recycled materials, it's been moved to respect the flight path of resident white-tailed hawks, and there are more parking spaces than the planning rules mandated.
Khan, meanwhile, who has spearheaded the project all along, can't really believe it's actually close to happening. He still worries that some opposition will come, as he has seen plenty of it along the way, and wonders whether they made the right decision to build when they could have simply bought an existing structure a decade ago. "If we had a crystal ball," he said, "we would not have bought this, and we'd probably be in a center in Santa Barbara five years ago."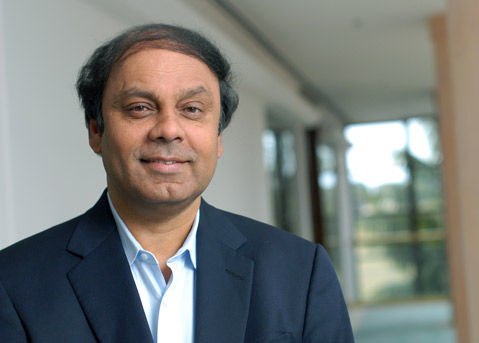 The Philosophy
The Islamic Society's quest to build a mosque coincides almost exactly with the time that Hamdani became a more active member. The successful owner of a broadcasting technology company called Moseley Wireless Solutions Group and now chair of the Islamic Society's board, Hamdani invited me to his office on Hollister Avenue last month to explain the organization's guiding principles. I arrived to find a fancy, airy lobby — more like something you'd see downtown in a big city, but with unimpeded mountain views only Santa Barbara can offer — and then joined Hamdani in his conference room. After hearing briefly about his upbringing in northern Nigeria as the son of Pakistani parents who dedicated their lives to helping the less fortunate, I told him how I'd learned about the project, come to appreciate the community's diversity, and understood their need for a mosque.
"First of all," said Hamdani matter-of-factly, "we're not building a mosque. We're building a center. A mosque is just one element." He then proceeded with a slide show that he's become fond of showing because it serves as an effective primer for both those within the faith and those outside to understand the motivation for the center and how the society is thinking long-term by separating individual cultures from the essence of Islam. "We're not going to take your cultural experience and revisit that as the faith," explained Hamdani, who emphasized Islam's core values of justice, knowledge, compassion, and kindness. "Because we are small, we've been compelled, out of necessity, to find ways to reconcile issues if there are any and focus on our core values," he continued. "Any other approach, and the outcome will always be conflict."
Modesty is also a major factor in Islam, and that may be why so few people in the Santa Barbara area have ever heard of the organization or its plans for the center in Goleta. The only times that the Islamic Society seems to get in the headlines is when it reacts to injustices either perpetrated by Muslims — after 9/11, for instance, they were questioned by every newspaper and TV station around, and they also issued a statement after the Fort Hood shootings — or, as commonly, against Muslims, such as when their imam's visa was revoked or when S.B. County Administrator Mike Brown went on a tempestuous tirade after 9/11 and insulted every Muslim under the sun. "We handled that in a very Islamic way," explained Hamdani. "He offered an apology, and we accepted."
But it's not just modesty that's kept them quiet about their project — they also worry about stoking the flames of anti-Muslim sentiment. The concern about prejudicial attacks — whether outright or veiled — persists, although Hamdani doesn't think that there's much to be done about that. "I'm sure that there are people who have fear in their hearts," he said, "but they don't have the proper knowledge, and that's just a part of our world."
Hamdani hopes that the message of his slide show will be adopted both by his fellow Muslims and by other peoples around the globe. "If you were to ask me, I'd say that all religions have the same values," he said. "Focusing on the core values not only brings Muslims together; they can bring all people together."
Women in Islam
The Western world is quick to proclaim that Islam is a chauvinistic culture and, at a casual glance, there's evidence to support such a charge. Even within the Islamic Society of Santa Barbara, the women are hidden by a curtain behind the men in prayer rooms large and small; unrelated women and men are not supposed to touch each other, even in a casual handshake; and at social gatherings, men and women eat apart and then play apart, with men kicking around soccer balls and women playing a game of charades. But according to the women I interviewed, inequality is far from the truth.
Aside from the fact that most religions have a separation of sexes somewhere in their history, the prayer room curtains are a practical matter, said Afaf Turjoman, who called the setup "very functional" due to the way in which Muslims pray  —  imagine how many men would be distracted and women embarrassed by having to bend over repeatedly in front of each other. Plus, for those who come from more orthodox cultures, allowing the men and women to sit together would be offensive. "We try to accommodate everyone and respect everyone's feelings," explained Turjoman. Furthermore, Turjoman  —  whose 20-year-old daughter, Ala' Khan decided to wear a hijab at age 14 but kept it a secret from her father for two weeks  —  was proud to explain, "We do have a bit more modesty in talking with the other sex, but I think that's good."
Like Turjoman's daughter, Zeynab Hassoun was born and raised in Santa Barbara and, to her, "Women have a special place in Islam." The daughter of a Syrian mom and Lebanese dad, Hassoun started experimenting with the hijab at age eight but started wearing it permanently at 13 even though her "parents had reservations." Now 23 years old, Hassoun explained, "You must know what you're wearing, what you are wearing it for, and be confident as an individual. Don't just say, 'Because my religion says so.' There's no basis for it." Hassoun, who is studying biochemistry at UCSB and wants to be a pharmacist, says that Islam actually supports the rights of women more than other religions. "Nothing has kept me from succeeding or achieving my full potential because I was a woman or because I was a Muslim or because of any combination of the two."
The men interviewed for this story agree. "Men and women are equally responsible in Islam," said Jamal Hamdani, chair of the Islamic Society of Santa Barbara. "We are equal shareholders in this corporation. Nobody is less; nobody is more."