I love to entertain — a trait I likely inherited from my mom, a woman whose parties are legendary despite the fact that, instead of the showing-up-naked-to-work dream or the unprepared-on-test-day dream, my mom's recurrent stress rêve goes like this: It's the night of the Kelley's annual holiday party, and she's forgotten to go shopping/invite anyone/cook anything.
Perhaps this is an indication of her priorities.
Anyway. A holiday cocktail party is a time for fancy snacks to take center stage. And who doesn't love that? They're festive, fun to eat, and, calorie-wise, don't really count. (Or so I choose to believe.) But, as hostess, it's a delicate balance: You want to impress your guests but don't want to be stuck in the kitchen all night. So, with the help of Lynette La Mere, executive chef and owner of Pure Joy Catering who generously shared some of her favorite recipes, I've put together a collection that includes several items you can prepare in advance and that, most importantly, score high on the impress-o-meter but low on the stress-o-meter.
And since no cocktail party would be complete without cocktails, you'll find some recipes online at independent.com/cocktails.
Shannon's Haute Popcorn
Make popcorn like you usually do (I do it on the stove, which can get messy — but I have a dog to clean up the rogue kernels). Once popped, toss with salt, pepper, truffle oil, and freshly grated, good-quality parmesan cheese to taste.
Make Ahead: Can be made up to an hour ahead.
Level of Difficulty: It's popcorn.
Impress-o-Meter Reading: Truffle oil is cheating; it makes anything impressive.
Pure Joy's Spiced Pecans
1 egg white
2 Tbsp. sugar
1/2 tsp. salt
2 tsp. cayenne
2 tsp. paprika
1/2 tsp ground cumin
4 1/2 cups whole, shelled, fresh pecans
Oven: 350 degrees. Spray large baking sheet with vegetable oil. In a bowl, whisk egg white until foamy. Add remaining ingredients; toss to coat. Spread evenly on pan; bake 6 minutes. Pull out, toss with spatula, return to oven, bake until fragrant.
Make Ahead: Sure, though the fresher the better.
Level of Difficulty: How hard is measuring stuff?
Impress-o-Meter Reading: Next-level nuts.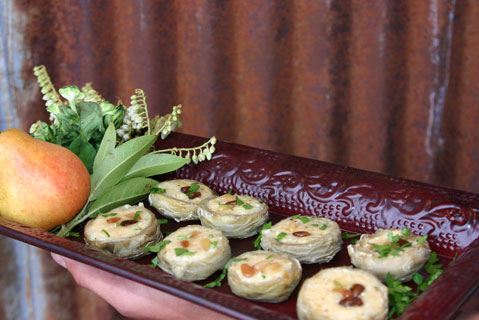 LYNETTE LA MERE