Food & Drink
Your Holiday Cocktail Party Menu
Recipes that score high on the impress-o-meter, low on the stress-o-meter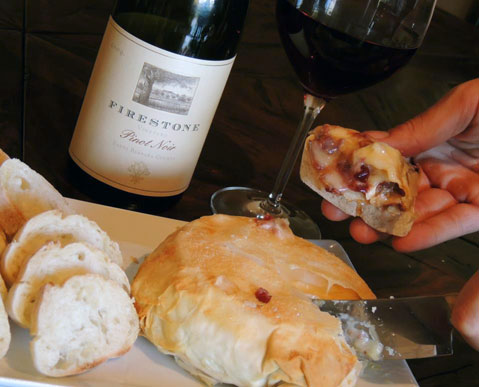 I love to entertain — a trait I likely inherited from my mom, a woman whose parties are legendary despite the fact that, instead of the showing-up-naked-to-work dream or the unprepared-on-test-day dream, my mom's recurrent stress rêve goes like this: It's the night of the Kelley's annual holiday party, and she's forgotten to go shopping/invite anyone/cook anything.
Perhaps this is an indication of her priorities.
Anyway. A holiday cocktail party is a time for fancy snacks to take center stage. And who doesn't love that? They're festive, fun to eat, and, calorie-wise, don't really count. (Or so I choose to believe.) But, as hostess, it's a delicate balance: You want to impress your guests but don't want to be stuck in the kitchen all night. So, with the help of Lynette La Mere, executive chef and owner of Pure Joy Catering who generously shared some of her favorite recipes, I've put together a collection that includes several items you can prepare in advance and that, most importantly, score high on the impress-o-meter but low on the stress-o-meter.
And since no cocktail party would be complete without cocktails, you'll find some recipes online at independent.com/cocktails.
Shannon's Haute Popcorn
Make popcorn like you usually do (I do it on the stove, which can get messy — but I have a dog to clean up the rogue kernels). Once popped, toss with salt, pepper, truffle oil, and freshly grated, good-quality parmesan cheese to taste.
Make Ahead: Can be made up to an hour ahead.
Level of Difficulty: It's popcorn.
Impress-o-Meter Reading: Truffle oil is cheating; it makes anything impressive.
Pure Joy's Spiced Pecans
1 egg white
2 Tbsp. sugar
1/2 tsp. salt
2 tsp. cayenne
2 tsp. paprika
1/2 tsp ground cumin
4 1/2 cups whole, shelled, fresh pecans
Oven: 350 degrees. Spray large baking sheet with vegetable oil. In a bowl, whisk egg white until foamy. Add remaining ingredients; toss to coat. Spread evenly on pan; bake 6 minutes. Pull out, toss with spatula, return to oven, bake until fragrant.
Make Ahead: Sure, though the fresher the better.
Level of Difficulty: How hard is measuring stuff?
Impress-o-Meter Reading: Next-level nuts.
Pure Joy's Lemon Parmesan Artichoke Bottoms
"Canned artichoke bottoms are the way to go or you'll be in the kitchen cursing me all day," says La Mere. "That said, you must get Maria brand artichoke bottoms; the others are too tough."
5 cans Maria artichoke bottoms (not hearts)
3 cloves garlic, finely minced
1/4 pound (1.5 cups) grated parmesan (not the salty, powdered kind)
1/2 cup mayonnaise
1 1/2 tsp. lemon juice
1 packed tsp. lemon zest
1/3 tsp. pepper
Garnish: 1/4 cup toasted pine nuts and minced fresh parsley
Drain artichoke bottoms; pat dry and trim so they sit level and are tender. Spray baking sheet with vegetable oil. Blend remaining ingredients (except for garnish) together in a bowl. Sit artichokes on sheet; season with salt and pepper; fill with cheese/mayo mixture, top each with three toasted pine nuts. You can cover and refrigerate at this point or bake at 375 degrees for about 30 minutes, until golden on top. Sprinkle with parsley.
Make Ahead: Can be made a day ahead.
Level of Difficulty: Really quite easy.
Impress-o-Meter Reading: Pure Joy's most popular appetizer!
Shannon's Baby "Báhn Mì"
1 cup matchstick-cut cucumber
1 cup matchstick-cut pickled carrots (I love Pacific Pickle Works.)
1/4 cup minced cilantro
Juice of 1 lime
1/2 lb. pork paté
1 French baguette, sliced
Dijon mustard
Either or both of the following: Sriracha hot sauce, sweet chili sauce
Garnish: thinly sliced radish
Mix first four ingredients in a bowl. Set aside. Spread baguette slices with mustard; spread each with a hefty slice of paté; smash down. Dot paté with Sriracha and/or sweet chili sauce; top with a couple of tablespoons of salad and two or three radish slices.
Make Ahead: Can be made a couple of hours ahead and refrigerated, but best served at room temp.
Level of Difficulty: Knife skills help. As does detail-orientedness.
Impress-o-Meter Reading: Call anything a báhn mì and people swoon. Also: Sriracha!
Pure Joy's Classic Gravlax
2-3 lb. fresh, boned, skinless salmon filet(s)
1/2 cup white wine
1/2 cup coarse mustard
3 Tbsp. kosher salt
3 Tbsp. brown sugar
1 Tbsp. crushed black peppercorns
2-3 bunches fresh dill, bruised with the side of a kitchen knife
1 large red onion, sliced thin
Wash salmon and pat dry. Blend mustard into wine; add 1 tablespoon each of salt and sugar and set aside. Rub all sides of salmon with pepper and remaining salt and sugar. Sandwich thickly the salmon, aromatics, and wine-mustard mixture so all sides of salmon are covered and layered together. Wrap very tightly with double layer of plastic wrap. Place in a shallow dish or Ziploc baggie, and refrigerate two to four days, turning over once or twice a day.
To prepare for serving, wipe salmon clean and pat dry. Using a carving knife, slice thin, diagonally. Serve with traditional garnishes like capers, sliced cucumbers, lemon wedges, crisp bread crackers, thinly sliced dark bread, and this Mustard Dill Sauce:
Pure Joy's Mustard Dill Sauce
Things become classics for a reason. This is one of them.
1/4 cup Dijon mustard
3 Tbsp. sugar
1 Tbsp. white pepper
2 Tbsp. vinegar
1 tsp. dry mustard
1/2 cup vegetable oil
3 Tbsp. chopped fresh dill
Combine mustard, sugar, pepper, vinegar, and dry mustard. Slowly whisk in oil, beating until thick. Stir in dill and refrigerate.
Make Ahead: Must! Salmon should be made 2-4 days ahead; sauce holds well up to a week.
Level of Difficulty: Sounds harder than it is.
Impress-o-Meter Reading: Homemade gravlax? Are you kidding? I'd like a dollar for every time someone references Martha Stewart.
Shannon's Mom's Mom's Old-School Canapés
1 cup mayonnaise
1 cup grated parmesan
1/2 cup finely chopped onion
1 Tbsp. milk
1 baguette, thinly sliced
Mix first 4 ingredients. Spread the cheesy stuff onto the baguette slices; place onto greased cookie sheet. Broil 2-3 minutes, until puffy and golden.
Make Ahead: Sure, but broil just before serving.
Level of Difficulty: Could do it with your eyes closed.
Impress-o-Meter Reading: Simple deliciousness. Plus, it's heirloom!
Pure Joy's Caramelized Onion, Pinot Noir, and Cranberry Filled Brie en Croûte
Tip: Make a couple! They must be frozen before baking anyway; might as well have some extra on hand to whip out and woo unsuspecting guests.
Filling:
1 onion, quartered & sliced (=1 cup caramelized)
Olive oil
4 oz. fresh cranberries (Can use dried cranberries; soak 1/2 hour in warm water.)
2 tsp. sugar
1 tsp. fresh thyme
Pinch of salt
1/4 cup pinot noir
Sauté onions in oil over medium heat, stirring occasionally until very dark. Add remaining ingredients; raise heat and sauté another 10 minutes to reduce and meld. Cool.
1 sheet puff pastry
1 5-inch-round whole brie, chilled hard, sliced horizontally
1 beaten egg
Sugar
1-2 baguettes
Roll out puff pastry on floured surface. Place one half of brie, cut side up, in center. Top with cooled filling. Layer with other half of brie, cut side down. Brush surrounding pastry with egg, and wrap pastry to enclose brie, pinching to seal. Turn over, brush with egg, sprinkle with sugar, and freeze.
To serve: Put frozen brie on oil-sprayed baking sheet into 350-degree oven. Bake until golden. Serve whole; guests can slice and eat on top of sliced baguette.
Make Ahead: Totally.
Level of Difficulty: You can do it.
Impress-o-Meter Reading: "OMG!"
Shannon's PeeWee Potatoes with Caviar
I confess, I totally ripped off this idea off from a friend who brought them over for Christmas Eve dinner. Here's how I do it.
2 lbs. peewee potatoes
2 Tbsp. olive oil
Salt
Pepper
Garnish: crème fraîche and caviar (Use what you like and can afford; the smaller the eggs, the better for this recipe.)
Toss potatoes with the oil, salt, and pepper in a large bowl. Roast on baking sheet in 425-degree oven for 15-18 minutes, until they begin to brown, tossing once during cooking. Remove to a large platter, let cool. (Can refrigerate.) When cooled, cut a small X into the top of each potato. Put a small dollop of crème fraîche in each slit, and top with a tiny bit of caviar.
Make Ahead: Potatoes can be made up to a day ahead and refrigerated; should assemble soon before serving.
Level of Difficulty: All it takes is a steady hand.
Impress-o-Meter Reading: You'll have them at "caviar."
Pure Joy's Grilled Prosciutto-Wrapped Figs, Filled with Minted Goat Cheese with Honey Mint Drizzle
25 black mission figs
1/2 bunch mint
4 oz. goat cheese
1/2 tsp. sugar
6 oz. prosciutto, slices cut in half lengthwise
Drizzle: 1/4 cup honey with 1 Tbsp. minced mint stirred in
Snip off fig stems. Slit figs in half lengthwise; scoop out a bit of centers. Blend mint, cheese, and sugar. Fill figs with cheese mixture. Wrap filled figs with prosciutto strips, secure with toothpicks or small skewers. Grill or bake until crisp and tender. Drizzle with minted honey.
Make Ahead: Can be assembled ahead; leave the baking until the last minute though.
Level of Difficulty: Messy, not difficult.
Impress-o-Meter Reading: Prosciutto-wrapped = bonus points.
Party Planning Tips
How Much Food? If your party is happening during normal dinner hours, assume your guests will be making dinner out of your spread. Pure Joy's Lynette La Mere recommends planning on 11 to 13 appetizers per person. And, she says, make several different things. "If you only have three items, it gets really boring," she says. "People don't want to eat the same thing over and over; they like to have a variety — it's just more fun." If that sounds stressful, consider the silver lining: You have freedom to experiment because if you blow it on something, you've so many others to save you.
Insurance Is Key. Disaster could happen. The dog could run away with the brie en croûte; someone could arrive direct from Colorado or Washington state with a serious appetite — and an entourage. Nuts, chips, crudités, and dips are worth keeping on hand, in case the fancy stuff doesn't last.
Be Considerate! Your guests will have one hand busy holding their cocktail (it is called a cocktail party, after all), so bites should be small and not too difficult to handle. And people will be mingling, so skip anything that can get lodged in one's teeth or cause a raging case of garlic breath.