In the black of night, I swore I saw a flicker of light where the night sky meets the dark sea. From my kayak, the horizon naturally undulated in the uneven wind waves somewhere along the Pilgrim Banks between Anacapa and Santa Barbara Islands. Were my eyes playing tricks on me? All we could do was paddle on into the night hoping to touchdown on the smallest of California's Channel Islands.
Hours earlier we put in under the bright beam of a full autumn moon, no headlamp needed at shimmering Scorpion Anchorage. The moderate down-coast current easily propelled us beyond the tip of San Pedro Point and the southeast end of Santa Cruz Island. Before we knew it, we were enjoying the sunrise glowing behind West Anacapa Island and the Santa Monica Mountains, and the full moon setting beyond Montanon Ridge on Santa Cruz. All that lay before us was our pelagic pilgrimage to Santa Barbara Island.
When long-time kayak guide Tony Chapman approached me last summer on Santa Cruz Island about paddling to Santa Barbara Island, I didn't hesitate. "When?" was all I wanted to know.
October was an obvious choice. Mild paddling conditions generally prevail, and hopefully we'd have enough daylight to reach our destination. We also had to sneak through the live-fire zone of the Pacific Missile Test Range, which prevented us from leaving much earlier than we wanted. From Scorpion Anchorage, it would be about 44 miles to the lonely, craggy isle, no solid ground between islands to stretch stiff legs and let the blood flow back down to our feet. If things went smoothly, we estimated paddling to Santa Barbara Island to take around 12 hours.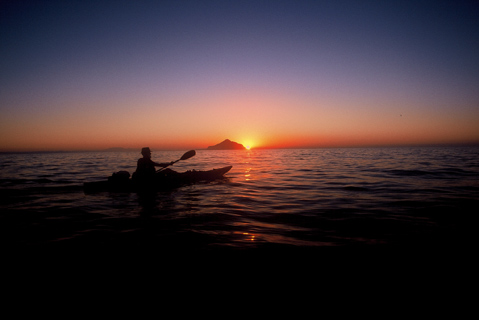 Chuck Graham