At 4:30 a.m., when temperatures are below freezing, even idyllic Santa Barbara has a forbidding quality. Yet, two weeks ago, on January 22, this was when nearly 600 Santa Barbara residents from Guadalupe to Carpinteria armed themselves with flashlights and clipboards and set out to count the homeless. The assignment took them through all kinds of brushy underpasses, vacant lots, and parking lots and had them knocking on windows of vans parked in lonely cul-de-sacs and combing stretches of beach tourists never visit. Even more improbable, they did it again the very next morning.
It was the second time in as many years that the nonprofit Common Ground Santa Barbara (now folded into the Central Coast homeless collaborative C3H) has orchestrated such an insanely ambitious undertaking. They call it Registry Week, and this year's goal was the same ​— ​to count homeless residents for federal Housing and Urban Development funding purposes and to identify the sickest, most likely to die among them, rank them according to their mortality risk, and then move the most fragile into housing.
Just as Common Ground pulled off a successful Registry Week in 2011, this second one proceeded in a fairly easy flow. There was a cheerful, clear-eyed volunteer coordinator named Jessielee Coley sitting among a roster of homeless advocates both mornings, checking people in and pointing them toward coffee. There were Google maps given to every volunteer to guide each to an appointed "area." There were T-shirts with "Housing Works" printed on the front. There were role-playing exercises at the training sessions. And there were statistics showing the whole escapade was actually accomplishing something.
According to the Housing Authority of the City of Santa Barbara, 117 people from 2011's 932-person Vulnerability Index were moved into apartments. All but three have kept their housing; four passed away after moving inside. And while 16 who had not yet been housed died waiting, Dr. David Lennon, medical director of the County Public Health Department's Healthcare for the Homeless program, said that overall homeless deaths in the county are declining. In 2009, 40 of the county's homeless residents died; the next year, 39 died. But in 2011 (post-survey), deaths had dropped to 30, which is a 25-percent decline. (Deaths in 2012 are still being counted.)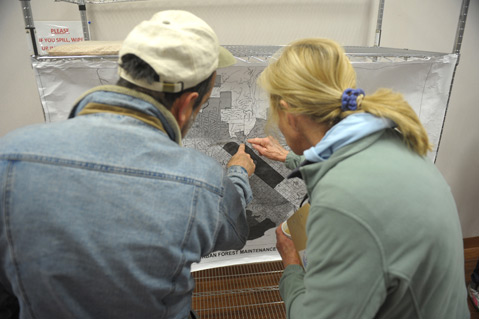 By Paul Wellman