More than 100 food-loving folks gathered around the picnic benches of Oak Park last month to witness The Santa Barbara Independent's fourth annual Sizzling Summer BBQ Contest, which was easily our most exciting and cutthroat cooking competition yet. The June 13 event featured 13 chefs, both professional and amateur, eager to impress with a wide range of 15 delectable dishes in the three official categories: Professional BBQ Plate, Amateur BBQ Plate, and Pro-Am Vegetarian BBQ Plate.
So popular has the summertime kickoff contest become that we had to turn away more recipe submissions than ever before ​— ​and because we hate doing that, we even expanded the amateur category into two rounds of judging, just to accommodate even more backyard Bobby Flays. Perhaps even more promising is that our alumni are graduating to national stages: Last year's amateur finalist, L.J. Washington, had to drop out of this year's event at the last moment because she wound up on The Today Show for its Father's Day burger broadcast (like NBC is a bigger deal than we are!), and George Levinthal, who won our inaugural event and has entered every year since, recently excelled in a Los Angeles Times burger showdown. And then there's Rodrigo Gimenez, who ditched his career as an architect to become a chef after winning last year's amateur battle. (Spoiler alert: He took top crown this year as a pro!)
Photo Gallery
2013's Sizzling Summer BBQ Contest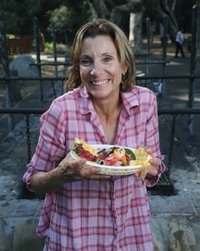 The 2013 incarnation of the Sizzling Summer BBQ Contest also featured a greater degree of energy and on-site involvement from the contestants and their support teams, with grills smoking as early as 2 p.m. that afternoon. But the grub remained king. Want Farmers' Market Farro Burger on Grilled Flat Bread with Sriracha Aioli and a side of Skewered Grilled Strawberries? It was there. Something meatier? How's Apple Smoked, Pancetta-Stuffed Brisket with Collard Greens and Black-Eyed Pea Succotash with Truffle Mac and Cheese sound? Need a defibrillator? Well, maybe we'll put that on our list for next year.
"This competition would make any Santa Barbaran proud," said judge Melissa Fontaine, who works for the Orfalea Foundation's School Food Initiative. "The food was great, the vibe was friendly, and people worked hard to show off some stellar food."
Here's a look at those who rose to the top of Santa Barbara's grilling peaks, as well as the judges and sponsors who made it happen.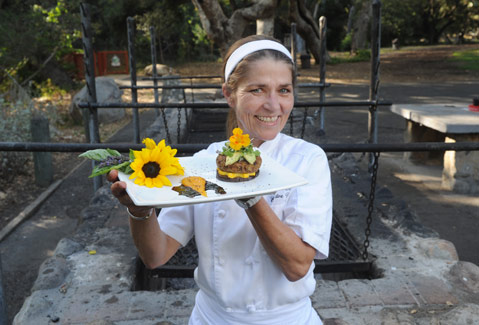 By Paul Wellman