Cover Story
Masters of the Grilling Universe
Meet the Winners of Our Fourth Annual Sizzling Summer BBQ Contest
More than 100 food-loving folks gathered around the picnic benches of Oak Park last month to witness The Santa Barbara Independent's fourth annual Sizzling Summer BBQ Contest, which was easily our most exciting and cutthroat cooking competition yet. The June 13 event featured 13 chefs, both professional and amateur, eager to impress with a wide range of 15 delectable dishes in the three official categories: Professional BBQ Plate, Amateur BBQ Plate, and Pro-Am Vegetarian BBQ Plate.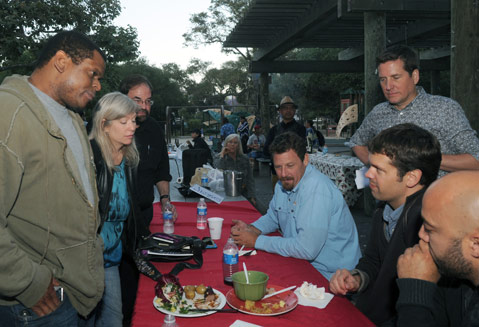 So popular has the summertime kickoff contest become that we had to turn away more recipe submissions than ever before ​— ​and because we hate doing that, we even expanded the amateur category into two rounds of judging, just to accommodate even more backyard Bobby Flays. Perhaps even more promising is that our alumni are graduating to national stages: Last year's amateur finalist, L.J. Washington, had to drop out of this year's event at the last moment because she wound up on The Today Show for its Father's Day burger broadcast (like NBC is a bigger deal than we are!), and George Levinthal, who won our inaugural event and has entered every year since, recently excelled in a Los Angeles Times burger showdown. And then there's Rodrigo Gimenez, who ditched his career as an architect to become a chef after winning last year's amateur battle. (Spoiler alert: He took top crown this year as a pro!)
The 2013 incarnation of the Sizzling Summer BBQ Contest also featured a greater degree of energy and on-site involvement from the contestants and their support teams, with grills smoking as early as 2 p.m. that afternoon. But the grub remained king. Want Farmers' Market Farro Burger on Grilled Flat Bread with Sriracha Aioli and a side of Skewered Grilled Strawberries? It was there. Something meatier? How's Apple Smoked, Pancetta-Stuffed Brisket with Collard Greens and Black-Eyed Pea Succotash with Truffle Mac and Cheese sound? Need a defibrillator? Well, maybe we'll put that on our list for next year.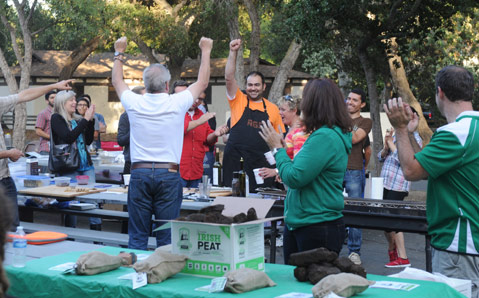 "This competition would make any Santa Barbaran proud," said judge Melissa Fontaine, who works for the Orfalea Foundation's School Food Initiative. "The food was great, the vibe was friendly, and people worked hard to show off some stellar food."
Here's a look at those who rose to the top of Santa Barbara's grilling peaks, as well as the judges and sponsors who made it happen.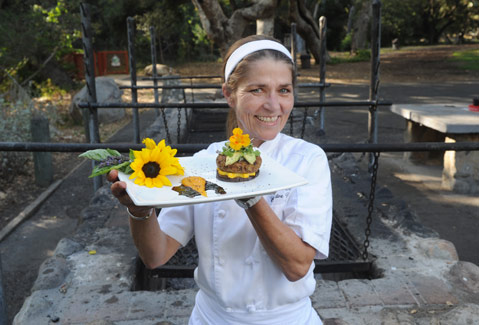 Pro-Am Vegetarian Plate
Winner: Edie Robertson
Dish: Flame-Grilled Seitan and Local Pistachio "Steaks"
Since we started this showdown in 2010, there's been only one year that Edie Robertson didn't win something ​— ​and that's because we invited her to be a judge in 2011. Otherwise, this private chef, who's perhaps best known for her years at the Sojourner Café, has always wowed the judges.
This time, she got nothing but perfect scores for her Flame-Grilled Seitan and Local Pistachio "Steaks," which are injected with farmers' market chimichurri and Drake Family Farms' garlic chèvre, plus grilled seasonal veggies and avocado purée served stacked with gingered Hollister Brewing Company's At Dawn Beer and balsamic tar, mango–passion fruit coulis, and micro greens.
"Edie's seitan burger was superb ​— ​a perfect balance of crunchy pistachios and meaty seitan," raved judge Fontaine. "It didn't even need a sauce because the creamy goat cheese melded all the flavors together into one euphoric patty. But the balsamic tar and mango–passion fruit coulis gave the dish acidity and sweetness to make you swoon. Her presentation was also superb, with fresh basil, lavender, sunflowers, and cloth napkins."
As a leader of Santa Barbara's Slow Food Convivium and veteran of the Food Network's series Extreme Chef, Robertson is fazed by very little, even grilling without meat. Indeed, vegetarian cuisine is "almost second nature" to her, as Robertson's clients expect healthy foods without a loss of flavor.
"I roast and grind my own spice blends, so that gives a big boost to the flavor, along with using fresh herbs and roasted nuts whenever possible," said Robertson. "I have learned by trial and error how to create dishes that have a satisfying mouthfeel by manipulating the tofu or seitan so it has a pleasing texture that goes well with fresh vegetables, ground nuts, and fresh and roasted spices."
What's her advice for home grillers? Practice makes perfect, but remember to clean your grills with heat and vegetable oil before cooking and don't turn your meat too quickly. "Be brave," said Robertson. "I think everything tastes better when it is licked by the fire."
Professional BBQ Plate
Winner: Rodrigo Gimenez
Dish: Picanha Cuadrada and Potato Pineapple Stack
Last year's Sizzling Summer BBQ Contest literally changed Rodrigo Gimenez's life. Up to that point, he was an architect who liked to cook; after winning the amateur category in 2012 ​— ​with a mixed plate of lavender-wine beef, roast veggie chimichurri chicken, and lemon cream pork flanks ​— ​he became a full-time chef. To claim this year's pro crown, he pared down that trio to focus on the tender, succulent sirloin cap. "Last year, I barbecued as if I was cooking for friends," explained Gimenez, who really entered in 2012 to have some fun. "This year, I did feel a bit more pressure. I definitely wanted to win more this year than last."
To do so, the native of Mendoza, Argentina, designed his Picanha Cuadrada and Potato Pineapple Stack around the picanha, a top-sirloin cap, one of his "most favorite things to eat ​— ​especially when topped with bacon!" To balance the heavier meat with lightness and freshness, he added grilled pineapple and potato, and then topped it with a port-brandy-red-wine sauce because, again, he loves drinking them. Said Rodrigo, "Developing a sauce that incorporates all of their flavors and allows you to taste all three in a single bite is just that much better." The dish was actually more complicated than he's letting on, though: The beef was topped with a thin layer of sage "paper," the pork was actually a bacon vinaigrette, and the reduction sauce also featured carrots, vanilla, and sage.
That's the level of creativity now going into his new catering business, Rodrigo Gimenez Cocinero, under which he frequently fires up Argentinian asado for wine-country events, hosts pop-up dinners at the Goodland Kitchen, and sells handmade empanadas through the Artisans Market at Williams-Sonoma. "With each meal that I've cooked since last year's competition, I gain confidence in my abilities," said Gimenez. "Mostly, it makes me happy to know that people really enjoy eating my food."
His advice to backyard barbecuers: Enjoy the environment that grilling creates. "Being outside around the fire cooking is one of the places where I am most happy because I take in my surroundings, I listen to the meat grilling, I talk with friends and family," said Gimenez. "In the end, the food becomes secondary, and it is the process of cooking that is the most memorable experience."
Amateur BBQ Plate
Finalist: Ila Hamilton
Dish: Jack Daniel's­­–Chile-Lime Pork Ribs, with Yukon Gold­—Bacon Potatoes and Kale-Broccoli-Carrot Matchstick Salad
With so many fine amateur entries this year, we expanded the Sizzling Summer BBQ Contest to include two semifinal heats, and then let the finalists battle it out for supremacy. Ila Hamilton, who is a member of the S.B. Culinary Arts Association and works at the Ferguson Design Center (which sells barbecues of all styles), came oh so close to winning it all.
"It was a blast," said Hamilton, though we may have to work on the format. "The first judges got the ribs at perfect temperature, but the second set of judges had drier ribs. Also, the potatoes for the second judges didn't have enough of the bacon-onion-garlic mixture, which makes all the difference in taste and presentation."
Nonetheless, the cheery finalist remained a fan of the event, and she recommended this for next year's participants: "Make more friends, talk to more people, make extra to serve to those in attendance ​— ​everyone wanted a bite. And, last: Just have fun!"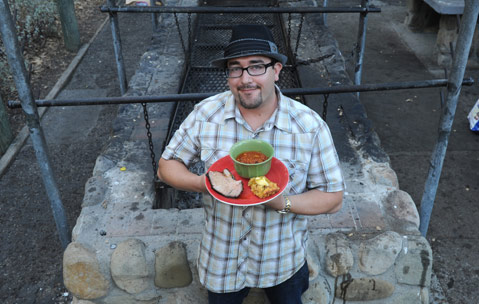 Amateur BBQ Plate
Winner: Gabriel Ibarra Jr.
Dish: Smoked Balti Pork Shoulder with Chili Beans and Jalapeño Cheddar Corn Bread
Though he'd never entered a cooking contest before, Santa Barbara native Gabriel Ibarra Jr. is serious about his grilling and recently completed his first semester of Santa Barbara City College's culinary program. "Cooking is my passion, and I want to pursue a career in the culinary world," he explained. "I like experimenting with all kinds of cuisine, different spices, and methods of cooking."
Those experimental elements coalesced in his Smoked Balti Pork Shoulder, which featured a blend of spices from northern Pakistan that he discovered in a Penzeys store while visiting his grandparents in Tucson last year. "I loved the way it smelled and tasted," said Ibarra, whose magical ingredient is specifically a blend of coriander, garlic, ginger, cumin, dundicut chilies, Ceylon cinnamon, brown mustard seeds, cardamom, clove, fennel, fenugreek, charnushka (kalonji, black onion seed), ajwain, star anise, black cardamom, cilantro, anise seed, and bay leaf. So when wanting to add a pork shoulder to a pot of chili a couple of months ago, Ibarra made a Balti-based marinade and rub, and the result was so "awesome" that he knew the Balti pork shoulder had to be its own dish. As for the corn bread? "It was just a random recipe that I put together," said Ibarra. "I had only made the corn bread once before the contest."
Judge Danny Douglas, also a former contestant, praised Ibarra's "excellent balance of spices and deep layering of flavor," while judge Bob Wesley said, "Gabriel's corn bread was the best side we had, and between the action-packed bowl of chili and the spicy pork on his plate, the trio was hard to resist."
Ibarra was pleased with the results. "Winning the contest felt awesome," he said, and gave thanks to his wife, Donna, and two foster daughters, Alissa and Tiana, for their support in his quest to become "one of Santa Barbara's best chefs." And we can expect to see more of Ibarra, as he has three more semesters left at SBCC. He pledged, "I will be back next year for the competition."
• Who Grilled What?: Contestants in 2013's Sizzling Summer BBQ Contest
• Gauging the Grillers: A list of who judged the 2013 Sizzling Summer BBQ Contest.
• Sizzling Summer BBQ Sponsors: A list of the companies who made our 2013 grilling contest happen.
• Farm-to-Bar Cocktail Contest @ The Wildcat: The Independent is cosponsoring a seasonally sensational mixology showdown on July 23.