FRIDAY

,

SEPTEMBER

27

WEST BEACH: Beach volleyball represents Santa Barbara's claim to fame in professional sports. All-time greats from Karch Kiraly to Kerri Walsh Jennings have left their footprints in the sand at East Beach, and, in recent times, they've stirred up clouds of dust on the powdery surface of West Beach. The AVP chose Santa Barbara to launch the revival of its American tour a year ago, and it gladly returned last weekend. The tournament had an old-time feeling, as spectators congregated on the sand around the courts. (No bleachers were set up.) Admission was free to see the kind of action that had been a hot ticket at the London Olympics. Hometown favorite Todd Rogers and his 7' partner, Ryan Doherty, fell behind in their second game against Kevin McColloch and Mark Williams. They received some advice from Nate Rogers during a time-out. "I told them to finish the game off," the 12-year-old said. His father and Doherty scored six of the next seven points and won, 21-18. There was a stunning upset in another first-round match, with Phil Dalhausser and Sean Rosenthal falling to brothers Brian and Tim Bomgren from Minnesota.

WARKENTIN STADIUM: On homecoming night at San Marcos High, the spectacle included 40 cheerleaders and a resurgent Royals football team, which came into the game against the Channel Island Raiders with a 4-0 record. Quarterback Wesley Ghan-Gibson directed a pair of scoring drives to put San Marcos ahead, 14-7. But late in the first half, a fumble set up one touchdown by the visitors, and a long pass produced another. The Royals trailed at halftime, 20-14.

HARDER STADIUM: I heard announcer Cubby Jacobs shout, "Goooal!" as I approached the gate to UCSB's "Soccer Heaven." I saw the video replay on the scoreboard. Gaucho defender Peter Schmetz slid the ball past the Stanford goalkeeper to tie the score, 1-1, in the second half. The crowd of 7,750 included more than 5,000 students who had just begun the fall quarter. It is hoped that higher education will improve their creativity. They continually chanted a tiresome vulgarity at Stanford. It didn't help the Gauchos, who created numerous chances but didn't put any away, while the Cardinal struck a golden goal five minutes into overtime for a 2-1 victory.

WARKENTIN STADIUM: The sudden end of the soccer match enabled me to return to the football game. Channel Islands was leading, 33-31, and had just recovered a fumble at the San Marcos 42 with two minutes remaining. Using their time-outs and getting a fourth-down stop by defender Josh Beasley, the Royals took over at the 40 with 1:35 on the clock. It was more than enough time for Ghan-Gibson, who completed two passes and went 15 yards on a quarterback scramble to put the ball on the 2. Esteban Alfaro followed a line surge into the end zone to put San Marcos ahead, 38-33. Sacks by Beasley and Jack Haley secured the Royals' fifth consecutive win.
SATURDAY

,

SEPTEMBER

28

WEST BEACH: Rogers and Doherty had lost their second match Friday, sending them into a must-win confrontation against Dalhausser and Rosenthal. A large crowd gathered to watch the drama in a theater-in-the-round setting. Dalhausser and Rogers had been partners for seven years and were 2008 Olympic gold medalists, but now they were on opposite sides. The first set went to Doherty and Rogers, 21-19. The second was tied at 15-15 after Doherty poked a backhand over the net. After a time-out, the 6'9" Dalhausser crushed his next spike. He and Rosenthal went on to win the game, 21-17, and closed out the match in the third set, 15-10. Rogers had a word with Rosie's Raiders, a vocal fan club from Rosenthal's hometown of Redondo Beach. "I told them to get some new material," Rogers said. (Attention, UCSB students.) "I don't mind good hecklers, but they came up with the same old, lame stuff." Rogers, who would turn 40 in two days, was surrounded by well-wishers after the match. They sang "Happy Birthday" to the accompaniment of instrumentalists from UCSB, his alma mater.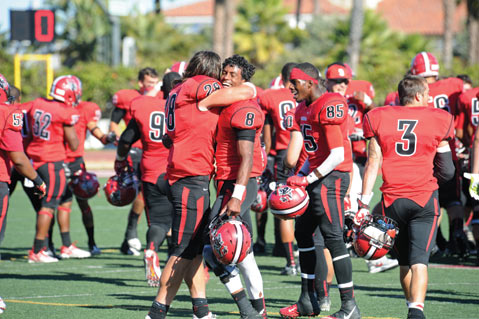 By Paul Wellman