Located on the ground floor of one of Isla Vista's swanky new apartment buildings, Sorriso Italiano combines the modern look of downtown I.V. with traditional Italian delights. When owner Antonio Gerli and his family moved to Santa Barbara from Italy a year and a half ago, Gerli knew he wanted to get into the restaurant business.
"My dream was to open an Italian restaurant close to one of the California universities," Gerli said. "I drove from San Francisco to San Diego, and when I came here … I entered from the main entrance of the university and saw many, many students …. When I saw I.V., I thought, 'Wow! That's the right spot to open a restaurant!'"
But Gerli's talents are not limited to food alone. He's also a sommelier, and shares his knowledge with his customers every Thursday night, when he hosts wine-tasting classes at his restaurant. [EDITOR'S NOTE: A previous version of this article incorrectly stated that Gerli was certified as a Master Sommelier.] "It's something in between a wine tasting and a wine class," said Gerli. "One of our wine tastings is blind, so I cover the labels … and we try to understand what kind of wine we are drinking and if it's good, why it's good, why it's not good."
Gerli and his wife, Elisabetta, have combined their traditional family recipes to create Sorriso's menu, using fresh ingredients and cooking everything from scratch. "Everything here is homemade," Gerli said. "Nothing is frozen. We don't have a freezer. Everything we prepare is fresh." Even the focaccia bread is made from scratch.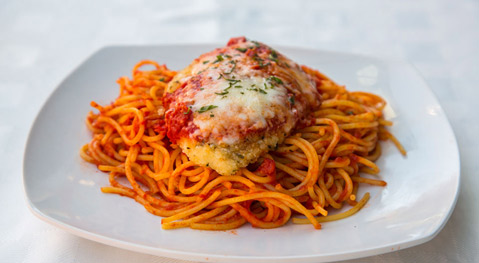 By Courtesy Photo