Editor's note: While about half of the undocumented students interviewed for this article agreed to use their real names, The Santa Barbara Independent decided to use pseudonyms for all of them in order to avoid the possibility of any legal repercussions.
Every Dreamer has a story about the moment they learned the truth. For Julia, it happened when she was a student at La Cumbre Junior High School. Planning to join her 8th grade class on a trip to Washington, D.C., she went to talk to her parents about buying a plane ticket. That's when her parents sat her down to deliver the news: She was not a U.S. citizen.
Julia was shocked. It turned out that she was born in Mexico. Her mother, fleeing an abusive relationship, crossed into the United States with her one-year-old baby. She told the immigration officials she was attending a funeral but instead came to Santa Barbara where she had relatives. Julia has no memory of living anywhere else.
These truths made Julia's mother and stepfather afraid of allowing her to fly to D.C. Her mother and father knew this day would come. To make it up to her, they gave her a beautiful quinceañera, the ritual coming-of-age ceremony that many girls of Latin American descent celebrate on their 15th birthdays, a celebration that is planned years ahead of time and often at great expense. She had a wonderful party, but she has still never boarded a plane.
"It's such a strange feeling," said Julia of learning that she has no documents regarding her citizenship. "It was like getting a bucket of cold water poured over me. … It makes me feel like I'm in a state of limbo. Yeah, I was born in Mexico, but the way I grew up here is totally different. Where do I fall on the spectrum? I'm not completely American, I'm not Mexican. What's my identity?"
The term Dreamer has become the nomenclature for undocumented students brought to the United States through no choice of their own when they were young children. It's shorthand for Development, Relief, and Education for Alien Minors, the title of a federal bill that has been kicking around Congress since it was introduced by Senators Dick Durbin and Orrin Hatch ​— ​Democrat and Republican, respectively ​— ​in 2001. Despite Durbin and Hatch's display of bipartisanship, Congress as a whole has not yet been able to meaningfully address immigration. As a result, California has taken steps of its own.
At the same time, the term DREAM entered the American lexicon in 2001, California passed AB 540, which allows any student who attended a California high school for three years and graduated from one or received a GED or equivalent to attend a public university. (Ironically, the law is mostly taken advantage of by native Californians who have moved out of state but wish to return for school and pay in-state tuition.) The California DREAM Act, actually composed of two separate bills, last year made undocumented students eligible for state-provided financial aid and institutional scholarships.
Nine Freaking Numbers
Unfortunately for Julia, she was accepted to both UC Santa Barbara and UC Davis as a senior at San Marcos High School before those laws passed. Equipped with a 4.0 grade point average and more than 1,200 hours of community service, she expected to attend a four-year college like the rest of her peers in Honors and Advanced Placement classes. But there was no way she could afford tuition. Telling them that she would not be going to a university invoked sympathetic frowns and words of encouragement that only made her feel worse. "It was devastating," said Julia. "They tell you to do all these things in high school … and colleges will throw money at you. It's everything you've been working for."
"How do you tell a 4.93 GPA Santa Barbara High School student that local funders are giving out millions in scholarships, but you can't get any?" asked Jonathan Wang, president of Adsum Education Foundation, a nonprofit that offers scholarships to undocumented students in Santa Barbara County. "It can't be because of these nine freaking numbers," pondered Julia.
Citizens and noncitizens alike go through the early years of their life without much need for a nine-digit Social Security number or "papers" regarding their residency status. For children, American-ness can mean a lot of things, but it doesn't mean a line in a ledger book. Adolescence, however, brings a series of events that necessitate documentation. These include attaining a driver's license (although California law that went into effect this year now allows undocumented drivers to get licenses), taking the SAT, or filling out the Free Application for Federal Student Aid, more widely known in its acronymic form as the FAFSA.
"Many of them do not even realize they are AB 540 until they are a senior in high school and going through the application process," explained Sergio Castellanos, a counselor at San Marcos High School who, as part of the AB 540 Coalition of Santa Barbara, has for the past five years helped organize an informational night for undocumented students hoping to attend college. "When they find out," said Castellanos, "then it's like, 'Is something wrong with me?'"
This sense of shame animated Ernesto, who was born in Guadalajara and came to the Santa Ynez Valley at the age of 9. He obviously knew he was not a native-born American, but it was only shortly before his 16th birthday ​— ​the day he believed he would take his driving exam ​— ​that he learned he was not a legal resident. His family moved to Santa Barbara County after his father, an engineer in Mexico, was robbed at gunpoint after withdrawing money from the bank to pay his workers on a project. Ernesto would cover up this past by telling his friends that his overprotective mother forbade him from driving.
"Ni de aquí, ni de allá" (from neither here nor there) is a common phrase used by DREAMers, explained Lola, an environmental studies major at UCSB who grew up in the Highland Park neighborhood of L.A. after her parents fled from terrorism and a morose economy in Peru. They came on a temporary visa thinking they would return, but they decided to stay when a renewal was denied. "We still have a home video of our 'vacation,'" she joked.
Lola learned that she was not a citizen when it was time for her sister to go to college. "I remember my parents telling us we don't have papers, don't have a Social Security number. I didn't know what that meant. … I thought they were just waiting for something in the mail."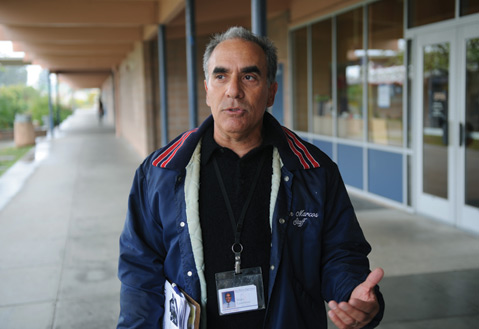 By Paul Wellman