Asian cuisine, with its remarkably diverse range of culinary personalities, can be a haven for vegetarians, and Santa Barbara's best Thai, Chinese, and Indonesian restaurants are just that. Here are three dishes to try around town, from the Eastside to the theater district.
Silken Tofu at Zen Yai: Zen Yai (425 State St.; [805] 957-1193), which opened in 2001, stays true to its authentic Thai cooking techniques. Owner Wisut Jindapahn credits wife Pim Mayta's culinary expertise in the kitchen for their restaurant's popularity. The couple comes from Thailand, but they have been refining their craft in California for a long time. "We take the different cultures and mix it all in with Thai food," Jindapahn said.
Although the vast majority of Zen Yai's menu can be customized to meet vegetarian diners' needs, the silken tofu, which is often overlooked due to its status as an appetizer, is more than what it sounds. Served on a bed of fresh mixed greens, large portions of tofu are ever-so-lightly seared and drizzled with homemade garlic sauce, black pepper, and cilantro. Oyster sauce is traditionally the base, but vegetarian, vegan, and gluten-free guests can choose from Zen Yai's arsenal of accommodating sauces. (Yes, they even have a vegan "oyster" sauce made from shiitake mushrooms.) The silken tofu is understated in its simplicity, but it is precisely that which captures the restaurant's personality.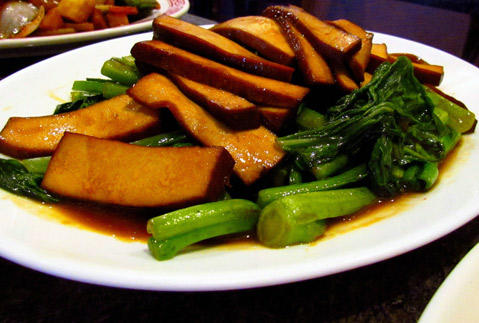 By Joanne Howard