Ventura-based freediver and spearfisherman Terry Maas has been holding his breath for the past 56 years.
His diving adventures — which he will discuss on July 9, at 7:30 p.m. in the Santa Barbara Harbor's classroom — have taken him as far as South Africa, Spain, and New Zealand, often as a member of the United States Spearfishing Team. An accomplished author and videographer, Maas has published two books on freediving and shot several informational videos on the sport. His work has been featured on PBS, and in such publications as Sports Illustrated and the Los Angeles Times.
Freediving, or breath-hold diving, is when divers hold their breath for long periods of time underwater rather than using breathing equipment such as a scuba tank. Spearfishing, in which divers use a speargun to catch their prey, often goes hand in hand with breath-hold diving, as it did when Maas first immersed himself in the sport.
Maas's earliest exposures to the world of diving include watching episodes of Sea Hunt in the late '50s and early '60s in his Bay Area hometown of Saratoga. The series followed Lloyd Bridges as a scuba diver who goes on various adventures in the perilous deep blue. His interests piqued, Maas first learned how to use a scuba tank at the early age of 14 and would practice diving at Stan's Skin Diving Shop, a fixture of downtown San Jose for 52 years before closing it's doors in late 2009.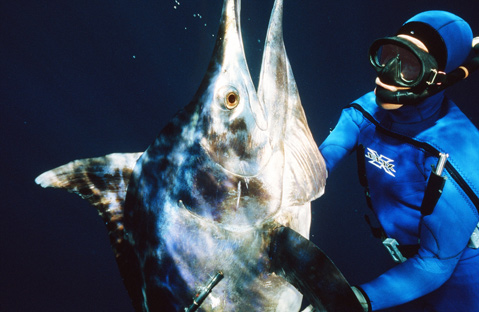 By Courtesy Photo